Above: New York Daily News cover mocking Rudy Giuliani and Rupert Murdoch's yellow rag, the New York Post.
Donald Trump says he is going to participate in Thursday's presidential debate. By that he means he will be there in a last ditch attempt to smear Joe Biden with the Russian disinformation campaign for which he was impeached by Congress earlier this year. There is no denying that Trump is "Putin's puppet," as is his henchman, Rudy Giuliani. They are both traitors to their country.
The Washington Post reported, White House was warned Giuliani was target of Russian intelligence operation to feed misinformation to Trump:
U.S. intelligence agencies warned the White House last year that President Trump's personal lawyer Rudolph W. Giuliani was the target of an influence operation by Russian intelligence, according to four former officials familiar with the matter.
The warnings were based on multiple sources, including intercepted communications, that showed Giuliani was interacting with people tied to Russian intelligence during a December 2019 trip to Ukraine, where he was gathering information that he thought would expose corrupt acts by former vice president Joe Biden and his son Hunter.
The intelligence raised concerns that Giuliani was being used to feed Russian misinformation to the president, the former officials said, speaking on the condition of anonymity to discuss sensitive information and conversations.
The warnings to the White House, which have not previously been reported, led national security adviser Robert O'Brien to caution Trump in a private conversation that any information Giuliani brought back from Ukraine should be considered contaminated by Russia, one of the former officials said.
The message was, "Do what you want to do, but your friend Rudy has been worked by Russian assets in Ukraine," this person said. Officials wanted "to protect the president from coming out and saying something stupid," particularly since he was facing impeachment over his own efforts to strong-arm Ukraine's president into investigating the Bidens.
But O'Brien emerged from the meeting uncertain whether he had gotten through to the president. Trump had "shrugged his shoulders" at O'Brien's warning, the former official said, and dismissed concern about his lawyer's activities by saying, "That's Rudy."
Officials' warnings about Giuliani underscore the concern in the U.S. intelligence community that Russia not only is seeking to reprise the disinformation campaign it waged in 2016, but also may now be aided, unwittingly or otherwise, by individuals close to the president. Those warnings have gained fresh urgency in recent days. The information that Giuliani sought in Ukraine is similar to what is contained in emails and other correspondence published this week by the New York Post, which the paper said came from the laptop of Hunter Biden and were provided by Rudy Giuliani and Stephen K. Bannon, Trump's former top political adviser at the White House, recently indicted for border wall fundraising fraud.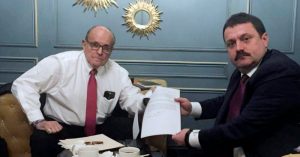 The former officials said Giuliani was not a target of U.S. surveillance while in Ukraine but was dealing with suspected Russian assets who were, leading to the capture of some of his communications (pictured here with Andriy Derkach, a Russian intelligence asset).
In September, the U.S. Treasury Department sanctioned Derkach for allegedly running an "influence campaign" against Joe Biden, calling the Ukrainian "an active Russian agent for over a decade" who has maintained "close connections with Russian intelligence services."
In August, the Office of the Director of National Intelligence publicly described Derkach as part of a Russian effort to interfere with the 2020 election by smearing Biden. The office of the DNI accused Derkach of "spreading claims about corruption — including through publicizing leaked phone calls — to undermine" Biden and the Democrats.
Earlier in 2019, U.S. intelligence also had warned in written materials sent to the White House that Giuliani, in his drive for information about the Bidens, was communicating with Russian assets.
Several senior administration officials "all had a common understanding" that Giuliani was being targeted by the Russians, said the former official who recounted O'Brien's intervention. That group included Attorney General William P. Barr, FBI Director Christopher A. Wray and White House Counsel Pat Cipollone.
"For some officials, Trump's willingness to meet with Giuliani despite warnings about Russian influence smacked of the collusion allegations that dogged the president after the 2016 election." Ya think?
Mediaite reports an EXCLUSIVE: Fox News Passed on Hunter Biden Laptop Story Over Credibility Concerns:
Mediaite has learned that Fox News was first approached by Rudy Giuliani to report on a tranche of files alleged to have come from Hunter Biden's unclaimed laptop left at a Delaware computer repair shop, but that the news division chose not to run the story unless or until the sourcing and veracity of the emails could be properly vetted.
With the general election just three weeks away, Giuliani ultimately brought the story to the New York Post, which shares the same owner, Rupert Murdoch.
* * *
The former New York City mayor and personal attorney to President Donald Trump has long had a working relationship with Fox News, the cable news network whose opinion shows have an overwhelmingly pro-Trump point of view.
But according to two sources familiar with the matter, the lack of authentication of Hunter Biden's alleged laptop, combined with established concerns about Giuliani as a reliable source and his desire for unvetted publication, led the network's news division to pass. Fox News declined to comment on this story.
Some of Fox News' top news anchors and reporters have distanced themselves from the story. During an on-air report that largely focused on how social media platforms handled this story, Bret Baier said, "Let's say, just not sugarcoat it. The whole thing is sketchy."
"You couldn't write this script in 19 days from an election, but we are digging into where this computer is and the emails and the authenticity of it," he added.
Chris Wallace also called the story "suspicious" and said, "I can understand the concern about this story. It is completely unverified and frankly, Rudy Giuliani is not the most reliable source anymore. I hate to say that, but it's just true."
* * *
On Sunday night, the New York Times reported that the New York Post had a difficult time finding a reporter to put their byline on the story amidst internal concerns about its dubious sourcing. The Times reported that the staff writer who mostly wrote the story, Bruce Golding, refused put his name on the report because he doubted its credibility. Post editors then "pressed staff members to add their bylines to the story — and at least one aside from Mr. Golding refused," according to the Times report, which cited two unnamed Post journalists. A Post spokeswoman had no comment on how the article was written or edited.
"The senior editors at The Post made the decision to publish the Biden files," the Post's Col Allan told the Times.
This detail from the New York Magazine: New York Post Insiders Slag 'Very Flimsy' Hunter Biden Stories:
Some Post reporters also suspected the involvement of Col Allan, a veteran of Rupert Murdoch's media empire who has long guided the Post's political reporting and is seen by Post insiders as Murdoch's representative in the newsroom. Allan stepped down as editor-in-chief of the Post in 2016 but returned in a vague advisory role early last year. Allan is said to still play a role in editorial decision-making, particularly when it comes to big politics stories like the Hunter Biden series. The Times reported that Allan urged top editors to move quickly on the story when the files were given to the Postlast Sunday by Giuliani.
Post reporters who spoke to Intelligencer were not surprised then that the paper published the story, even if they wish that it hadn't.
The story's bylines eventually went to Emma-Jo Morris, a former associate producer on Fox News show Hannity, who joined the Post as an editor this year and had yet to publish a story with her byline, and Gabrielle Fonrouge, a Postreporter since 2014. According to the Times, Fonrouge only learned her name was on the story after it was published.
Mr. Giuliani hinted that he had offered it elsewhere when he told the Times that he chose The New York Post because "either nobody else would take it, or if they took it, they would spend all the time they could to try to contradict it before they put it out."
In other words: "There are no journalistic standards at the New York Post."
Since this story broke, the New York Times, Washington Post, and Wall Street Journal have all worked to verify the New York Post report but have not yet been able to confirm. (The Biden campaign has not challenged the veracity of all the emails, though they have said there is no record of a meeting between Joe Biden and a Ukrainian executive — a central claim of the Post's "smoking gun" report.)
* * *
While Fox's news division appears to have applied basic journalistic standards in declining to run such an explosive story without verification, much of the network's opinion programming has covered the story and even had Giuliani on air to tout it,using the Post's reporting as its shield while blaming the rest of the media for not covering it.
This is Rupert Murdoch, one of the most vile creatures in yellow rag tabloid journalism over the past half-century, trying to have it both ways. Fox News wouldn't touch it, so he farmed it out to his yellow rag New York Post. Then the GOPropagandists at Fox could cite back to the Post story to talk about this unconfirmed story anyway.
Recently, more than 200,000 people signed a petition drawn up by a former prime minister of Australia calling for an examination of Rupert Murdoch's media empire. Petition Targeting Murdoch Swamps Australian Parliament's Website:
A petition calling for a public inquiry into Rupert Murdoch's media empire in Australia, posted by a former prime minister, generated so much interest over the weekend that it overwhelmed the website's cyberdefenses and shut down access to the document.
The petition — posted on Friday by former Prime Minister Kevin Rudd — asks the government to establish a Royal Commission, the country's highest form of inquiry, into the dominance of Australian media by Mr. Murdoch's News Corp and its impact on the country's political landscape.
"Murdoch has become a cancer — an arrogant cancer on our democracy," Mr. Rudd said in a Twitter video on Friday. An inquiry, he added, would "maximize media diversity ownership for the future lifeblood of our democratic system."
The move was a very public attempt to challenge Mr. Murdoch, 89, and his global media empire, which contributed to the rise of right-wing politics and helped reshape democratic governments around the world.
The United States and Great Britain should join or duplicate Australia's Royal Commission to examine how Rupert Murdoch's sleazy media empire propagates and amplifies Russian active measures disinformation to undermine the world's great democracies. The conservative media entertainment complex is an ancillary to Russian 'active measures' propaganda. Who's interests does this sonuvabitch actually serve?
As for Rudy Giuliani, the FBI is investigating the purloined laptop materials from Joe Biden's son as part of a possible foreign disinformation operation, a congressional source told The Daily Beast—an investigation at odds with a statement from President Donald Trump's director of national intelligence, John Ratcliffe, a Trump loyalist. FBI Examining Hunter's Laptop As Foreign Op, Contradicting Trump's Intel Czar:
Ratcliffe told Fox Business (of course) on Monday that the dissemination of materials from Hunter Biden's alleged laptop was not part of a Russian disinformation campaign.
"The intelligence community doesn't believe that because there is no intelligence that supports that," Ratcliffe said.
But that assessment gets out in front of the FBI, which took custody of the laptop and an external hard drive as early as in December, according to the New York Post. The bureau, according to the congressional source, is looking into the provenance of the material. And among the questions they're seeking to answer is whether the laptop dump is part of what the intelligence community's counterintelligence chief has already described as a Russian disinformation effort targeting the 2020 election.
The FBI declined to comment, "in keeping with our standard practice of neither confirming nor denying the existence of our investigations," said spokesperson Kelsey Pietranton. But the bureau's investigation into the Hunter Biden laptop material has previously been reported by NBC, the AP, and USA Today.
One senior intelligence official told The Daily Beast that the community is still working to determine if the Hunter Biden materials—which were leaked to the press by Trump's personal attorney Rudy Giuliani—stem from a specific Russian intelligence operation. Giuliani has for years worked with Ukrainian parliamentarians with links to Russia, including one "Russian agent," to propagate disinformation about the Obama administration and the Biden family, including Hunter Biden. While Giuliani and his confidants have previously spoken publicly about Hunter Biden's drug use, intelligence officials are investigating whether this last-minute push to release material through Trump-friendly media outlets stems from some particular directive from Moscow or whether it is an extension of Giuliani's years-long effort to use Ukrainian intermediaries to dig up dirt on the Bidens.
Whatever the case may be, intelligence officials say the recent packaging of the Hunter Biden material looks similar to something the Russians would do to sow chaos in U.S. domestic politics. But, officials say, Moscow wouldn't necessarily need to muddy the waters by being directly involved in the latest dissemination of materials because Giuliani has already taken the lead.
"The Intelligence Community has stated publicly that Russia is once again seeking to benefit Donald Trump's election campaign by denigrating Joe Biden," said Patrick Boland, spokesman for Rep. Adam Schiff (D-CA), who chairs the House Intelligence Committee. "The new wave of attacks we are seeing… are consistent with the false and unsubstantiated narratives that the president, his personal lawyer, and a sanctioned Russian agent have been pushing for well over a year. They appear intended to distract from recent reports that the White House, as early as December 2019, was made aware that Rudy Giuliani was being leveraged by Russian proxies as part of Kremlin efforts to interfere in our election."
More than 50 former intelligence officials have signed a letter saying the Hunter Biden story is Russian disinformation:
More than 50 former senior intelligence officials have signed on to a letter outlining their belief that the recent disclosure of emails allegedly belonging to Joe Biden's son "has all the classic earmarks of a Russian disinformation operation."
The letter, signed on Monday, centers around a batch of documents released by the New York Post last week that purport to tie the Democratic nominee to his son Hunter's business dealings. Under the banner headline "Biden Secret E-mails," the Post reported it was given a copy of Hunter Biden's laptop hard drive by President Donald Trump's personal lawyer Rudy Giuliani, who said he got it from a Mac shop owner in Delaware who also alerted the FBI.
While the letter's signatories presented no new evidence, they said their national security experience had made them "deeply suspicious that the Russian government played a significant role in this case" and cited several elements of the story that suggested the Kremlin's hand at work.
"If we are right," they added, "this is Russia trying to influence how Americans vote in this election, and we believe strongly that Americans need to be aware of this."
Nick Shapiro, a former top aide under CIA director John Brennan, provided POLITICO with the letter on Monday. He noted that "the IC leaders who have signed this letter worked for the past four presidents, including Trump. The real power here however is the number of former, working-level IC officers who want the American people to know that once again the Russians are interfering."
Here is Rudy Giuliani with his indicted Ukrainian cohorts Lev Parnas and Igor Fruman, posing with their collaborators.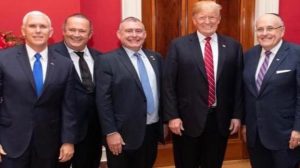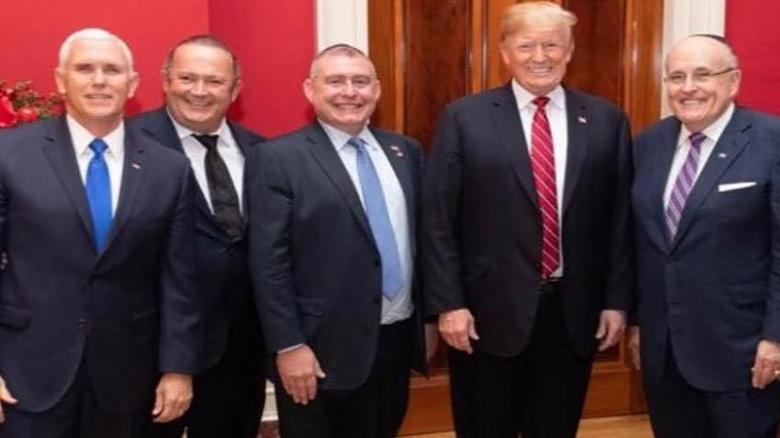 [T]he release of the material, which POLITICO has not independently verified, has drawn comparisons to 2016, when Russian hackers dumped troves of emails from Democrats onto the internet — producing few damaging revelations but fueling accusations of corruption by Trump. While there has been no immediate indication of Russian involvement in the release of emails the Post obtained, its general thrust mirrors a narrative that U.S. intelligence agencies have described as part of an active Russian disinformation effort aimed at denigrating Biden's candidacy.
"We want to emphasize that we do not know if the emails, provided to the New York Post by President Trump's personal attorney Rudy Giuliani, are genuine or not and that we do not have evidence of Russian involvement," the letter reads. But, it continues, "there are a number of factors that make us suspicious of Russian involvement."
"Such an operation would be consistent with Russian objectives, as outlined publicly and recently by the Intelligence Community, to create political chaos in the United States and to deepen political divisions here but also to undermine the candidacy of former Vice President Biden and thereby help the candidacy of President Trump," the letter reads.
National Counterintelligence and Security Center Director Bill Evanina said in August that Russia has been trying to denigrate Biden's campaign, specifically through a Ukrainian lawmaker named Andriy Derkach who has met with Giuliani at least twice to discuss corruption accusations against Biden. Derkach was sanctioned by the Treasury Department last month for allegedly acting as a Russian agent and interfering in the 2020 election.
* * *
The former officials said Derkach's relationship with Giuliani and fixation on the Bidens, along with Russia's reported hack on Burisma — the Ukrainian energy company that gave Hunter Biden a board seat and is at the center of Trump and his allies' corruption allegations — "is consistent with" a Russian operation.
"For the Russians at this point, with Trump down in the polls, there is incentive for Moscow to pull out the stops to do anything possible to help Trump win and/or to weaken Biden should he win," the letter says. "A 'laptop op' fits the bill, as the publication of the emails are clearly designed to discredit Biden."
As Michelle Goldberg of the New York Times writes, Is the Trump Campaign Colluding With Russia Again? (Yes):
If there's an important story here, it's almost certainly about Giuliani's dirty tricks, not any wrongdoing by Joe Biden. Reporting on disinformation is complicated, because it's hard to write about it without amplifying it. Still, this episode distills just how far Trump has dragged the country down in four years.
Both Giuliani and Trump should be charged as active agents in a foreign election interference operation on behalf of a hostile foreign adversary. They are both traitors to their country.