Last Friday, President Trump would not say if he plans to keep or remove FBI Director Christopher Wray, expressing displeasure with his testimony to Congress about foreign election interference and domestic terror threats for a second straight day. Trump doesn't offer vote of confidence for FBI director:
"We're looking at a lot of different things," Trump told reporters when asked if he'd like to replace Wray, who was appointed to his role in 2017.
Wray on Thursday testified before the House Homeland Security Committee, where he told lawmakers that anarchists who identify with the antifa movement are a real threat, but are "just one part" of the bureau's investigations into domestic terror. The probes are also focused on "racially motivated violent extremists" and others, Wray said.
The director further testified on the subject of foreign interference in November's election, saying Russia has been "very active" in trying to influence November's election by sowing divisiveness and attempting to "denigrate" Democratic nominee Joe Biden.
The New York Times reports that the CIA intelligence assessment agrees with the FBI director. C.I.A. Reasserts Putin Is Likely Directing Election Influence Efforts to Aid Trump:
President Vladimir V. Putin of Russia is most likely continuing to approve and direct interference operations aimed at raising President Trump's re-election chances, a recent C.I.A. analysis concluded, a signal that intelligence agencies continue to back their assessment of Russian activities despite the president's attacks.
The assessment was disseminated in support of sanctions imposed this month on Andriy Derkach, a pro-Russian Ukrainian lawmaker who has spread information critical of Vice President Joseph R. Biden Jr. It is consistent with intelligence officials' warning to lawmakers in January that Russia was interfering on Mr. Trump's behalf, a briefing that outraged Republicans and eventually helped oust Joseph Maguire from his post as acting director of national intelligence.
* * *
According to people familiar with the matter, the new analysis was published ahead of the sanctions in the C.I.A. Worldwide Intelligence Review, a classified document that circulates to members of Congress and the Trump administration.
Josh Rogin of the Washington Post earlier reported the assessment: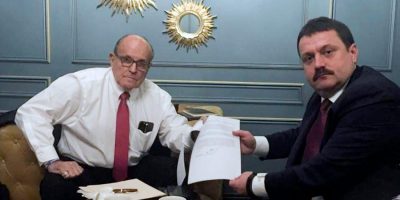 Russian President Vladimir Putin and his top aides are "probably directing" a Russian foreign influence operation to interfere in the 2020 presidential election against former vice president Joe Biden, which involves a prominent Ukrainian lawmaker connected to President Trump's personal lawyer Rudolph W. Giuliani, a top-secret CIA assessment concluded, according to two sources who reviewed it.
On Aug. 31, the CIA published an assessment of Russian efforts to interfere in the November election in an internal, highly classified report called the CIA Worldwide Intelligence Review, the sources said. CIA analysts compiled the assessment with input from the National Security Agency and the FBI, based on several dozen pieces of information gleaned from public, unclassified and classified intelligence sources. The assessment includes details of the CIA's analysis of the activities of Ukrainian lawmaker Andriy Derkach to disseminate disparaging information about Biden inside the United States through lobbyists, Congress, the media and contacts with figures close to the president.
"We assess that President Vladimir Putin and the senior most Russian officials are aware of and probably directing Russia's influence operations aimed at denigrating the former U.S. Vice President, supporting the U.S. president and fueling public discord ahead of the U.S. election in November," the first line of the document says, according to the sources.
The Office of the Director of National Intelligence and the Treasury Department have identified Derkach as a Russian agent, but it has not been publicly reported that the CIA, NSA and FBI believed Putin may be personally directing the campaign. Derkach has denied working on behalf of Moscow.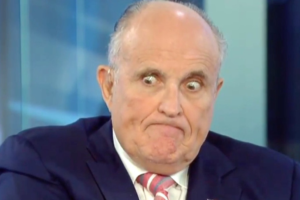 The CIA assessment described Derkach's efforts in detail and said that his activities have included working through lobbyists, members of Congress and U.S. media organizations to disseminate and amplify his anti-Biden information. Though it refers to Derkach's interactions with a "prominent" person connected to the Trump campaign, the analysis does not identify the person. Giuliani, who has been working with Derkach publicly for several months, is not named in the assessment.
* * *
The tapes Derkach released appear to show Biden linking loan guarantees to the ouster of then-Ukrainian Prosecutor General Viktor Shokin, who was accused of corruption. Giuliani, who met with Derkach in Kiev in December and in New York this year, has claimed the tapes show Biden was working to protect his son Hunter, who at the time was on the board of the Ukrainian gas company Burisma. The released tapes show no such connection.
Giuliani has admitted Derkach provided him materials as part of Giuliani's quest to prove wrongdoing by the Bidens and his contention that the Ukrainian government interfered in the 2016 presidential election on the side of the Democrats, including by sharing evidence of corruption implicating Trump's second 2016 campaign chairman, Paul Manafort. Manafort was later convicted of tax and bank fraud related to his Ukraine work. Derkach published some of these materials on a public website he created.
* * *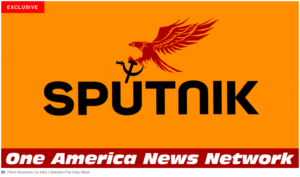 After meeting with Derkach in December, in the middle of Trump's impeachment proceedings, Giuliani tweeted that U.S. aid to Ukraine might face a "major obstacle" if the Ukrainian government didn't resolve his concerns about corruption. Giuliani and Derkach's allegations against Biden were covered extensively by the One America News Network, which sent a correspondent with Giuliani to Kiev. In February, Giuliani interviewed Derkach on YouTube, where Derkach alleged that U.S. aid to Ukraine was misspent.
Even though Derkach is a former member of a pro-Russian party who attended the Dzerzhinsky Higher School of the KGB in Moscow, Giuliani has consistently defended his relationship with Derkach. Following the Treasury Department's announcement sanctioning Derkach, Giuliani told the New York Times he had "no reason to believe [Derkach] is a Russian agent," but added, "How the hell would I know?"
* * *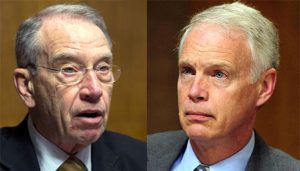 Derkach told Politico in July that he passed along packets of materials to several lawmakers and White House officials. He said he notified Sens. Ron Johnson (R-Wis.), Charles E. Grassley (R-Iowa) and Lindsey O. Graham (R-S.C.) about the material. Johnson, Grassley and Graham have denied they received information from Derkach. Rep. Devin Nunes (R-Calif.) has declined to comment on whether he received materials from Derkach. Democratic leaders wrote to Wray in July to demand a briefing based on concerns that members of Congress were being used to launder information as part of a foreign interference operation.
Johnson has launched an investigation into Biden and Burisma, the results of which could be released as early as this week (see below). The State Department provided Johnson with more than 16,000 pages of information for his investigation months ago, but only shared those documents with Congress on Friday, following a subpoena by House Foreign Affairs Committee Chairman Eliot L. Engel (D-N.Y.).
Engel told me he is not surprised to learn that parts of the intelligence community have concluded Putin is directly trying to help Trump's election campaign, again. But he called on the administration to publicly release these findings.
"What's most infuriating is that the administration seems to be doing everything it can to hide the facts from Congress and the American people," he said. "The president seems to be trying to turn the entire executive branch into an arm of his reelection campaign, dangerously politicizing foreign policy and intelligence."
Senate Republicans, led by Sens. Ron Johnson (R-Wis.) and Chuck Grassley (R-Iowa), on Wednesday released an interim report on their probe into Joe Biden and his son Hunter Biden's dealings in Ukraine. GOP senators' report calls Hunter Biden's board position with Ukraine firm 'problematic' but doesn't show it changed U.S. policy:
A pair of Republican Senate committee chairmen released a report Wednesday that revived attacks on the son of Democratic presidential nominee Joe Biden and argued his position with a Ukrainian energy company was "problematic," but the report did not show that it changed Obama administration policy toward Ukraine.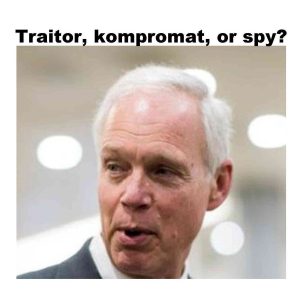 Senate Homeland Security and Governmental Affairs Committee Chairman Ron Johnson (R-Wis.) and Finance Committee Chairman Charles E. Grassley (R-Iowa) co-authored the report, which comes just weeks before the Nov. 3 election and just days before President Trump and former vice president Biden face off in the first presidential debate.
Much of the Republican report rehashes information that was already a key part of the GOP defense during the impeachment proceedings against Trump last year. The report concludes that "Hunter Biden's position on Burisma's board was problematic and did interfere in the efficient execution of policy with respect to Ukraine," while charging that he and other Biden relatives "cashed in on Joe Biden's vice presidency."
But at the same time, the report states that "the extent to which Hunter Biden's role on Burisma's board affected U.S. policy toward Ukraine is not clear."
Top-ranking Democratic senators slammed the GOP report, saying its key findings were false and "rooted in a known Russian disinformation effort." The accumulated testimony, they argued, showed no wrongdoing by Joe Biden.
"Chairman Johnson repeatedly impugned Vice President Biden in public on the basis of secret evidence he claimed to have obtained," the Democrats said in their competing report, rebutting Johnson's conclusion. "Contrary to his public insinuations, the Chairmen's investigation found no evidence that the former vice president did anything wrong in his efforts to carry out official U.S. foreign policy in Ukraine."
The Democrats added, "All first-hand witnesses testified that Hunter Biden's position on the board of Burisma had no impact whatsoever on United States foreign policy."
Democrats argue that Johnson has "repeatedly impugned" Biden, and they pointed to his recent comments hinting that the report would shed light on Biden's "unfitness for office," as reported by the Milwaukee Journal Sentinel, to argue that the entire investigation was orchestrated as a smear campaign to benefit Trump.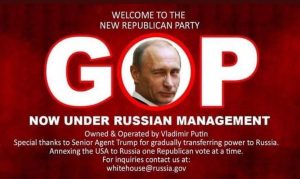 In a statement issued before the report's release, Biden campaign spokesman Andrew Bates accused Johnson of trying "to subsidize a foreign attack against the sovereignty of our elections with taxpayer dollars — an attack founded on a long-disproven, hardcore right-wing conspiracy theory that hinges on Sen. Johnson himself being corrupt and that the senator has now explicitly stated he is attempting to exploit to bail out Donald Trump's reelection campaign."
Sen. Ron Wyden (D-Ore.), the ranking Democrat on the Finance Committee, called the report a "sham investigation" and "an attempted political hit job facilitated by the State Department" that serves to "push Russian disinformation."
In their rebuttal, Wyden and Sen. Gary Peters (D-Mich.), the ranking Democrat on the Homeland Security and Governmental Affairs Committee, wrote that Johnson and Grassley's report "is one outcome of Mr. Derkach's election interference effort."
Johnson has had contact with another Ukrainian national, former diplomat Andriy Telizhenko, who once worked as a consultant for Blue Star Strategies, a lobbying firm that worked on behalf of Burisma. Telizhenko has advanced the theory that Ukraine interfered in the 2016 election to boost Democrat Hillary Clinton and undermine Trump. Recently, he also has been publishing unverified transcripts of recordings allegedly reflecting conversations between then-Vice President Biden and then-President Petro Poroshenko of Ukraine — recordings that Derkach has been publicizing as well.
The Democrats' rebuttal states that Telizhenko has "close ties" to Derkach and accuses him of "translating Mr. Derkach's claims" to help "produce Russian disinformation for an American audience."
The FBI has issued a warning that 2020 presidential election results may take days or weeks to certify and that foreign actors may spread disinformation about the results in the interim. The most active Russian agent spreading disinformation is Donald Trump. The Russian Trolls Have a Simpler Job Today. Quote Trump.
Four years ago, when Russian intelligence agencies engaged in a systematic attempt to influence the American presidential election, the disinformation they fed American voters required some real imagination at the troll farms producing the ads.
This year, their task is much easier. They are largely amplifying misleading statements from President Trump, mostly about the dangers of mail-in ballots.
In interviews, a range of officials and private analysts said that Mr. Trump was feeding many of the disinformation campaigns they were struggling to halt. And rather than travel the back roads of America searching for divisive issues — as three Russians from the Internet Research Agency did in 2016 — they are staying home, grabbing screenshots of Mr. Trump's Twitter posts, or quoting his misleading statements and then amplifying those messages.
That campaign is at the heart of the disinformation efforts that the F.B.I. director, Christopher A. Wray, warned Congress last week was meant "to both sow divisiveness and discord" and "to denigrate" former Vice President Joseph R. Biden Jr., the Democratic nominee.
* * *
The F.B.I. and the Department of Homeland Security on Tuesday again warned of the risk of interference in the election, this time by foreigners aiming to exploit the time it will take to sort through mail-in ballots. During that time, the agencies said, hackers could amplify "disinformation that includes reports of voter suppression, cyberattacks targeting election infrastructure, voter or ballot fraud and other problems intended to convince the public of the elections' illegitimacy."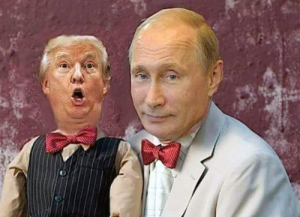 The warning made no mention that the president had recently listed several of those techniques as likely to plague the vote.
Multiple U.S. officials with access to the intelligence have said Mr. Trump has been doing the job of the Russian propagandists for them. Mr. Biden's national security adviser when he was vice president, Antony J. Blinken, charged at a U.S. Chamber of Commerce forum on Tuesday that as a "leading consumer and purveyor of conspiracy theories," Mr. Trump "seems to have suited up for the other side."
* * *
Much of the Russian traffic echoes Mr. Trump's effort to establish an argument for rejecting the election results if he loses in states that are mailing ballots to all voters for the first time. But of the states doing so for the first time this election, only Nevada is seriously in contention.
No sooner did Mr. Trump begin to contend that the system was ridden with fraud than Russian trolls, bots and news sites joined in. In late May, the state-backed Russian website RT was quick to publish an article claiming that such ballots "are the easiest route to a RIGGED ELECTION."
By early August, the Strategic Culture Foundation — an online journal that the State Department declared recently "is directed by Russian Foreign Intelligence Service" — had picked up on the same theme, according to analysts at Recorded Future, a group based in Somerville, Mass., that analyzes cyberactivity by foreign governments.
An article appearing on the Strategic Culture website concludes: "President Trump has several times claimed that the expected surge in mail-in voting could result in 'the most corrupt vote in our nation's history.' Trump is often wrong when he speaks or tweets spontaneously, but this time he just might be right."
And this month, the Russian government news site, Sputnik, published an article headlined, "Trump Again Claims Biden May Be Using Drugs to Enhance His Debate Performances," repeating comments the president made on Fox News. That piece was republished by the right-wing website Infowars, disseminating it more widely in the United States, and readers shared it on social media. That allowed the article to spread without running the risk that it would be removed because it was an "inauthentic" post by a Russian troll in St. Petersburg pretending to be American.
The Russia proxy website Newsfront went further, reporting "confirmation of rumors about Biden's incapacity." It is the exact type of disinformation a homeland security intelligence bulletin warned Russian actors have amplified "because they judge this narrative will resonate with some American voters and reduce their confidence in him as a candidate."
Feeding the Russian desire to discredit the election system was also what the Republican-led Senate Intelligence Committee warned against in its report on how Moscow tried to manipulate the 2016 election.
"Sitting officials and candidates should use the absolute greatest amount of restraint and caution if they are considering calling the validity of an upcoming election into question," the committee concluded, without dissent from its Republican majority. "Such a grave allegation can have significant national security and electoral consequences, including limiting the response options of the appropriate authorities, and exacerbating the already damaging messaging efforts of foreign intelligence services."
You can't swing a dead cat in the Republican Party without hitting a Russian active agent or "useful idiot." These Republicans are all traitors to their country.