Update to Sanctimonious Mike Pence Is Obstructing Justice By His Failure To Testify To The Special Counsel And Criminal Grand Jury and Special Counsel Investigation Moves To Compel Mike Pence's Testimony To Criminal Grand Jury, and Sanctimonious Mike Pence Moves To Block Subpoena For His Testimony To A Criminal Grand Jury.
The single most pathetic politician in American history, the craven coward Mike Pence, who is still enabling Donald Trump even after the would be dictator sent a violent MAGA mob to hang him for defying him, joined his would be assassin in court today to make specious arguments why he should not be required to testify to Special Counsel Jack Smith's criminal grand jury about his role in the January 6 Coup Plot, and his conversations with Trump. Pence is no patriot, nor a hero. I suspect he is actually concerned about his own exposure to criminal liability as a co-conspirator in the Coup Plot, right up to the moment that he withdrew from the conspiracy.
Politico reports, Trump, Pence urge judge to reject special counsel bid to obtain former VP's testimony:
Attorneys for Donald Trump and Mike Pence were in federal court Thursday to fight efforts by special counsel Jack Smith to subpoena the former vice president as part of the investigation into Trump's effort to subvert the 2020 election.
Four of Trump's lawyers — Evan Corcoran, Jim Trusty, John Rowley and Tim Parlatore — joined Pence lawyer Emmet Flood in their efforts to scuttle Smith's subpoena, which seeks Pence's testimony about the weeks and months preceding the violent Jan. 6 attack on the Capitol [the Coup plotting conspiracy period]. There, rioters loyal to Trump forced Pence to flee for safety after Pence defied Trump's demands that he single-handedly stop the transfer of power to Joe Biden.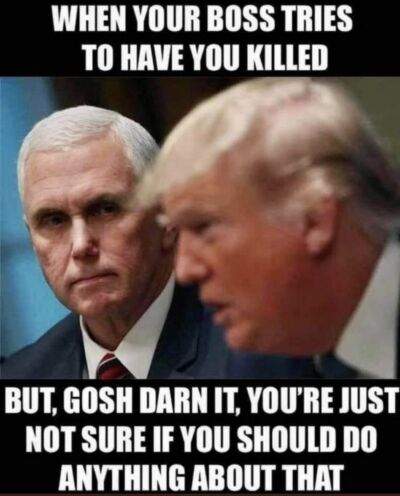 Trump's team contends that Smith's effort to seek details of Pence's conversations with Trump would violate executive privilege [previously rejected by every court to consider it under the crime-fraud exception], but Pence's team is taking a different approach. Flood contends that Pence's former role as president of the Senate means Pence has congressional immunity [speech and debate clause] from the Justice Department's probe.
See earlier posts for why this specious argument is laughable and not serious.
It's one of the weightiest constitutional fights that Smith is likely to undertake, one that could shape the balance of power between all three branches of government in unpredictable ways. Assistant U.S. Attorney Thomas Windom, one of Smith's lead investigators, was seen entering the courtroom as well.
It's also an early test for Chief U.S. District Court Judge James Boasberg, who took the chief's gavel last week after his predecessor Beryl Howell's seven-year term as chief expired. The chief judge is tasked with overseeing all grand jury matters in the district, which include Smith's special counsel probes.
Pence's fight to block the subpoena is not the only way Smith's inquiry could have far-reaching constitutional consequences. A three-judge appeals court panel is expected to rule imminently on his separate effort to access the cellphone data of Rep. Scott Perry (R-Pa.), a key ally in Trump's bid to overturn the 2020 election results. Perry, like Pence, is arguing that his communications should be shielded by the Constitution's "speech or debate" clause, which grants Congress sweeping immunity from compelled testimony — if it pertains to lawmakers' official duties.
The Perry dispute drew intervention from the House of Representatives, which filed a sealed amicus brief in the matter that raised concerns about the implications for the institution should the appeals court adopt a narrow view of "speech or debate" immunity.
The hearing also underscored the extraordinary confluence of acute legal and criminal matters Trump is facing.
Corcoran himself has been ordered by a federal judge to testify as soon as Friday in Smith's other ongoing criminal probe of Trump's handling of sensitive national security records discovered at his Mar-a-Lago estate. And while Corcoran was waiting in the cafeteria Thursday, an attorney for Joseph Biggs — one of five Proud Boys facing seditious conspiracy charges for actions on Jan. 6 — approached him to attempt to serve a subpoena on Trump.
The attorney, Norm Pattis, said Corcoran told him he was "not authorized" to accept service on Trump's behalf.
Wow.
The speech and debate clause is not a "get out of jail free" card for members of Congress simply by virtue of being elected to Congress. It does not permit Rep. Scott Perry (R-Pa.) to engage in a seditious conspiracy, insurrection and treason – high crimes under the Constitution. The cowardly Mike Pence is not even a member of Congress, as Vice President he is in the executive branch, to which the speech and debate clause does not apply. His role on January 6, as even he has said, was purely ministerial. He was there just to read the results of the electoral college vote. as president of the Senate. His legal moves are dilatory, solely for the purpose of delay.
The Court must reject this obvious obstruction of justice and require the sanctimonious Mike Pence to testify before the criminal grand jury in short order.