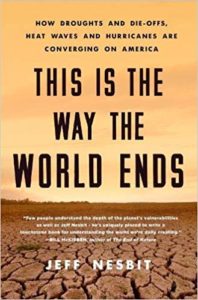 Fifteen years ago, the Saudi government told its farmers to grow wheat and paid them 5 times the market price to do so. In a county without a single lake or river, they told farmers to drill as deep as they wanted for water.
Flash forward to 2011: the aquifers were sucked dry. Totally depleted. Bone dry in a country with scant rainfall. What did they do next? The Saudi dairy Almarai came to western Arizona and bought 15 square miles of farmland. They are sucking our aquifers dry by planting alfalfa for export, which requires 4 times more irrigation than wheat.
This is how climate change is bringing competition for water to Arizona, according to a new book, This Is the Way the World Ends: How Droughts and Die-offs, Heat Waves and Hurricanes Are Converging on America. Author Jeff Nesbit says, "This $47.5 million transaction is an example of the Saudi's efforts to ensure the country's dairy business as well as conserving the nation's resources."

Secret plan to buy farmland
Almarai bought 9,834 acres of farmland in Vicksburg, Arizona, in La Paz County through its subsidiary Fondomonte, Arizona LLC. "Water for Almarai's irrigation efforts come from the same source of fresh water — the Colorado River –that provides drinking water for cities like Los Angeles and Las Vegas," Nesbit writes. "The Colorado River reservoirs have been experiencing all-time lows, creating a volatile local political situation."
The US government saw it coming, according to a secret 2008 diplomatic cable. Saudi King Abdullah, fearing political stability caused by rising food and water costs in Saudi Arabia, launched a plan to buy up farmland in the Third World and the US.
"The Saudi rulers didn't want to risk a revolution, like the Arab Spring, fueled by lack of food and water," Nesbit writes.
Severe water restrictions
In Arizona, we can expect a drying Colorado River, the exhaustion of the Lake Mead and Lake Powell reservoirs, severe water restrictions in Cape Town, South Africa earlier this year, temperatures so high that airplanes can't take off as in June 2017 in Phoenix, heat-related deaths, suffocating air pollution, power blackouts and wildfires like the 2011 Monument Fire that damaged 40 homes.
All this is predicted for the Southwest by the National Climate Report. Currently, there are 65-100 days above 100 degrees in Phoenix, and the Climate Report foresees 140-170 days above 100 degrees in the coming years. Depleted aquifers happened in Syria and Yemen, and it's going to happen here, Nesbit predicts.
Nestle sees a coming global water crisis
It's not just government officials who are worried. The book describes how U.S. Embassy officers visited Nestle's headquarters in Switzerland in 2009 at the pit of the economic recession. After meeting with company executives, who provided a grim outlook of the coming years, an embassy official cabled Washington with the subject line, "Forget the Global Financial Crisis, the World Is Running Out of Fresh Water."
"Nestle thinks one-third of the world's population will be affected by freshwater scarcity by 2025, with the situation only becoming more dire thereafter and potentially catastrophic by 2050," according to a March 24, 2009, cable. "Problems will be severest in the Middle East, northern India, northern China, and the western United States."
Nestle routinely monitors environmental and ecological threats to shareholders. Nestle said a third of the world's population will start to experience freshwater scarcity by 2025 (just 7 years from now). Nestle's internal assessment was the first to deeply analyze the freshwater threat to a leading global business enterprise and, by extension, to billions of people who literally cannot live without access to fresh water," Nesbit writes.
"The water table is dropping precipitously in the Western US and in northern India. In both areas, users are withdrawing more water than can be replenished and rising salinity is reducing the productivity of plants," the state department cable says.
"Nestle sees the world, and global food production, largely in terms of the water economy. Its management is convinced that growing shortages of fresh water, rather than land, will become the Achilles heel of global agricultural development." Water shortages — and not an economic downturn — are "the most dangerous near-term threat to the planet's well-being," the cable says.
"The gate that we face at present is not a question of surviving or conquering the planet," Nesbit writes. "We hae conquered Earth. It is ours. The question is whether we can save ourselves as a vanquished Earth begins to turn against us. In the end, the planet will be fine. We might not be."
---
Support volunteer citizen journalism at the Blog for Arizona with a donation today. Your secure contribution keeps the Blog online and sustains a free press in Arizona.
---