Earlier this year, when Maricopa County Attorney Bill Montgomery applied for an open seat on the Arizona Supreme Court, the Commission on Appellate Court Appointments voted him down 7–5 after criticizing his lack of experience, his controversial views and past that raised concerns about his impartiality, and his office's culture of misconduct.
Attorney Mark Harrison, a past president of the State Bar of Arizona, said in an op-ed for the Arizona Capitol Times that "views of commissioners reported in the media following Montgomery's first appearance before the commission indicate that he was regarded as one of the least qualified of those seeking an appointment to the Supreme Court."
Governor Doug Ducey promptly replaced Montgomery's opponents on the Commission on Appellate Court Appointments with Republicans or Republican-affiliated "independents" to rig the system with commissioners who would do his bidding.
Ducey's new commissioners did what they were appointed to do: They put Bill Montgomery on the shortlist of judicial nominees, effectively reversing the commission's earlier conclusion that he was not qualified, so that Governor Ducey could nominate him to the court.
All the failsafes built into Arizona's merit selection judicial nominating system have failed because Governor Ducey rigged the system as part of his court-packing scheme. And the Republican-controlled legislature aided and abetted his corrupt plan. This is a major ethics and corruption scandal that Arizona's Republican-friendly media have largely ignored or downplayed, especially The Arizona Republic.
On Wednesday, Governor Ducey closed the circle of corruption by appointing Bill Montgomery to the Arizona Supreme Court. Gov. Doug Ducey appoints controversial Maricopa County Attorney Bill Montgomery to Arizona Supreme Court: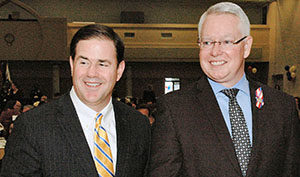 Gov. Doug Ducey on Wednesday appointed Maricopa County Attorney Bill Montgomery to the Arizona Supreme Court, a move critics say could politicize the bench and jeopardize the high court's reputation as impartial.
The polarizing prosecutor will replace retired Chief Justice Scott Bales — the court's last Democrat — and further cement the conservative, all-male majority Ducey has named to the state's top bench.
"As always, I went in (to interviews) with an open mind," Ducey, who has appointed more Supreme Court justices than any governor in Arizona history, said Wednesday.
"I was looking for a candidate who had an understanding of the law, a well-developed judicial philosophy, appreciation for the separation of powers and a dedication to public service. More broadly, I was looking for an individual who wants to interpret the law — not someone who wants to write the law," he said. "Bill Montgomery is that candidate."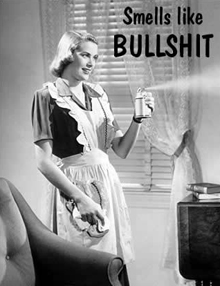 This is total bullshit. Ducey wanted to appoint an ideological reactionary to the court as a political favor to certain Republicans who have supported his seedy political career. No one can say that he chose the best qualified candidate for the court, either by experience or judicial temperament. This was political spoils that will have long-term consequences for the impartiality and credibility of the Arizona Supreme Court, already badly shaken by Governor Ducey's court-packing scheme.
As E.J. Montini writes, "In appointing Maricopa County Attorney Bill Montgomery to the Arizona Supreme Court, Gov. Doug Ducey has managed to politicize the last remaining vestige of integrity in state government: the judiciary." Gov. Doug Ducey's rigged system gets Bill Montgomery on the Arizona Supreme Court. "This, without doubt, will be the shining 'accomplishment' of Ducey's eight-year run as governor."
Praise from conservative leaders was swift and enthusiastic Wednesday afternoon, with Republican lawmakers, business leaders and law-enforcement officers applauding the governor's choice.
Rep. Anthony Kern, R-Glendale, called the appointment "awesome news" on Twitter, adding that Ducey was "keeping Arizona great."
Rep. David Livingston, R-Peoria, tweeted, "Great pick! Bill Montgomery is a Conservative and will honor the Constitution."
Sen. Sonny Borrelli, R-Lake Havasu City, similarly called Montgomery a solid constitutionalist and said he was confident that he "will uphold the rule of law."
Arizona Chamber of Commerce and Industry CEO Glenn Hamer also issued a statement calling the selection "superb."
"Having known Bill for over a decade and having had the privilege of serving on his Business Advisory Council, I can attest to his legal wisdom, his integrity, and his love for this state and this country," Hamer said. "Few Americans are better prepared than Bill Montgomery to serve on the state Supreme Court."
Plenty of other people disagreed.
"Great idea Governor. Send the guy that has fueled the state's mass incarceration crisis to Arizona's Supreme Court," state Rep. Raquel Terán, D-Phoenix, tweeted.
Alessandra Soler, executive director of the ACLU of Arizona, said Ducey had chosen "the most unqualified candidate on the list to serve on the highest court in Arizona," showing "complete disregard for Arizona's most marginalized communities who've been deeply hurt by Montgomery's harsh and intolerant policies."
Robbie Sherwood, a spokesman for House Democrats, simply tweeted: "Blechh."
Montgomery is off to an inauspicious beginning before he is even sworn in.
The appointment also followed the filing of a sweeping ethics complaint against Montgomery. The complaint, filed Tuesday, contended he had covered up misconduct by one of his lead prosecutors in the infamous Jodi Arias murder case.
The complaint alleges Montgomery allowed prosecutor Juan Martinez to engage in unethical conduct during the trial and took steps to make sure the public would not find out about it.
Ducey told reporters Wednesday morning he'd found the timing of the complaint "suspicious." But it wasn't the first time Montgomery had been accused of failing to discipline rogue prosecutors: The criticism was one of several points used to smack down Montgomery's first attempt to secure a seat on the high court about five months ago.
That time, the Commission on Appellate Court Appointments — the body charged with vetting and interviewing prospective judges before the governor makes a final pick — received so much negative feedback about Montgomery, it had to divide the criticism into four parts for discussion during his public interview.
Opponents argued he'd made the lives of minority-group members harder, stymied justice-system reforms, ignored misconduct in his office and should stick to politics.
Montgomery failed to make it onto commissioners' short list after that interview.
He received a warmer reception from the nominating commission in June, however, when he applied for the second time. By then, the group included four new faces appointed by the governor — and not a single Democrat.
That second public interview focused wholly on Montgomery's experience and perspectives, from his years at the U.S. Military Academy at West Point to his family life, community service and tenure as county attorney.
Commissioners said they weren't convinced Montgomery's political background should be disqualifying, dismissing the protesters who'd gathered in front of his office to argue he couldn't remain impartial. They voted 10-2 to short-list him, even after longtime commissioner and attorney Larry Suciu stressed that Montgomery had little relevant experience.
"A man who failed in his 1st appointment for lacking experience, ideological views, and his office's history of misconduct—is now a Justice," Rep. Isela Blanc, D-Tempe, tweeted Wednesday.
Sen. Martín Quezada, D-Phoenix, tweeted that the appointment proved Ducey "set up the rules of the game to achieve a desired outcome: Radicalizing an expanded #AZSupremeCourt to the detriment of the people of AZ."
The date of Montgomery's swearing-in had not been released as of Wednesday
Supreme Court justices appear on state ballots for retention two years after their initial appointment and every six years thereafter.
The campaign for non-retention of Bill Montgomery should begin today. In a just world, we would also be talking about impeaching Governor Ducey for rigging the Commission on Appellate Court Appointments and his court-packing scheme. But Arizona politics has been so thoroughly corrupted in favor of Republicans that this is not a possibility.
The only answer is to vote every Republican out of office. Every. Last. One.
Montgomery's Chief Deputy Rachel Mitchell will lead the Maricopa County Attorney's office until the Maricopa County Board of Supervisors appoints an interim county attorney.
Mitchell garnered national attention as the lead questioner during the U.S. Senate Judiciary Committee's hearings for Supreme Court nominee Brett Kavanaugh and Christine Blasey Ford. And what a total clusterfuck that was. Mitchell was shunted aside by Republican senators on the Judiciary Committee who found her line of questioning insufficiently partisan.