Politico reports "A federal appeals court has ruled that President Donald Trump's tax returns must be turned over to a local grand jury in Manhattan — a legal blow for the president's attempts to stymie a broad array of investigations." Trump tax returns must go to grand jury, appeals court rules:
A three-judge panel of the 2nd Circuit Court Appeals unanimously ruled that the president is not immune from investigative steps taken by state prosecutors, such as a grand jury subpoena.
Of course Team Total Obstruction of Congress plans to appeal: "Trump now plans to go to the Supreme Court to try to block the disclosure, said Jay Sekulow, an attorney for the president said." "The issue raised in this case goes to the heart of our Republic," Sekulow said in a statement vowing an appeal to the Supreme Court. "The constitutional issues are significant."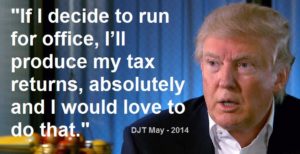 Hmmm, yeah, no, they are not. This unethical attorney is such a drama queen. There are no significant constitutional issues in this case. Trump's claim of immunity from criminal proceeding discovery by a grand jury not just for his himself but a broadly asserted immunity over any of his businesses and business associates (including his family members), and any businesses with whom he contracts, e.g., his accountant Mazars USA in this case, does not exist. Trump is trying to stop a third-party from producing non-privileged records that they created which are in its possession. There is no legal basis for Trump's claim.
Under a previous agreement, Manhattan District Attorney Cy Vance's office agreed not to try to immediately enforce the subpoena — issued to Trump's accounting firm Mazars — as long as Trump's attorneys petition the Supreme Court for review within 10 days and ask that the matter be heard by the justices during their current term.
The case is one of several pending legal disputes over access to Trump's financial records, and it appears on track to become the first to reach the Supreme Court if the judges accept the case. It's also part of a broader suite of legal cases that could determine whether prosecutors and congressional investigators will get access to Trump-related personal records, government documents and witness testimony. Thus far, Trump and the DOJ have faced a few legal setbacks at the lower court level, but many of these cases could take months to sort out as they make their way to the Supreme Court level.
This presumes that the Supreme Court grants certiorari, which is not a certainty.
On Monday, the appeals court dismissed concerns Trump's lawyers raised about the potential state prosecution of a president while in office. Second Circuit Chief Judge Robert Katzmann said the current case did not present that question and he stressed that the records don't pertain to Trump's official duties.
"After reviewing historical and legal precedent, we conclude only that presidential immunity does not bar the enforcement of a state grand jury subpoena directing a third party to produce non-privileged material, even when the subject matter under investigation pertains to the President," Katzmann wrote, in an opinion joined by Judges Denny Chin and Christopher Droney.
The appeals court's opinion noted that during the Watergate scandal, the Supreme Court ruled that President Richard Nixon's Oval Office tapes and documents had to be turned over for a federal trial of former Nixon aides. Katmzann said the Trump lawyers' arguments were less weighty than the ones the justices rejected in 1974.
"The President has not persuasively explained why, if executive privilege did not preclude enforcement of the subpoena issued in Nixon, the Mazars subpoena must be enjoined despite seeking no privileged information and bearing no relation to the President's performance of his official functions," Katzmann wrote.
"We are not faced, in this case, with the President's arrest or imprisonment, or with an order compelling him to attend court at a particular time or place, or, indeed, with an order that compels the President himself to do anything," the judge added. "The subpoena at issue is directed not to the President, but to his accountants; compliance does not require the President to do anything at all."
Katzmann also emphasized the sweeping nature of the claim by Trump's lawyers — that records pertaining to him cannot be subpoenaed as long as he is president, even if the investigation focuses on individuals beyond Trump himself.
"The subpoena seeks only the President's private tax returns and financial information relating to the businesses he owns in his capacity as a private citizen. These documents do not implicate, in any way, the performance of his official duties," Katzmann added.
* * *
Katzmann also appeared to tweak Trump for departing from the tradition in recent decades of presidents making their tax returns public.
"We note that the past six presidents, dating back to President Carter, all voluntarily released their tax returns to the public. While we do not place dispositive weight on this fact, it reinforces our conclusion that the disclosure of personal financial information, standing alone, is unlikely to impair the President in performing the duties of his office," the appeals court observed in a footnote.
All three judges who ruled on the appeal are Democratic appointees. Katzmann was appointed by President Bill Clinton. Chin and Droney were appointed by President Barack Obama.
Separately, Trump has filed two other lawsuits to prevent banks and the same accounting firm, Mazars, from responding to House subpoenas for his financial information. Last month, a three-judge panel of the D.C. Circuit rejected Trump's challenge to the congressional subpoena to Mazars, but Trump's attorneys have asked the full bench of that court to rehear the appeal.
The House Ways and Means Committee is also suing to force the Treasury Department to comply with the panel's request for Trump's tax returns and related records. No ruling has been issued yet in that case.
The walls are crumblin' down. It is only a matter of time before the courts rule with finality that Mazars USA must produce Trump's financial records and tax returns to Congress. And there is nothing Trump can do to stop them. Game over.
UPDATE: Paul Waldman of the Washington Post makes it clear that Only the Supreme Court can keep Trump's tax returns hidden now. Attorney Harry Litman agrees with me that The Supreme Court should not take up Trump's tax-return case. We shall soon learn if the Supreme Court has been corrupted as much as Trump's "Injustice" Department.