Earlier this month the Tea-Publican candidates for Secretary of State held their Citizens Clean Elections debate. Link to video replay: Secretary of State Primary Election Debate.
The Arizona Republic reported at the time, 'Dark money' splits GOP secretary-of-state hopefuls: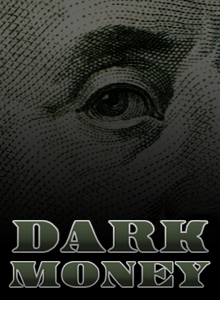 The three Republican candidates for Arizona secretary of state are split in their views on what, if anything, should be done to disclose donors of so-called dark money in political campaigns.
State Sen. Michele Reagan and businessman Wil Cardon both called for more transparency, although Reagan leaned toward government regulation while Cardon touted a voluntary solution. State Rep. Justin Pierce said he was cautious about the dampening effect too much disclosure would have on free speech.
* * *
Pierce said he's not sure groups that form to support or oppose a cause need more disclosure than what current state law requires. He said he's more willing to accept anonymous speech in the political arena than his opponents are. "My fear is, if I'm going to err on this, I'm going to err on the side of free speech," he said.
Cardon called for a "free-market solution" in which candidates would pledge to write a check to charity for any dark money spent on their behalf. It would be a way, he said, to rebuke the outside funding.
* * *
Reagan said states are increasingly moving toward more disclosure and Arizona will have to deal with it. She attempted a bill this year that would have required non-profit corporations that fund campaign issues to disclose their top three donors. The bill passed [her] Senate Elections Committee, then died. [because it had no support.]
The Arizona Republic, which only pretends to care about dark money in politics when it is the Phoenix police and fire unions or labor unions, while largely ignoring the massive "Kochtopus" dark money operation directed by Sean Noble right under their noses, gives  the candidates another chance to address dark money in politics today. How to handle dark money? Candidates weigh in.
Michele Reagan, the co-author of the GOP Voter Suppression Act, HB 2305, who has promised to bring elements of the bill back again in the unfortunate event she is elected, said "I would try to force disclosure of the top three contributors to political ads, whether it is TV or other ads. Disclosure is the very bedrock of our political process." This is simply a restatement of her earlier failed bill, which was an inadequate half-measure that would not provide for tracing funds to their original source.
Justin Pierce, a major beneficiary of dark money in this race from APS  seeking to curry favor with his father on the Arizona Corporation Commission Who is it that so badly wants Justin Pierce elected SOS?, said "there certainly is a place for people to participate in the election process anonymously and not have their names drug through the mud," referencing the bogus IRS scandal (of course). "At the same tie transparency is critical." He says he will gather together stakeholders, i.e., the business and union groups engaged in dark money now, to come up with a bill that they can agree on. His main concern is for retaliation against donors who contribute dark money anonymously. Yeah, this guy is not serious.
Wil Cardon, the self-funded millionaire man-child, said first of all, "First Amendment!" "Free speech!" However, "if the primary interest of a group is to influence an election" — what else would it be? — then "I believe there ought to be all (full) disclosure." This sounds to me like a candidate saying the words people want to hear, but without actually saying what he will do.
The Democratic candidate for Secretary of State, Terry Goddard, was not included in this particular Arizona Republic piece, but he did send out a press release regarding his position on the dark money issue:
I was recently asked by the Arizona Republic about what the Secretary of State can do to control 'dark money'. Bottom line: we must stop this deplorable practice. Arizona voters have the right to know who is trying to buy our votes. Below is my Republic answer.
We must stop dark money. Period. Arizona voters have the right to know who is trying to buy our votes. As a Clean Elections candidate, I only take contributions when donors are clearly identified, but the sad fact is Arizona has become a major center for anonymous political funds. Millions of dark money dollars are flooding into our state and polluting elections here and across the country.

As Secretary of State, I will fight to stop this deplorable practice:

First, I will use my experience as Attorney General to uncover the names of the original contributors by every means available and will publicize any groups that conceal the actual source of their funds.

Second, I will push in the Legislature for an effective anti-dark money law.

Finally, if the Legislature keeps refusing to ban dark money, I will draft an initiative that does the job and lead the campaign to win Arizona voters' approval.
There is only one candidate who is serious about dark money in politics, and that is Terry Goddard.
UPDATE: But of course . . . Gov. Jan Brewer today endorsed the face of voter suppression in Arizona, Sen. Michele Reagan, the co-author of the GOP Voter Suppression Act, HB 2305. Gov. Brewer endorses Reagan for secretary of state.