I've had my differences with Senator Dianne Feinstein (D-CA) over the years, but today she stepped up and proved herself to be a true patriot, putting an end to the partisan bullshit being pulled by her committee chairman, Senator Chuck Grassley, who is trying to smear British spy Christopher Steele and the "dossier" he prepared for Fusion DPS while not releasing the transcript of testimony by Fusion GPS before the Senate Judiciary Committee.
Sen. Grassley, along with Sen. Lindsey Graham of South Carolina, issued a criminal referral last week for Christopher Steele, asserting he had lied to federal authorities about his contacts with the media and urged the Justice Department to investigate
Sen. Feinstein essentially determined, "Screw you Chuck, I'll just release a redacted transcript of testimony on my own." Respect, Dianne! Democratic Senator Releases Transcript of Interview with Dossier Firm: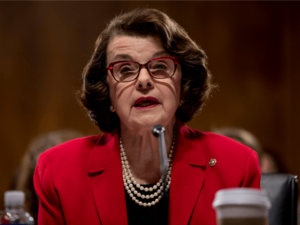 Senator Dianne Feinstein of California, the top Democrat on the Judiciary Committee, on Tuesday unilaterally released a highly anticipated transcript (.pdf) of the committee's interview with one of the founders of the firm that produced a salacious and unsubstantiated dossier outlining a Russian effort to aid the Trump campaign.
The interview, with Glenn R. Simpson of Fusion GPS, took place last summer and was expected to shed light on the origins of the firm's work, its concerns about the Trump campaign's activities, and what the F.B.I. may have done with the information.
"The American people deserve the opportunity to see what he said and judge for themselves," Ms. Feinstein said. "The innuendo and misinformation circulating about the transcript are part of a deeply troubling effort to undermine the investigation into potential collusion and obstruction of justice. The only way to set the record straight is to make the transcript public."
Mr. Simpson and Peter Fritsch, the firm's co-founders, had called for the transcript's release last week in an op-ed in The New York Times in which they accused Republicans of concealing their testimony in an effort to smear the dossier and distract from questions about the Trump campaign's ties to Russia.
In the op-ed, Mr. Simpson and Mr. Fritsch said the transcripts would show that they told lawmakers that they believed the dossier had been taken seriously by the F.B.I. because it matched reports that the bureau was receiving from other sources.
Mr. Simpson has also spoken with investigators from the House and Senate intelligence committees, which have their own investigations into Russia's election interference. Neither committee had intentions of releasing the transcripts from its interview with Mr. Simpson.
Democrats serving on these committees should follow Senator Feinstein's lead. Put an end to this GOP smear campaign and attempt to undermine the investigations into Russian interference in U.S. elections, and collusion with the Trump campaign.
UPDATE: Matthew Yglesias explains what the GOP did not want you to see in the testimony from Fusion GPS. Newly released Senate testimony debunks a key conservative theory on Trump and Russia:
The FBI was already investigating potential links between Donald Trump's campaign and the Russian government before they heard anything about Christopher Steele's famous dossier on the matter. That's the key takeaway from Fusion GPS co-founder Glenn Simpson's extensive testimony before the Senate Intelligence Committee, released Tuesday by ranking member Dianne Feinstein (D-CA) over the objections of her Republican colleagues.
Simpson's hearing lasted for hours, and the transcript is extremely long and mostly fairly tedious. But Simpson does clearly state that when Steele spoke to the FBI about his findings, the bureau "believed Chris's information might be credible because they had other intelligence that indicated the same thing, and one of those pieces of intelligence was a human source from inside the Trump organization."
That sounds like Trump campaign aide George Papadopoulos, who, according to a recent report in the New York Times, accidentally kicked off the Trump-Russia investigation by telling Australian diplomat Alexander Downer that Russia had political dirt on Trump's Democratic rival, Hillary Clinton, after a night of heavy drinking in May 2016.
Conservatives have recently been pushing a [conspiracy] theory that the basis for the FBI investigation was an opposition research document compiled at the behest of Clinton's campaign. Simpson's testimony seems to confirm the Times account and thereby debunk a conservative counternarrative that places the dossier itself at the center of the story.
* * *
The dossier is now the centerpiece of a conservative counternarrative
On January 3, Rep. Jim Jordan (R-OH) — a key House conservative — rolled out a tweetstorm asking 18 questions about the FBI and Russia, many of them centering on the dossier.
Jordan, joined by another leading House conservative, Rep. Mark Meadows (R-SC), is also calling for Trump to fire Jeff Sessions so he can put a new attorney general in place who would oversee (and presumably quash) the Russia investigation. This is part of a broader conservative effort to discredit the Mueller investigation, which in turn is part of a broader conservative counternarrative on the whole Russia scandal.
And the dossier plays a key role in this conspiracy theory.
Because conservatives are "just asking questions" about the FBI and Steele, they tend not to explicitly state what they think happened. But in broad strokes, the theory is something like this:
Trump's political enemies paid Fusion GPS to write a dossier full of debunked claims about his connections to Russia.
"Deep state" anti-Trump elements in the FBI used this false opposition research document to obtain a Foreign Intelligence Surveillance Court warrant targeting Michael Flynn.
The Flynn surveillance, which never should have been allowed because it was based on the phony dossier, was used to catch him in a lie about a meeting with Russian Ambassador Sergey Kislyak that was completely innocuous.
This got Flynn fired and, by making meetings with Kislyak into a hot-button issue, also forced Sessions into recusing himself, which in turn gave Deputy Attorney General Rod Rosenstein (whom Trump has decided is "a Democrat," though it's not clear why) the opportunity to appoint Robert Mueller as special counsel.
Mueller, in turn, is buddies with former FBI Director James Comey, who is bitter about having been fired by Trump (Comey under this theory is a bad guy because he went too easy on Hillary Clinton over the email server, and we're not supposed to pay attention to the fact that Trump's stated reason for firing him was that he was too hard on Clinton) and is therefore leading an anti-Trump witch hunt.
There are, of course, other penumbras and emanations around the conservative account of the Steele dossier. Former Rep. Jason Chaffetz was on Fox recently, for example, arguing that it's against the law to hire a foreign national to do work for a campaign (this is not true) and therefore the existence of the dossier is just another example of Crooked Hillary's lawbreaking.
The reality, however, is that while Steele is well-regarded in intelligence circles, there is no indication that his work has ever been the basis of the FBI's Russia investigation.
Papadopoulos was the start of the investigation
A New York Times report earlier this month indicated that the investigation began not with Steele's dossier but with Papadopoulos's drunken conversation with Downer, Australia's ambassador to the UK and a former Australian foreign minister.
Simpson's testimony appears to independently corroborate what the New York Times already reported — the FBI listened to Steele because they already had an investigation into this question underway, an investigation that was launched because Papadopoulos's conversation with Downer was shared with other Australian officials, who ultimately passed word of it to their American counterparts once the hacking of Democratic email accounts became a big deal.
As best as we can tell, this, rather than Steele's memo, was the start of the investigation.
And while the investigation has not yet proven the existence of anything like the vast conspiracy that Steele alleges, it certainly has uncovered real evidence of wrongdoing — including a guilty plea from Papadopoulos himself, and serious charges against former Trump campaign chair Paul Manafort and former Trump National Security Adviser Michael Flynn.
We've also learned from the investigation that key Trumpworld figures, including Jared Kushner and Donald Trump Jr., were, at a minimum, eager to potentially collaborate with the Russian government on revealing anti-Clinton "dirt," rather than emulating Downer in alerting the authorities to the existence of an active Russian intelligence effort aimed at the United States.
It also, obviously, continues to be an ongoing investigation that might yet reveal other criminal activity. Or it might not. But either way, Simpson's testimony — which Republicans on the committee didn't want released to the public — is more evidence that the question was taken seriously by law enforcement for reasons that had nothing to do with Steele or his dossier.
Sen. Dianne Feinstein says "there has not been a single fact in that report (the dossier) that has been proven to be incorrect," this is "really about muddying the waters." 'People are entitled to know': Sen. Feinstein responds to releasing transcripts on possible Trump-Russia (video).