State Senator Gail Griffin (R-Heber) from LD 14 is a major piece of work.
Earlier this year she floated the idea of stealing a big chunk of Pima County and handing it over to Santa Cruz County because some local teabaggers wanted to secede from Pima County. Also, Pima County objects to the proposed Rosemont Mine, which Griffin denied was a motivating factor, but no serious person believes her denial.
This week Griffin's bills to thumb her nose at the federal "guvmint" and to challenge the protected endangered species status of Mexican gray wolves are coming up for a vote in the House. As Craig McDermott posted earlier today:
– SB1211, allowing the AZ Department of Agriculture and "livestock operators" to kill Mexican wolves, under certain circumstances, and imposing reporting requirements on the reintroduction of Mexican wolves into the wild in AZ (House Energy, Environment, and Natural Resources, Monday, 2 p.m., HHR4)
– SB1212, appropriating $250K to the AZ Attorney General's office to pay for litigation against the reintroduction of Mexican wolves into Arizona (House Energy, Environment, and Natural Resources)
– SCR1006, a resolution using many words to state that the legislature doesn't like Mexican wolves.  What a surprise (House Energy, Environment, and Natural Resources)
The Arizona Republic recently editorialized, House should listen to public on wolves:
Arizona's Senate passed a trio of ill-conceived measures aimed at undermining efforts to reintroduce Mexican gray wolves to our state. The House should not go along.
* * *
A compensation program pays ranchers who lose livestock to wolves, and new proposals would pay them simply for sharing their leased land with wolves. Ranchers are not being unduly burdened.
* * *
This trio of special-interest measures does a disservice to goals of species diversity that are embraced by a broad range of Arizonans.
Sen. Griffin's dislike for Mexico does not end with its endangered gray wolves, however. Oh no.
Sen. Griffin is reviving a divisive idea from the disgraced and recalled former Senate President Russell Pearce to make undocumented immigrants' presence in Arizona a criminal violation of state trespass laws. The Arizona Capitol Times (subscription required) reports, Bill expanding scope of state trespassing laws revived:
Sponsored by Sen. Gail Griffin, R-Heber, SB1479 adds "knowingly entering or remaining on any real property if the person is violating any other federal or state law" to Arizona's definition of trespassing, a third degree criminal offense.
Democrats blasted the measure in committee hearings as a clear attack on illegal immigrants and an overstep of Arizona's authority. The state has no right to create a state crime out of federal immigration laws, said Senate Minority Leader Anna Tovar, D-Phoenix.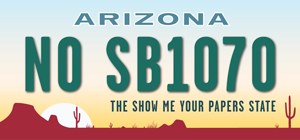 "SB1070 attempted to create state penalties associated with being in the country illegally," Tovar said. "Again, this is an issue that, if we learned anything not just from SB1070 but the lawsuits as well, it's that the Supreme Court says we don't have the authority to be making such laws to this effect. This bill could put us in the spotlight again for all the wrong reasons."
The bill has been held from voting on the Senate floor as lawmakers try to address constitutional concerns. Senate rules attorney Magdalena Jorquez raised the issue in a committee hearing on March 4, suggesting the bill would be susceptible to a court challenge because it violates the U.S. Constitution's supremacy clause.
Tucson-based immigration attorney Mo Goldman said that, just as was the case with SB1070, Jorquez's assessment is accurate.
"It brings us back to the same problems we had with SB1070 in that it's an overreach by Arizona as far as trying to enforce federal immigration law indirectly via state legislation," Goldman said.
Absolutely correct. Undocumented entry into the United States without being inspected and admitted is typically only a misdemeanor. 8 U.S.C. §1325. It is only criminally punishable if it occurs after an individual was previously formally removed from the U.S. and then returned without permission. 8 U.S.C. §1326. See, ISSUE BRIEF Criminalizing Undocumented Immigrants – ACLU.
The U.S. Supreme Court made clear in Arizona v. United States, striking down most of SB 1070, that the federal government has exclusive authority and has preempted the field of regulating immigration under the U.S. Constitution. Arizona is precluded from attempting to make undocumented entry into the United States a criminal trespass offense under state law.
The bill was approved 4-2 by the Senate Rules Committee despite Jorquez's concerns and Democrats' objections.
But even the GOP lawmakers on the committee were split in their support of the bill. While Griffin and Biggs voted for it, promising to continue working to amend it as needed, Senate Majority Leader John McComish, R-Phoenix, and Sen. Adam Driggs, R-Phoenix, said they'd vote against the bill as it is on the Senate floor.
* * *
When asked why she sponsored the bill, Griffin refused to comment, and would only say that she may have an amendment ready for the bill next week.
Passing such legislation could be considered a tremendous waste of taxpayer dollars given the court's clear rulings on the issue, Goldman said.
Exactly. Maybe Bill Hess at the Sierra Vista Herald can get Sen. Griffin to explain her reasons for bringing this divisive and unconstitutional bill. You can bet it had something to do with the influence of the Arizona Republican Party's First Vice Chair, Russell Pearce.