More stupid stuff I read in the editorial pages of The Arizona Republic — it seems to be getting worse lately.
George Will's mini-me, Robert Robb, Arizona's version of the patrician prevaricator for the Plutocracy, wrote a column last week entitled Most interesting man in the Senate? John McCain. What, is McCain taking the place of Jonathan Goldsmith in those Dos Equis ads? ("The most interesting man in the world"). Robb's premise:
[T]he most interesting figure in the new Senate Republican majority may very well turn out to be Arizona's John McCain.
McCain becomes chairman of the Arms Services Committee. In that capacity, he says that his top priority will be to get rid of sequestration, which is squeezing the defense budget beyond what McCain feels is prudent or safe.
* * *
[U] nlike some of his fellow defense hawks, McCain presumably won't be inclined to simply relax sequestration's limit on defense spending. But increasing defense spending without backpedaling on deficit reduction would require lower caps on domestic spending.
The patrician prevaricator for the Plutocracy has the warm and fuzzies over the mere thought that Grampy McCrankypants will increase defense spending at the expense of shredding the social safety net for those takers in the 47%. What a bootlicker.
Robb needs to get outside of the Koch Towers of The Republic. A more apt title for his piece would have been "Most dangerous man in the Senate? John McCain."
A real journalist, Charles Pierce at Esquire, explains that our Neocon war monger senator is assembling a "shadow war cabinet" in the Senate. The Long Autumn Of John McCain:
It's not an easy job being John McCain these days. After all, the country did not give him the presidency he deserved back in 2008 and, ever since, all he's been able to do is fuss and fume through his 45,978,700 television interviews, and hang out with Huckleberry Butchmeup and Kelly Ayotte, the Metternich of Manchester so they all can play War Hawk together and dream of bombings yet to come.
Even now, when he likely will ascend to the chairmanship of the Senate Armed Services Committee, which is just as important an office as being president, as we know, and just you watch, he is mocked by the lesser orders for announcing his intention to create a "Shadow War Cabinet" to run the wars declared by the Republic Of John McCain's Head.
Last week, John McCain, the Senate's Obama critic-in-chief on foreign policy matters, said he's putting together what amounts to a Shadow War Cabinet. "[Sen.] Richard Burr [R-N.C.] will be chairman of the Intelligence Committee," the Arizona Republican said. "And we've already had discussions about working closer together." The Senate's "maverick" is poised to chair the Armed Services Committee. He said he's has had similar talks with Sen. Bob Corker, R-Tenn., and Sen. Ron Johnson, R-Wis., who are expected to chair the chamber's Foreign Relations and Homeland Security-Governmental Affairs committees, respectively. "What I think all of us, on an equal basis, want is to coordinate our efforts toward common goals," McCain said. McCain also wants Sen. Lindsey Graham, R-S.C., always a player on national security matters, included in the Shadow War Cabinet.
And Huckleberry likely will make the iced tea on hot days when they all have to meet on the veranda, and I hear that Ikea's going to have a Black Friday sale on fainting couches.
McCain's foreign policy group won't be able to completely derail Obama's efforts. But it can hold up his nominees, slap restrictions on his plans via provisions in policy and spending bills, and make a whole lot of noise in hearings. Its first target? Obama's strategy for fighting the Islamic State group. McCain says his group will "demand" a clear plan from Obama to defeat the violent Sunni group. "Right now, there is no strategy. And if there is, no one has told me about it," McCain said. "So we're going to force, or do everything in our power to see that there is a strategy and that strategy is adequately staffed, in force levels and actions, to achieve the president's stated goal, which is the degradation and defeat of [the Islamic State group]."
Holy Jesus H. Christ on an Abrams, he thinks it's 1940 and he's fking Churchill, waiting for the government to fall.
And even with this, even with him inviting all his best buds over to cosplay Being President, he still has some problems with The Base, and, oh my heavenly tundra, what amazing problems they are.
At the top of their list of potential targets are politicians like Senator John McCain of Arizona, a proponent of an immigration overhaul. Their fantasy candidate: Sarah Palin, Mr. McCain's former running mate, who now spends much of the year at her home in Scottsdale, Ariz. Two prominent conservative activists, who spoke anonymously to reveal private discussions, said leading Tea Party figures planned to reach out to Ms. Palin to see if she was interested in running against Mr. McCain.
As opposed to Mr. Bogg, I know that baby Jeebus is my best amigo so, please, baby Jeebus, this is all I want for Your birthday, and for mine, which is right after Yours. We're both Capricorns — so give a brother a break.
The Arizona Republic's Dan Nowicki pooh-poohed the idea of Caribou Barbie running against the man who created this media monster with the most reckless and irresponsible running mate pick in U.S. history in his speculation piece about who might challenge Grampy McCrankypants from the right in the GOP primary. Schweikert, Jones possible McCain primary foes in 2016?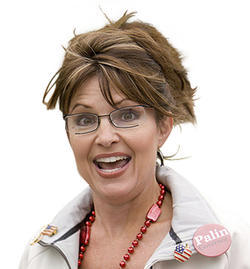 The New York Times reported Tuesday that national tea-party leaders view Sarah Palin, McCain's 2008 pick for vice president, as "their fantasy candidate" to challenge McCain in Arizona. They intend to lobby her to get into the race, the newspaper reported.
But while Palin has lived part-time in Scottsdale since 2011 and was talked about as a possible Arizona U.S. Senate candidate in 2012, her record of supporting McCain in recent years would seem to make a challenge unlikely. She campaigned for McCain in his race against Hayworth, who was the tea-party choice that year, and publicly defended McCain when he was formally censured by Arizona GOP earlier this year.
Yes, but her 15 minutes of fame has long since run its course, and "Momma Grizzly" needs some new juice in the conservative media entertainment complex to keep those rubes sending money to her PAC on which she can live the good life. That's what conservatives do these days, they run for office as a means to enrich themselves at the expense of the rubes. Ron and Rand Paul are the prototypes.
U.S. Rep. David Schweikert, R-Ariz., who was just reelected to a third U.S. House term, for months has been talked about as a possible McCain challenger. He says his family doesn't plan to discuss his options until around New Year's Day.
"We've tried to be brutally honest about it," Schweikert told The Arizona Republic last week. "My wife and I made a pledge to each other: we're not allowing ourselves to even think about it until we get beyond the holidays. My wife refers to it as 'the delusions of grandeur.'"
Schweikert hinted the timing might not be right for a Senate run, noting that he just got back on the U.S. House Financial Services Committee, which allows him to "go back to much of the work that I really enjoy doing."
And then there is GoDaddy Girl, who just had her ass handed to her in the GOP primary for governor:
In an e-mail to The Republic, Jones said she has heard rumors regarding her political intentions, including that she might run for the Senate against McCain or junior U.S. Sen. Jeff Flake, R-Ariz., who comes up for reelection in 2018.
"Here is what I can confirm: the person you met (during the governor's race) is the real deal," Jones wrote. "By that, I mean, I'm not your ordinary politician. I ran for office because the state needs smart, capable, successful, high-capacity business leaders to step up. So I did. And, I may again in the future. That so many fellow Arizonans have encouraged me to do so is genuinely flattering."
But does she have any money left after blowing through her personal fortune to self-fund her vanity campaign for governor?