I am split on which of these two headlines ranks as the best.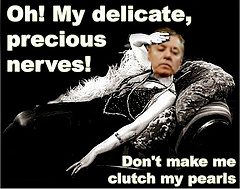 First, from Charles Pierce at Esquire:
Graham Crackers: Fear Strikes Out on the Campaign Trail
In which the newest presidential campaign gets the vapors.
Second, from Paul Waldman at The Washington Post:
If you're hiding under your bed in terror, you've just found your presidential candidate
Lindsey Graham offers a candidacy based on white-knuckled fear.
I am partial towards Paul Waldman:
Lindsey Graham has never met a foreign policy challenge that didn't terrify him down to the marrow of his bones.
For Graham, the threats are everywhere. Domestic? You betcha — he needs his AR-15 because there could be a natural disaster resulting in "armed gangs roaming around neighborhoods." Foreign? Oh goodness, yes. On ISIS, "This president needs to rise to the occasion before we all get killed back here at home."
For Graham, not only is the world filled with specific dangers, but it's terrifying in an overarching way, leading to a kind of free-floating anxiety that seems to influence how he views any particular issue. Others may see a threat here and a threat there, but Graham knows that they add up to certain doom.
* * *
Last year, he said, "The world is literally about to blow up," which might have been a Joe Biden "literally," meaning "not literally," but maybe not. "I'm running because of what I see on television," he said two weeks ago. "The world is falling apart."
And every problem we face can only lead to catastrophe.
* * *
Graham argues that none of his opponents have the foreign policy experience he does, which is true enough — they're all either governors or freshman senators. But that fact raises the question of what value one gets from experience. Some people take from their experience with the world that many challenges are complex, understanding of the myriad moving parts in any foreign crisis is necessary to make wise decisions, and different situations may require different approaches. Graham's experience with the world, on the other hand, has obviously taught him that 1) we're all gonna die, and 2) the answer to just about any problem is military force.
Just like Little Lindsey Graham's puppet master, John McCain.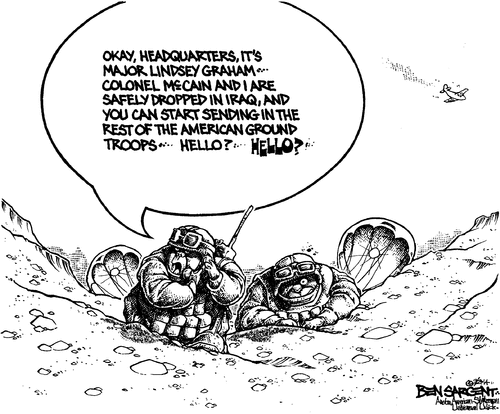 Only Little Lindsey Graham is not actually willing to go and fight the Neocon wars of conquest that he and John McCain want to send your sons and daughters, husbands and wives off to die in because he is a bed-wetting coward who is terrified of the world. He has had his opportunity and he has not taken it. Lindsey Graham retires from Air Force:
Lindsey Graham said Thursday that he's retiring after more than three decades of Air Force service — including brief work in Afghanistan over the Memorial Day holiday — because he's reaching the mandatory retirement age when he turns 60 on July 9.
Little Lindsey Graham is a JAG officer — judge advocate — and will retire with the rank of colonel. A full bird in a non-combat position in a reserve unit — nice duty if you can get it. There are thousands of Americans killed or injured in John McCain's war in Iraq who would have liked to trade places with him.