Senator Ted Cruz (R-TX) holds the title of the most hated man in the U.S. Senate.
As Sen. Lindsey Graham once half-joked, "If you killed Ted Cruz on the floor of the Senate, and the trial was in the Senate, nobody would convict you."
After today, the hatred for "Traitor Ted" Cruz should be universally shared by all.
Sen. Ted Cruz will object to the certification of Arizona's Electoral College votes on Wednesday, seeking to disenfranchise Arizona's voters on behalf of the sociopath Donald Trump, and an equally unhinged Kelli Ward, Chair of the Arizona Republican Sedition Party, who recently attempted her own "hail Mary" pass to subvert the presidential election. Ward pleas to Alito to step into election dispute. Justice Alito has not yet responded to this frivolous appeal of Rep. Louie Gohmert's failed lawsuit in Texas to subvert the election.
UPDATE 1/7/21: The Supreme Court on Thursday rejected a last-ditch lawsuit by Rep. Louie Gohmert (R-Texas) and his co-plaintiffs, which included Arizona Republican Party Chairwoman Kelli Ward and other Republicans, sought to expand Vice President Pence's legal authority to effectively overturn President-elect Joe Biden's electoral win. Supreme Court rejects Gohmert's last-ditch election suit against Pence:
The justices' denial of Gohmert's bid, which took the form of a brief unsigned order, came after Congress certified Biden's victory early Thursday morning.
Axios reports, Cruz to object to certification of Arizona's Electoral College votes:
Cruz is one of 13 senators [The "Dirty Dozen Plus One"] who have threatened to object to President-elect Biden's Electoral College victory. Arizona is at least the third state whose certification Republican lawmakers plan to challenge.
Sen. Josh Hawley (R-Mo.) has said he'll object to Pennsylvania's certification, while recently defeated Sen. Kelly Loeffler (R-Ga.) says she'll object to Georgia's results.
Cruz, who is leading a separate coalition of 11 senators, will be joined in the House in his Arizona objection by Rep. Andy Biggs (R-Ariz.) [and Rep. Paul Gosar (R-Ariz.) according to The Arizona Republic. Biggs, Gosar to dispute Ariz. presidential vote.]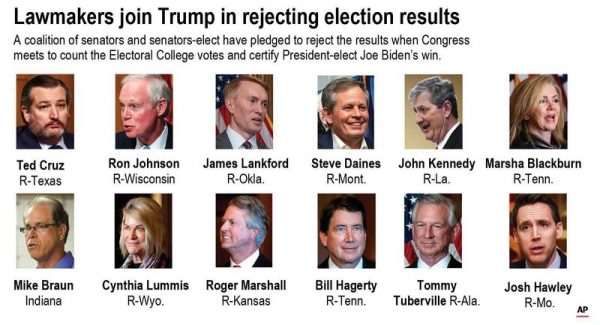 Cruz is choosing to object to Arizona in an effort to bolster his request for an electoral commission on alleged voter fraud early on in the certification process, sources tell Axios.
The place to present evidence is in a court of law. In all, eight lawsuits challenging Biden's Arizona win have failed. Arizona Supreme Court Upholds Election Challenge Dismissal:
The Arizona Supreme Court on Tuesday upheld a lower court decision dismissing the last in a series of challenges that sought to decerify Democrat Joe Biden's victory in the state.

Tuesday's ruling from a four-judge panel of the high court agreed with a trial court judge in Pinal County that plaintiff Staci Burk lacked the right to contest the election. That's because she wasn't a registered voter at the time she filed her lawsuit, as required in state election contests. Both courts also agreed that she made her legal challenge too late, after the five-day period for filing such an action had passed.

Burk said in her lawsuit that she was a qualified Arizona voter, but officials said they discovered she wasn't registered to vote. She later said she mistakenly thought "qualified electors" were people who were merely eligible to vote, and that her voter registration was canceled because election workers were unable to verify her address.

The Supreme Court said the fact that she wasn't a registered voter was fatal to her ability to file an election challenge and that Burk admitted she knew she wasn't registered.

"There is nothing before the Court to indicate that Appellant timely contacted the appropriate authorities to correct any problems with her voter registration," Chief Justice Robert Brutinel wrote. "An election challenge … is not the proper vehicle to reinstate voter registration."

Burk's lawsuit alleged Arizona's election systems have security flaws that let election workers and foreign countries manipulate results. Opposing attorneys said the lawsuit used conspiracy theories to make allegations against a voting equipment vendor without any proof to back up claims of widespread election fraud in Arizona.

No evidence of voter or election fraud has emerged in Arizona.
The smarmy Ted Cruz is lying through his teeth when he says: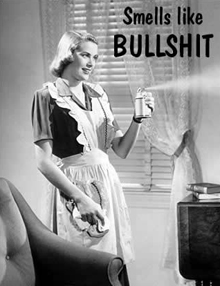 "I assembled a coalition of 11 senators that we are going to vote to object to the electors — not to set aside the election, I don't think that would actually be the right thing to do," Cruz said on the Mark Levin Show on Monday.
"But rather to press for the appointment of an electoral commission that can hear the [false] claims of voter fraud, hear the evidence and make a determination as to what the facts are and the extent to which the law was complied with."
The courts have already done this job. The Trump campaign is 1-62 in court as of this morning. He's got nothing but QAnon conspiracy theories.
Republicans' objections to the certification process are virtually guaranteed to fail. The Democrats hold a majority in the House, and a number of Republican senators have condemned their colleagues' efforts as damaging to democracy.
The smarmy Ted Cruz will even be opposed by his own GOP caucus leader, Sen. Mitch McConnell, the soon-to-be Senate Minority Leader. Axios reports, McConnell's plan to save the Senate:
Before senators begin debating an expected challenge to Arizona's Electoral College vote Wednesday, Sen. Mitch McConnell will deliver a weighty speech trying to save the Senate from itself, people familiar with his plans tell Axios.
Why it matters: The majority leader had hoped to keep his fellow Republicans from challenging the 2020 election results, but now that over a dozen senators will, the history-lover aims to keep his party from even deeper self-inflicted wounds.
What we're hearing: During a Joint Session with the House, lawmakers plan to object first to Arizona's results, which come up early in the alphabetical roll call of states. McConnell is expected to be the first senator to speak after he and his colleagues return to their chamber.
McConnell will draw on the same principles he laid out during a call with the Republican conference last week. He said Wednesday's vote certifying Joe Biden's victory would be "the most consequential I have ever cast."
McConnell fears the vote will put Republicans up for re-election in 2022 in a horrible position — forcing them to choose between defying the most popular politician in the party, Donald Trump, and fueling Democratic charges they are undermining democracy.
The speech is sure to deepen President Trump's anger with McConnell, who referred to him tonight as part of "the weak and ineffective RINO section of the Republican Party."
The remarks also will be McConnell's first in public following today's pivotal Senate runoffs in Georgia.
Between the lines: The speech will create a clear separation between Republicans who are tethered to reality versus those with concerns — and further political ambitions — that mirror Trump's [detachment from reality and the truth.]
The GOP's internecine civil war is on! Steve Schmidt, former Republican campaign manager says, may the GOP go the way of the Whigs in 1854:
The die is cast for the Republican Party. It will be destroyed on January 6th in much the same way the Whig party was destroyed by the passage of the Kansas-Nebraska Act in 1854. The act unraveled the Missouri compromise and allowed for the westward expansion of slavery. 1/

— Steve Schmidt (@SteveSchmidtSES) January 3, 2021
The party could not survive its factionalism. There could be no more accommodation, compromise and partnership between pro-slavery and anti-slavery Whigs. A new political party was born, the Republican Party. That party will divide into irreconcilable factions on January 6th. 2/

— Steve Schmidt (@SteveSchmidtSES) January 3, 2021
The 6th will commence a political civil war inside the GOP. The autocratic side will roll over the pro-democracy remnant of the GOP like the Wehrmacht did the Belgian Army in 1940. The '22 GOP primary season will be a blood letting. The 6th will be a loyalty test. The purge 3/

— Steve Schmidt (@SteveSchmidtSES) January 3, 2021
will follow. Does anybody doubt the outcome of the @IvankaTrump vs. @marcorubio primary in Florida? Anyone willing to make a bet on @robportman? It turns out JFK was right. The problem of trying to ride the tiger is the likelihood of winding up inside the tiger. The poisonous 4/

— Steve Schmidt (@SteveSchmidtSES) January 3, 2021
Fruit from four years of collaboration and complicity with Trumps insanity, illiberalism and incompetence are ready for harvest. It will kill the GOP because it's Pro Democracy faction and Autocratic factions can no more exist together then could the Whig Party hold together 5/

— Steve Schmidt (@SteveSchmidtSES) January 3, 2021
The abolitionist with the Slave master. It won't happen over night but the destination is clear. The Conservative party in America is dead. It may continue to bear the name "Republican" but it will be no such thing. Fascism has indeed come to America and as was once predicted 6

— Steve Schmidt (@SteveSchmidtSES) January 3, 2021
Schmidt is referring to the oft-quoted statement "When fascism comes to America it will be wrapped in the flag and carrying a cross," misattributed to Sinclair Lewis.
The blog will be keeping track of the recorded votes today to see which Republicans add their names to the dishonor roll of seditious traitors opposed to American democracy.
As Thomas Friedman writes, Never Forget the Names of These Republicans Attempting a Coup:
The New Testament asks us in Mark 8:36: "For what shall it profit a man, if he shall gain the whole world, but lose his soul?"
Senators Josh Hawley, Ted Cruz, Ron Johnson and all their fellow G.O.P. coup plotters clearly have forgotten that verse — if they ever knew it — for they are ready to sacrifice their souls, the soul of their party and the soul of America — our tradition of free and fair elections as the means for peacefully transferring power — so that Donald Trump can remain president and one of these sleazebags can eventually replace him.
The governing "philosophy" of these unprincipled Trump-cult Republicans is unmistakably clear: "Democracy is fine for us as long as it is a mechanism for us to be in control. If we can't hold power, then to hell with rules and to hell with the system. Power doesn't flow from the will of the people — it flows from our will and our leader's will."
For America to be healthy again, decent Republicans — in office and in business — need to break away from this unprincipled Trump-cult G.O.P. and start their own principled conservative party. It is urgent.
Even if only a small group of principled, center-right lawmakers — and the business leaders who fund them — broke away and formed their own conservative coalition, they would become hugely influential in today's closely divided Senate. They could be a critical swing faction helping to decide which Biden legislation passes, is moderated or fails.
Meanwhile, the Trump-rump G.O.P. cult would become what it needs to become for America to grow together again — a discredited, powerless minority of crackpots waiting around for Trump's latest tweet to tell them what to do, say and believe.
I know that fracturing an established party is not easy (or likely). But the principled Republicans, those who have courageously and dutifully defended Joe Biden's electoral victory, have to ask themselves: "In a few days, when all of this is over, are we going to just go back to business as usual with people who are, in effect, attempting the first legislative coup d'état in American history?"
Because when this episode is over, Trump will be doing or saying something else outrageous to undermine Biden and to make collaboration impossible, and the Trump lap dogs, like Cruz, Hawley, Johnson and House Minority Leader Kevin McCarthy, will be demanding the party go along to serve their political interests, putting the principled Republicans in a daily bind. Every week there will be a new loyalty test.
There is simply no equivalence now between our two major parties. In the primaries, an overwhelming majority of Democrats, led by moderate African-Americans, chose to go with the center-left Biden, not the far-left defund-the-police-democratic-socialist wing.
Across the aisle, Trump's G.O.P. became such a cult that it decided at its convention that it would offer no party platform. Its platform would be whatever its Dear Leader wanted on any given day. When any party stops thinking — and stops drawing any redlines around a leader as unethical as Trump — he'll keep taking it deeper and deeper into the abyss, right up to the gates of Hell.
Where it's now arrived.
We saw that this weekend with Trump's Mafia-like effort to squeeze Georgia's secretary of state to just "find" him 11,780 votesand declare him the state's winner by one vote over Biden.
And we will see it in an even uglier version in Wednesday's session in Congress. The Trump cultists will try to transform a ceremony designed exclusively to confirm the Electoral College votes submitted by each state — Biden 306 and Trump 232 — into an attempt to get Congress to nullify the electoral votes of swing states that Trump lost.
If I were the editor of this newspaper, I'd print all of their pictures on a full page, under the headline: "Never Forget These Faces: These Lawmakers Had a Choice Between Loyalty to Our Constitution and to Trump, and They Chose Trump."
Agreed! Contact your local newspaper editor and demand this front page, do it today!
If you have any doubts that these people are engaged in seditious behavior, their more principled Republican colleagues do not. Speaking of Hawley's plan to challenge the vote count, Lisa Murkowski, the Republican senator from Alaska, said: "I am going to support my oath to the Constitution. That's the loyalty test here." Added Senator Ben Sasse of Nebraska, "Adults don't point a loaded gun at the heart of legitimate self-government." Said Senator Rob Portman of Ohio, "I cannot support allowing Congress to thwart the will of the voters."
So, the [Sedition Caucus] coup-plotter caucus will fail. But ask yourself this: What if Trump's allies controlled the House, the Senate and the Supreme Court and got their way — actually used some 11th-hour legislative maneuver and nullified Biden's victory?
I know exactly what would have happened. Many of the 81,283,485 Americans who voted for Biden would have taken to the streets — I would have been one of them — and probably stormed the White House, the Capitol and the Supreme Court. Trump would have called out the military; the National Guard, directed by governors, would have split over this, and we would be plunged into civil war.
That is the sort of fire these people are playing with. Of course, they know it — which makes the efforts of Hawley, Cruz, Johnson and their ilk even more despicable. They have so little self-respect that they're ready to lick the shine off of Donald Trump's boots down to his last second in office, in hopes of inheriting his followers — should he not run again in 2024. And they are counting on a majority of their more principled colleagues voting to certify Biden's election — to make sure their effort fails.
That way, they'll get the best of all worlds — credit with Trump voters for pursuing his Big Lie — his fraudulent allegation that the elections were a fraud — without plunging us into civil war. But the long-term price will still be profound — diminishing the confidence of many Americans in the integrity of our free and fair elections as the basis for peacefully transferring power.
Can you imagine anything more cynical?
How do decent Americans fight back, besides urging principled Republicans to form their own party? Make sure we exact a tangible price from every lawmaker who votes with Trump and against the Constitution.
As I've said, Invoke the 14th Amendment's disqualification clause to remove these traitors from office and to disqualify them from holding office again.
Shareholders of every major U.S. corporation should make sure that these companies' political action committees are barred from making campaign contributions to anyone who participates in Wednesday's coup attempt.
At the same time, "we the people" need to fight the Trump cult's Big Lie with the Big Truth. I hope every news organization, and every citizen, refers to Hawley, Cruz, Johnson and their friends now and forever more as "coup plotters."
"Traitor" works just as well.
Make all those who have propagated this Big Lie about election fraud to justify voting with Trump and against our Constitution carry the title — "coup plotter" — forever. If you see them on the street, in a restaurant on your college campus, politely ask them: "You were one of the coup plotters, weren't you? Shame on you."
Adopt Trump's method: Repeat this Big Truth over and over and over until these people can never get rid of it.
It won't be sufficient to fix what ails us — we still need a new conservative party for that — but it sure is necessary to give others pause about trying this again.