I warned you that this was coming the other day in The GOP budget sequester, a budget summit, and government shutdown politics: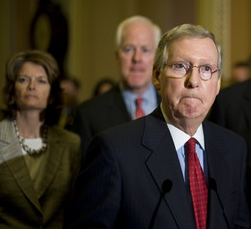 Democrats are adamant that Republicans back off their plans to increase defense spending without doing the same for nondefense programs.
They argue the GOP is using a budget gimmick [Overseas Contingency Operations (OCO)] to funnel more money to the Pentagon without raising spending limits on healthcare and social welfare programs.
To try to force the party's hand, Senate Democrats say they will block every annual spending bill unless Republicans agree to a budget summit.
Today Democrats followed through on their announced plans by blocking the Defense Appropriations bill which includes the Overseas Contingency Operations (OCO) "gimmick" to get around the GOP budget sequester caps. Demanding budget talks, Senate Dems block spending bill for military:
Senate Democrats on Thursday blocked spending legislation for the Pentagon, part of a broader strategy aimed at forcing Republicans to the table for budget negotiations.
Senators voted 50-45 to end debate on a motion to proceed to the legislation, short of the 60 votes needed to move forward. Sen. Joe Donnelly (Ind.) was the only Democrat to vote yes.
Democratic leaders were open about their intention to block the bill, having made the threat repeatedly in the days before the vote.
Senate Minority Leader Harry Reid (D-Nev.) said Thursday morning that Senate Majority Leader Mitch McConnell (R-Ky.) knew "full well" that Democrats wouldn't support the defense bill, or any other spending bill, until lawmakers reach a budget deal.
"Instead of working with us to forge a solution that can pass both houses and be signed into law, Republicans are plowing ahead with an appropriations process that is designed to fail," Reid said.
Reid, as well as Sens. Charles Schumer (D-N.Y.), Patty Murray (D-Wash.) and Dick Durbin (D-Ill.), sent a letter Thursday to McConnell and other members of the Republican leadership urging them to start budget negotiations "immediately" next week.
Republican leadership has largely brushed off Democrats' threats while accusing Reid of pursuing a "filibuster summer" aimed at grinding the upper chamber to a halt.
The Septuagenarian Ninja Turtle, Mitch McConnell, despite his recent series of humiliating defeats, is still adhering to his "my way or the highway" approach to leadership. He is the master of Senate obstruction, not others.
Senate Democrats have maintained their objections to taking up the defense spending bill, with Reid saying Thursday they were "willing to meet with Republicans any time, any place." McConnell, he said, should "drop this sham process."
President Obama also weighed in ahead of the vote, threatening to veto the bill over an extra $38 billion in Pentagon spending that would be channeled through the Overseas Contingency Operations (OCO) fund. That "war fund" was set up after the 9/11 attacks to pay for the military action in Iraq and Afghanistan.
The Turtle Man cares more about playing partisan politics than he does about governing responsibly. He is likely to schedule the GOP appropriations bills for a vote and force Democrats to vote against each of them rather than to sit down with Democrats and to negotiate a budget agreement that gets rid of the insane GOP budget sequester caps.
The Turtle Man cares more about feeding the mighty Wurlitzer of the right-wing noise machine with tales of Harry Reid pursuing a "filibuster summer" and Democrats obstructing Congress, and threats of a government shutdown — which will NOT happen because the Turtle Man has sworn that a government shutdown will not happen while he is majority leader. This is all a game to him.