The Senate Intelligence Committee's leaders said Wednesday they believed that the intelligence community's 2017 assessment of election meddling was correct, breaking with Midnight Run Devin Nunes and compromised Republicans on the House Intelligence Committee who questioned the conclusion that the Russians were trying to help President Donald Trump get elected.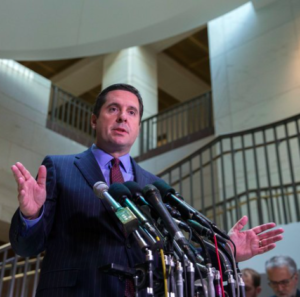 The Republican House Intelligence Committee's whitewash report now stands alone as a highly partisan attempt to exonerate the Trump campaign, and a glaring failure to perform its constitutional duty of congressional oversight. It may also constitute acting as accessories to a conspiracy to obstruct justice.
Donald Trump has relied upon the wild conspiracy theories concocted by Rep. Nunes in coordination with the White House, and the House committee's bogus whitewash report in attacking the Special Counsel's Russia investigation.
Rep. Devin Nunes should immediately be removed as chairman of the House Intelligence Committee, and every Republican member on the committee voted out of office this November.
Politico reports, Senate intelligence leaders: Russians schemed to help Trump: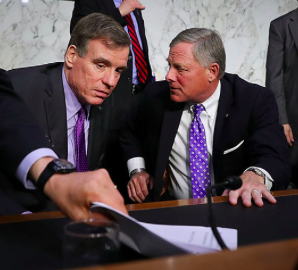 Republican and Democratic leaders of the Senate Intelligence Committee on Wednesday endorsed the U.S. intelligence community's assessment that Russia intervened in the 2016 presidential election to help President Donald Trump and hurt Hillary Clinton.
It's a powerful bipartisan endorsement of a conclusion that had been called into question by Republicans on the House Intelligence Committee, who have accused intelligence agencies of failing to employ proper "tradecraft" when they concluded Russia came to support Trump's candidacy. Instead, it's the Republicans on the House panel who find themselves isolated in their position in what has become an increasingly antagonistic relationship with the FBI and Justice Department.
"I've heard nothing to contradict anything from the [intelligence community assessment], particularly in terms of the fact Russia massively intervened in our elections to the purpose of helping Mr. Trump and hurting Hillary Clinton," the committee's top Democrat, Mark Warner of Virginia, told reporters after the committee held a closed hearing with intelligence committee leaders.
The committee's chairman, Sen. Richard Burr (R-N.C.), said the panel would issue a full report on its findings after a declassification review by the intelligence community.
But in a statement, Burr said: "Committee staff have spent 14 months reviewing the sources, tradecraft and analytic work, and we see no reason to dispute the conclusions. There is no doubt that Russia undertook an unprecedented effort to interfere with our 2016 elections."
The assessment, which U.S. intelligence leaders issued weeks before Trump's inauguration in January 2017, concluded that Russian President Vladimir Putin had ordered an "influence campaign intended to undermine public faith in the US democratic process, denigrate Secretary Clinton, and harm her electability and potential presidency." It added that the Russians eventually developed "a clear preference" for Trump, and in time "aspired to help President-elect Trump's election chances when possible by discrediting Secretary Clinton and publicly contrasting her unfavorably to him."
Trump allies in Congress have routinely acknowledged Russia's interference in the 2016 election but have stopped short of embracing the conclusion that their goal was to support Trump's election. Rather, they've argued that Russia simply wanted to sow discord and undermine Americans' faith in their institutions. But the Senate panel's findings now puts a significant seal of approval on the intelligence agencies' work at a time when the FBI has been besieged by Trump allies who say bias inside the agencies marred their work on the Russia investigation.
Trump himself has regularly raised questions about Russia's goals in the election. Though he's at times haltingly acknowledged Russia's election interference — and his administration has levied sanctions on Russians accused of being part of the plot — Trump has repeatedly described the Russia investigations as a "hoax" and has raised questions about whether Russia was truly responsible for hacking the Democratic National Committee during the 2016 campaign.
The Senate Intelligence Committee's findings don't address the most explosive aspect of their work, which is still ongoing: whether Trump associates worked with Russians to coordinate the anti-Clinton effort.
There's no set timetable for the Senate committee to release that chapter of its report, but much of the focus has been on special counsel Robert Mueller, who's conducting a parallel criminal probe into Russia's interference, as well as whether Trump attempted to obstruct the FBI's probe in its early stages.
The Senate at least appears to be doing its constitutional duty of congressional oversight, unlike Putin's useful idiots in the House.