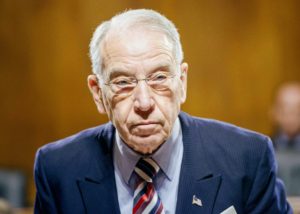 On Thursday, Sen. Chuck Grassley's Senate Judiciary Committee defied Senate Majority Leader Mitch McConnel and voted for a bill to protect Special Counsel Robert Mueller from being fired by the chief suspect in his investigation, President Trump (this is a protection that existed under the old Independent Counsel law that Congress allowed to expire after Ken Starr). Senate panel approves bill to protect special counsel:
In a 14-7 vote, the Senate Judiciary Committee approved the bipartisan proposal that deeply divided Republicans on the committee.
With every committee Democrat backing the legislation, only one Republican was needed to secure passage.
In the end, four Republicans voted for the bill: Sens. Thom Tillis (N.C.), Lindsey Graham (S.C.), Chuck Grassley (Iowa) and Jeff Flake (Ariz.).
Republican Sens. Orrin Hatch (Utah), Mike Lee (Utah), John Cornyn (Texas), Mike Crapo (Idaho), Ben Sasse (Neb.), John Kennedy (La.) and Ted Cruz (Texas) opposed it.
The vote marks the first time Congress has advanced legislation to formally protect Mueller from being fired by President Trump, who has railed against him in public and reportedly talked in private of dismissing him.
The bill, sponsored by Tillis and Graham (R-S.C.) with Sens. Cory Booker (D-N.J.) and Christopher Coons (D-Del.), would codify Department of Justice regulations that say only a senior Department of Justice official can fire Mueller or another special counsel.
It would give a special counsel an "expedited review" of their firing. If a court determines that it wasn't for "good cause," the special counsel would be reinstated.
The committee also added new reporting requirements into the bill, including notification when a special counsel is appointed or removed and requiring a report be given to Congress after an investigation wraps up; that report would detail the investigation's findings and prosecution decisions.
Democrats praised Grassley for being willing to compromise on his amendment, marking a political 180 from as recently as Wednesday, when Democrats were concerned Grassley's amendment could sink the bill.
Sen. Dick Durbin (D-Ill.) called the original amendment a "deal breaker," while Sen. Dianne Feinstein (D-Calif.), the top Democrat on the panel, warned that she would vote against the bill "in its entirety."
But the publicly released version of Grassley's amendment didn't include a provision that would have required a notification to Congress about changes to the "specific nature or scope" of Mueller's investigation.
Feinstein praised Grassley on Thursday for making the "necessary compromises."
"We have a piece of legislation that I believe will stand the test of time and will also stand the test of scrutiny," she said.
The legislation can now head to the full Senate, but it faces entrenched opposition from key Republican leaders, including Senate Majority Leader Mitch McConnell.
"I'm the one who decides what we take to the floor, that's my responsibility as the majority leader, and we will not be having this on the floor of the Senate," McConnell told Fox News earlier this month.
Trump enablers will not allow this bill to become law, even in the face of renewed threats from President Trump (below).
The bill doesn't have the 60 votes necessary to pass the Senate, and has even less of a chance to pass the more conservative House. It also would be unlikely to win the two-thirds support needed to override a presidential veto.
McConnell and most GOP senators still say publicly that they believe Trump will ultimately decide not to fire Mueller, a former FBI director who is widely respected in Washington.
This is reckless and irresponsible, given the impulsive mad man man-child in the White House.
Also on Thursday before the committee voted on this bill, President Trump called in to FAUX News (aka Trump TV) to talk to the three dolts on a divan, his chief policy advisers on Fox and Friends, and had a mental breakdown. No, seriously, you really have to listen to all 31 minutes of insanity. Exclusive Interview: President Trump on Fox & Friends. The hosts had to cut him off before he did any more harm to himself.
At one point, Trump attacked his own Justice Department and FBI – remember, he appointed the current leadership of the Justice Department and the FBI Director, these are his appointees. Trump says he might get more involved in managing the Justice Department:
President Trump hinted that he may get more deeply involved in the management of his Justice Department — which is overseeing a special counsel probe into possible Russian interference in the 2016 presidential election — in a freewheeling and defiant phone interview with Fox News on Wednesday morning.
Trump said that he tries to "stay away from" intervening in the Department of Justice, before adding, "But at some point I won't."
It was unclear to what exactly the president was referring — or threatening — in his comments, but Trump has repeatedly dismissed special counsel Robert S. Mueller III's Russia probe as a "witch hunt" and expressed a desire to fire both Mueller and Rod J. Rosenstein, the deputy attorney general who is overseeing the investigation.
Trump has already twice tried to fire Robert Mueller in a fit of rage, once last June Trump Ordered Mueller Fired, but Backed Off When White House Counsel Threatened to Quit, and again last December. Trump Sought to Fire Mueller in December. Trump also pressured FBI Director Christopher Wray to fire his deputy, Andrew McCabe. Report: Wray threatened to resign over Trump pressure to get rid of deputy at FBI. McCabe eventually was fired a day before he was set to retire. Trump also attempted to fire Attorney General Jeff Sessions because his recusal in the Russia investigation led to the appointment of Special Counsel Robert Mueller. Sessions Is Said to Have Offered to Resign last June. Sessions has again threatened to resign if Trump fires Deputy Attorney General Rod Rosenstein, who oversees the Special Counsel investigation. Sessions reportedly says he may quit if Rosenstein is sacked. Trump has already repeatedly interfered with the independence of the Justice Department, the FBI, and threatened the Special Counsel.
Trump's remarks came as he called on the Department of Justice to investigate corruption within its own ranks, rather than focus on the Russia probe, which now includes not just Russian interference but also possible obstruction of justice.
"Our Justice Department, which I try and stay away from, but at some point I won't — our Justice Department should be looking at that kind of stuff, not the nonsense of collusion with Russia," Trump said. "There is no collusion with me and Russia, and everyone knows it."
The president was initially responding to a question by the hosts of "Fox & Friends" — a morning show that he routinely watches and that offers a largely flattering portrayal of Trump and his administration — about whether he hopes to talk to Mueller and put an end to the investigation. "Well, if I can," Trump said.
But Trump quickly turned to slamming his own Justice Department's leadership, complaining that 13 of Mueller's investigators are Democrats and that Andrew McCabe, the deputy director of the FBI who was recently fired just shy of his retirement, accepted $700,000 from a Clinton ally for his wife's unsuccessful 2016 Virginia state Senate campaign. (He was completely unhinged at this point).
* * *
The president's comments Thursday brought a sharp rebuke from Senate Minority Leader Charles E. Schumer (D-N.Y.), who called Trump's interview "so unbecoming of a president, unbecoming of a democracy."
"It's so abundantly clear from the president's remarks this morning, and from so many other things he has said, that he has little regard for the rule of law," Schumer said in remarks on the Senate floor. "He seems to have this view that the purpose of the Justice Department is to protect his interests and persecute his enemies."
Among the other Democrats who criticized Trump's interview was Rep. Adam B. Schiff (D-Calif.), the ranking Democrat on the House Intelligence Committee.
"Mr. President, it's not your Justice Department; it belongs to the American people and serves the public interest, not yours," Schiff wrote on Twitter, adding: "Any interference will not be tolerated."
Today President Trump declared the Russia investigation "MUST END NOW" after congressional Republicans on the House Intelligence Committee led by Midnight Run Devin Nunes released their whitewash report saying the Trump campaign did not collude with Moscow to influence the 2016 presidential election. Trump: Russia probe 'MUST END NOW!'
Trump's message came just minutes after Republicans on the House Intelligence Committee released their final report on Russia's influence operations in the 2016 election.
It found "no evidence that the Trump campaign colluded, coordinated, or conspired with the Russian government." But the report does criticize the Trump and Hillary Clinton campaigns for "poor judgment and ill-considered actions" in their dealings with Russia-related figures.
Democrats on the Intelligence panel refused to endorse the report, calling the committee's investigation a sham that was biased in favor of Trump.
Critics of the president fear he might use the report to stymie the federal probe into Russia's election interference, including firing the special counsel Robert Mueller or his supervisor, Deputy Attorney General Rod Rosenstein.
The White House has refused to rule out the possibility that Trump could fire either man.
And when he does, what will Mitch McConnell and GOP leadership do then? Enable an autocrat who deems himself above the law?