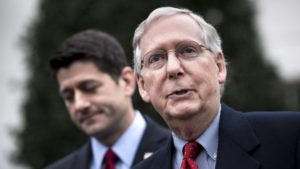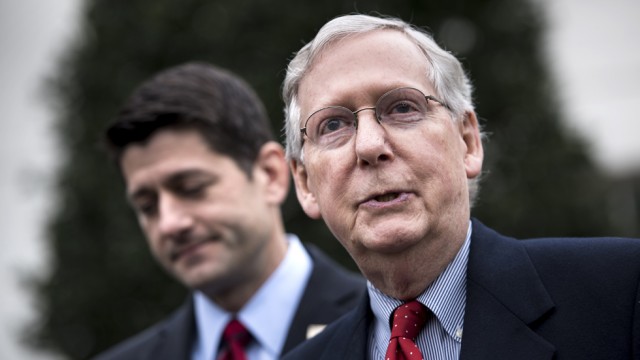 The original plan of evil GOP bastard Mitch McConnell was to have the Senate pass its version of "Trumpcare" by Friday and then go home for the July 4th recess.
As Robert Burns said, "The best laid schemes of Mice and Men oft go awry, And leave us nothing but grief and pain, For promised joy!"
McConnell wasn't giving up. McConnell is trying to revise the Senate health-care bill by Friday: Senate Majority Leader Mitch McConnell is aiming to send a revised version of his health-care bill to the Congressional Budget Office as soon as Friday as he continues to push for a vote before Congress's August recess.
Oooh, missed it by that much! No GOP deal on health care expected this week as Senate leaves town:
Senate Republicans cautioned Thursday not to expect a final agreement on health care reform bill by Friday, despite a push by GOP leaders and the White House to get by then a framework of a deal that can pass the chamber.
"We've made good progress, and we'll keep working," said Senate Majority Leader Mitch McConnell, who has spearheaded talks over the contentious bill that he was forced to pull off the floor earlier this week, acknowledging a deal remains elusive.
Republican leadership aides told CNN intra-party negotiations over the complex bill are still generating new proposals that are regularly being sent to the non-partisan Congressional Budget Office for analysis and that process would continue over the weeklong July 4 recess.
A deal cannot be finalized until that CBO scoring takes place and the Senate parliamentarian reviews the language to ensure it fits the strict reconciliation rules being used to pass the bill without the threat of a filibuster.
Aides to McConnell insist the Kentucky Republican never imposed a hard Friday deadline for an agreement. Bullshit! You failed, Dude!
And about that CBO score: No, seriously, the Senate bill cuts Medicaid spending:
There's a reason that President Trump and his allies have tried their best to claim that the Better Care Reconciliation Act — the Senate GOP health-care bill introduced earlier this month — doesn't cut funding from Medicaid. A poll released by Suffolk University this week shows that more than 80 percent of Americans say it's very or somewhat important that low-income people maintain their Medicaid coverage under any health-care bill. Nearly three-quarters of Republicans agreed.
So we end up with arguments like this one, from Trump on Twitter Wednesday afternoon.
The BCRA isn't a cut to Medicaid, Trump says, because the amount spent on Medicaid would keep going up!
That line of argument hinges on two points. First, that you don't consider a reduction in future spending to be a cut. And, second, that you don't include inflation.
Remember, Tea-Publicans don't do math or economics. They do fantasy based on alternate reality.
The Congressional Budget Office compiles long-term budget projections that we can use to try to replicate Trump's argument. (The CBO is also the nonpartisan organization that assessed the effects of the proposed BCRA, including that 22 million fewer people would have insurance by 2026 if the bill passed.)
Where the spending cut comes in is how the BCRA spending looks compared to what's currently planned. Yes, the CBO figures that Medicaid spending will continue to rise, but under the current law (the Affordable Care Act, better known as Obamacare), that spending would rise more. In other words, the future spending has been cut.
On the graph below, that difference is depicted with diagonal lines. That area is the cut in spending.
But, again, that's in nominal dollars — the actual dollars spent each year. Since a dollar in 1960 was worth more than a dollar in 2010, we can adjust everything into 2016 dollars (using conversion tables from the University of Oregon). When we do that, the increase in spending under the BCRA essentially vanishes
Why? Because spending $400 billion in 2016 probably gets you more than spending it in 2026. (It depends on what happens with the dollar over the next decade, but this is generally a fair assumption.)
On Thursday, the CBO released an addendum to its initial analysis, at the request of the ranking Democratic senators. That additional analysis includes an estimate of Medicaid spending past the 10-year window that the CBO usually looks at. Because the GOP Senate bill would change how Medicaid is funded past that window, the cuts would worsen from 2027 on. (We looked at this earlier.)
In the first 10 years, Medicaid funding would drop 26 percent from the CBO's projected baseline. In the 10 years after that, 35 percent.
This new analysis puts a fine point on it. The Senate health-care bill cuts Medicaid spending. End of story.
For Republicans, the trick now becomes selling that to skeptical voters.
Matt O'Brien of the Washington Post notes that Trump loves the Senate health-care plan. It would break all of his promises.
President Trump has said his health-care plan will be "something terrific" that will "lower premiums and deductibles" and have "insurance for everybody" without cutting Medicaid.
Senate Republicans, though, apparently didn't get the memo, given that that their health-care bill would break every one of these promises — not that Trump seems to have noticed.
But our Twitter-troll-in-chief has a fallback plan this morning if evil GOP bastard Mitch McConnell cannot put together a Senate bill that gets him to 50 GOP votes so that Vice President Mike Pence can cast the decisive vote and ensure his place in infamy. Trump's latest idea: Senate could repeal Obamacare now and replace it later:
As health-care legislation continues to stall, President Trump pitched a new idea in a tweet Friday morning, suggesting that the Senate could repeal the Affordable Care Act now and deal with replacing it later.
"If Republican Senators are unable to pass what they are working on now, they should immediately REPEAL, and then REPLACE at a later date!" the president tweeted from his personal account.
There are repurcusions for such an impulsive, reckless and irresponsible act:
Doing so could leave in the lurch more than 20 million Americans who now have private health plans or Medicaid coverage under the ACA and would lose that insurance with no guarantee of any alternative.
And it would roil the health insurance markets for everyone.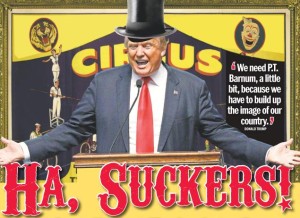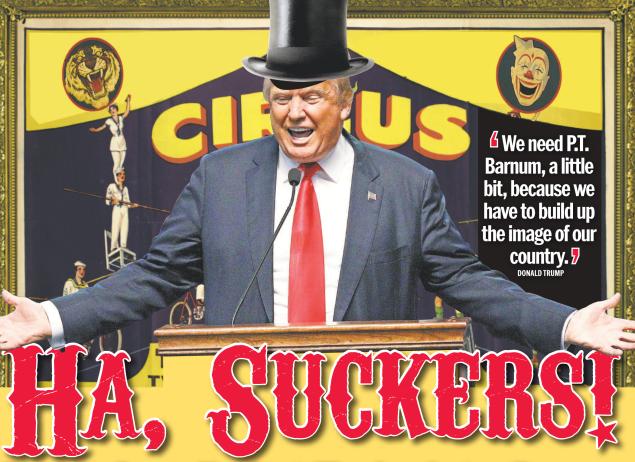 And the tweet seems to contradict Trump's earlier promises that he would provide "insurance for everybody" and that he would repeal and replace Obamacare as soon as he took office.
* * *
Trump's tweet did not limit his suggestion to those parts of the current health-care law that could be dismantled under the Senate's reconciliation process — special budget rules that allow the chamber to pass a bill with 50 votes and no risk of a filibuster. That process requires the bill to contain only items that affect federal spending, so could not be used to repeal many other parts of the sprawling 2010 health care law.
This impulsive man-child does not know this.
UPDATE: Greg Sargent of the Washington Post reminds us that the CBO has previously scored a straight repeal of Obamacare. Don't sugarcoat this. Trump just called for 32 million people to lose health coverage.
We can estimate the impact of repealing Obamacare. Indeed, the Congressional Budget Office has already done so, when it analyzed a previous version of a GOP repeal bill over a year ago. And that analysis found that repealing those things would result in 32 million people losing coverage by 2026, 19 million of them people who would lose Medicaid coverage.
This is unequivocally what Trump has now called for. And it is substantially worse than what is currently being debated in the Senate, which would result in 22 million people losing coverage over 10 years, 15 million of them from Medicaid, per the CBO.
Phillip Bump of the Post explains that Even setting an expiration date on Obamacare would massively disrupt the health-care system.
Paul Waldman of the  Post explains that the GOP saboteurs of "Obamacare" are still coniving to destroy it even if they fail in legislative efforts to repeal it:
THE GOAL OF GOP'S 'UNCERTAINTY' STRATEGY:Health policy experts Craig Garthwaite and Nicholas Bagley have a great piece explaining the GOP strategy of refusing to guarantee cost-sharing subsidies to insurers and sowing uncertainty about the ACA in other ways:
Even with protective policies in place, insurers took a big risk entering the markets. At a minimum, insurers that took the plunge deserved the support promised in the law. Congressional Republicans, however, chose instead to sow uncertainty at every turn, hoping that a damaged reform law would be easier to repeal. … Because insurers don't know whether the government will honor its commitment to pay those subsidies, they've had to ask for double-digit rate increases.
Put another way, Republicans are deliberately trying to destabilize the markets in ways that could leave millions without coverage to build political support for leaving still more millions in the lurch.
The Trump administration and House Tea-Publicans have to take a position on continuing  Cost Sharing Reduction Subsidies (CSRs) to insurers before the court in House v. Price in August. Would it surprise anyone that, failing in their years-long efforts to repeal "Obamacare" that these evil GOP bastards would act out of spite and simply choose to blow up the insurance markets in favor of  chaos theory? This is amoral and inhumane — it is today's GOP.