While Senate Republicans were busy on Friday aiding and abetting Donald Trump's "total obstruction" of Congress by voting not to hear from relevant first-hand knowledge witnesses who have offered to testify and who have receipts to corroborate their testimony, these very same witnesses were dropping bombshells in "breaking news" in split-screen coverage of the impeachment trial or in the chyron captions running at the bottom of the screen.
Rudy Giuliani's sidekick Lev Parnas is back with more information he is releasing to the media, and he essentially backed up Ambassador Gordon Sondland's testimony that "everyone was in the loop." Parnas is naming names, and "everyone really was in the loop."
Steve Benen reports Parnas lawyer offers McConnell info 'directly relevant' to trial: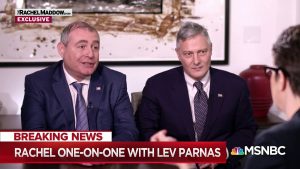 The lawyer for Lev Parnas, the Rudy Giuliani associate who helped execute Donald Trump's Ukraine scheme, reached out to Senate Majority Leader Mitch McConnell (R-Ky.) this afternoon, sending him a letter signaling what Parnas would say if he's allowed to testify in the trial as a witness under oath. From the letter (pdf):
"If Lev Parnas was called as a witness, he would provide testimony based upon personal knowledge, corroborated by physical evidence including text messages, phone records, documentary evidence, and travel records, which is directly relevant to the president's impeachment inquiry. This would include, but is not limited to, the genesis of his relationship with President Trump and the president's personal attorney, Rudy Giuliani, and his actions in Ukraine on behalf of the president, as directed by Mr. Giuliani.
"Mr. Parnas would testify to the efforts he and a handful of Republican operatives engaged in over a period of months, to remove Ambassador Marie Yovanovitch and gather 'dirt' on Joe and Hunter Biden. Mr. Parnas would testify that those holding various roles in this plot included GOP super PAC America First, President Trump, Vice President Pence, former Energy Secretary Rick Perry, Secretary of State Mike Pompeo, Attorney General Bill Barr, Sen. Lindsey Graham, Congressman Devin Nunes, Nunes' Staffer Derrick Harvey, Journalist John Soloman, Attorneys Joe diGenova and Victoria Toensing, Mr. Giuliani, and others. He is prepared to review and explain relevant phone records, text messages, and other evidence in connection with these activities."
Joseph Bondy's letter, which was also directed to Senate Minority Leader Chuck Schumer (D-N.Y.), went on to say Parnas would be able to detail "the thousands of micro-steps he took in connection with this plan" to gather information on the Bidens. This would include, according to today's correspondence, "the times and places where he had overheard [Trump] speaking Mr. Giuliani, and the occasions on which he interacted directly with the president."
Recording Surfaces of Another Trump Meeting With Parnas and Fruman: The president met twice in 10 days with donors who went on to become key players in Rudolph W. Giuliani's Ukraine pressure campaign.
The letter specifically references some additional details, including a reference to Giuliani's efforts to meet with a top aide to Ukrainian President Volodymyr Zelensky as far back as May 12, 2019, and a "quid pro quo" Rick Perry allegedly "conveyed" during his trop to Kyiv for Zelensky's inauguration.
The letter added that Parnas is prepared to testify that "a number of people in [Trump's] administration and the GOP were aware of the demands being imposed upon Ukraine."
It concludes, "We urge you to endorse voting in favor of calling witnesses and hearing evidence, so Senators can make a fully informed choice in the President's impeachment inquiry, based upon all the relevant facts."
The message seems to suggest that Parnas and his attorney have some highly provocative information to share about the scandal, which is directly relevant to the proceedings.
It leaves us in an awkward but familiar position: there's important information waiting to come out, and it's entirely unclear whether Senate Republicans, after having sworn an oath to do "impartial justice," are willing to even consider it.
Sorry, no, they're not. They are fully committed to a cover-up of the crime.
Parnas' attorney Joseph Bondy released letters Wednesday signed by a Ukraine-born U.S. citizen Michael Guralnik to both Graham and Sigal Mandelker, then a top official at the U.S. Treasury Department pushing for sanctions against various Ukrainian political and business leaders. Lev Parnas directly implicates Lindsey Graham in Ukraine plot: 'He was in the loop':
Lev Parnas, a Ukraine-born businessman charged with campaign finance violations, told CNN's "Anderson Cooper 360°" that Sen. Lindsey Graham has a personal interest in keeping witness testimony out of President Donald Trump's impeachment trial.
"It was, like, surreal to watch Lindsey Graham up there, sit there — he's out there talking about all the stuff, that this is a sham, that this should go away."
"At the end of the day," Parnas added, "he was in the loop just like everybody else. He (had) a very good relationship with Rudy Giuliani, he was aware of what was going on going back to at least 2018, maybe even earlier. If you recall, he was the one Rudy Giuliani was supposed to bring Viktor Shokin to when the visa got denied, and I think he was even, if you check the records, involved in getting the request for the visa somehow."
* * *
"Sen. Graham was involved even before I got involved with Mayor Giuliani, so he had to have been in the loop and had to have known what was going on," Parnas said. "I was with Giuliani every day, that was what was happening."
Parnas told CNN he was "1 million percent" sure that Graham was aware of his and Giuliani's efforts to press Ukraine to announce an investigation of Biden.
"Rudy told me not once but on several occasions that he spoke to Lindsey Graham about the situation, that Lindsey was always aware," he said. "I don't know how deeply aware, I didn't speak to Lindsey Graham, I don't have text messages with him, we didn't interact, so I can only speak from what Rudy told me."
Lev Parnas and his attorney Joseph Bondy were interviewed by Ari Melber on the Rachel Maddow Show on Friday night about his letter outlining what he would be willing to testify to in Congress about Trump's Ukraine scheme, including the involvement of top Trump officials and Senator Lindsey Graham.
But wait! That was not all the "breaking news" during Friday's clusterfuck in the Senate. The New York Times reported more passages from the transcript of John Bolton's book that moved the timeline back to last May when the Times first reported on Rudy Giuliani's adventure to Ukraine to dig up dirt on the Bidens, and implicated Trump's White House attorney Pat Cipollone. Trump Told Bolton to Help His Ukraine Pressure Campaign, Book Says: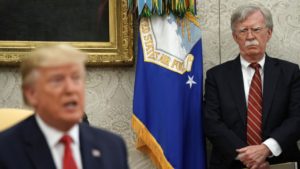 More than two months before he asked Ukraine's president to investigate his political opponents, President Trump directed John R. Bolton, then his national security adviser, to help with his pressure campaign to extract damaging information on Democrats from Ukrainian officials, according to an unpublished manuscript by Mr. Bolton.
Mr. Trump gave the instruction, Mr. Bolton wrote, during an Oval Office conversation in early May that included the acting White House chief of staff, Mick Mulvaney, the president's personal lawyer Rudolph W. Giuliani and the White House counsel, Pat A. Cipollone, who is now leading the president's impeachment defense.
Whoa, hold on right there. Prior to the start of the Senate impeachment trial House impeachment managers charged that Pat Cipollone is a "fact witness," arguing that he must disclose all his first-hand involvement to the Senate and Supreme Court Chief Justice John Roberts in order to prevent any conflicts of interest ahead of the Senate impeachment trial. Democrats call White House lawyer a 'fact witness' in impeachment case, demand he disclose 'all facts' to Senate:
The team of House impeachment managers in a Tuesday letter to White House counsel Pat Cipollone claimed that Cipollone's office was directly involved in key events that are at the center of their impeachment case, raising concerns about his role defending the president from charges of abuse of power and obstruction of justice.
"In preparation for the trial of Donald J. Trump before the Senate, we write to notify you that evidence received by the House of Representatives during its impeachment inquiry indicates that you are a material witness to the charges in both Articles of Impeachment for which President Trump now faces trial," the impeachment managers team wrote.
"You must disclose all facts and information as to which you have first-hand knowledge that will be at issue in connection with evidence you present or arguments you make in your role as the President's legal advocate so that the Senate and Chief Justice can be apprised of any potential ethical issues, conflicts, or biases," they continue.
They allege that Cipollone was part of the administration's "efforts to conceal" Trump's decision to withhold aid to Ukraine as leverage to pressure the foreign power to investigate a 2020 political foe, that he briefed Trump on the whistleblower allegations and that he was also part of the president's legal team that sought to block former and current administration officials from testifying as part of the House impeachment inquiry.
"In light of your extensive knowledge of these key events, your personal representation of President Trump threatens to undermine the integrity of the pending trial. You may be a material witness to the charges against President Trump even though you are also his advocate," they write.
"The White House ripped the Democratic argument, calling it an absurd political stunt." Bombast is no defense to a violation of the Rules of Professional Conduct. Rule 3.7 (a) Lawyer as Witness provides:
(a) A lawyer shall not act as advocate at a trial in which the lawyer is likely to be a necessary witness unless:
(1) the testimony relates to an uncontested issue;
(2) the testimony relates to the nature and value of legal services rendered in the case; or
(3) disqualification of the lawyer would work substantial hardship on the client.
Cipollone made numerous factual allegations about evidence during the impeachment trial to which he may have been a fact witness present in the room and potentially mislead the Senate and Chief Justice John Roberts siting as presiding officer. This guy just bought himself an ethics complaint. House impeachment managers gave him fair warning.
Back to the Times report:
Mr. Trump told Mr. Bolton to call Volodymyr Zelensky, who had recently won election as president of Ukraine, to ensure Mr. Zelensky would meet with Mr. Giuliani, who was planning a trip to Ukraine to discuss the investigations that the president sought, in Mr. Bolton's account. Mr. Bolton never made the call, he wrote.
The previously undisclosed directive that Mr. Bolton describes would be the earliest known instance of Mr. Trump seeking to harness the power of the United States government to advance his pressure campaign against Ukraine, as he later did on the July call with Mr. Zelensky that triggered a whistle-blower complaint and impeachment proceedings. House Democrats have accused him of abusing his authority and are arguing their case before senators in the impeachment trial of Mr. Trump, whose lawyers have said he did nothing wrong.
The account in Mr. Bolton's manuscript portrays the most senior White House advisers as early witnesses in the effort that they have sought to distance the president from. And disclosure of the meeting underscores the kind of information Democrats were looking for in seeking testimony from his top advisers in their impeachment investigation, including Mr. Bolton and Mr. Mulvaney, only to be blocked by the White House.
Naturally, the boss of this criminal conspiracy and his consigliere denied everything. That's what putting people under oath and cross-examination is for. I suspect that John Bolton, who is known to be a prolific note taker, has contemporaneous notes to corroborate his testimony.
Mr. Bolton described the roughly 10-minute conversation in drafts of his book, a memoir of his time as national security adviser that is to go on sale in March. Over several pages, Mr. Bolton laid out Mr. Trump's fixation on Ukraine and the president's belief, based on a mix of scattershot events, assertions and outright conspiracy theories, that Ukraine tried to undermine his chances of winning the presidency in 2016.
As he began to realize the extent and aims of the pressure campaign, Mr. Bolton began to object, he wrote in the book, affirming the testimony of a former National Security Council aide, Fiona Hill, who had said that Mr. Bolton warned that Mr. Giuliani was "a hand grenade who's going to blow everybody up."
Mr. Bolton's account matches up with a timeline of other developments in the Ukraine affair. On May 9, The New York Times disclosed that Mr. Giuliani was planning to travel to Ukraine to press for the investigations sought by Mr. Trump, saying, "We're not meddling in an election, we're meddling in an investigation, which we have a right to do." The following day, Mr. Giuliani sent a letter to Mr. Zelensky seeking a meeting later in May "with the knowledge and consent" of Mr. Trump.
* * *
Mr. Trump also repeatedly made national security decisions contrary to American interests, Mr. Bolton wrote, describing a pervasive sense of alarm among top advisers about the president's choices. Mr. Bolton expressed concern to others in the administration that the president was effectively granting favors to autocratic leaders like Recep Tayyip Erdogan of Turkey and Xi Jinping of China.
The Times reported this week on another revelation from Mr. Bolton's book draft: that Mr. Trump told him in August that he wanted to continue freezing $391 million in security assistance to Ukraine until officials there helped with investigations into Democrats including former Vice President Joseph R. Biden Jr. and his son Hunter. That account undercuts a key element of the White House impeachment defense — that the aid holdup was separate from his requests for inquiries. Mr. Trump has denied the conversation took place.
There is going to be a constant drip, drip, drip of information like this leaking out to the media from now through election day as people with information come forward.
The Senate has elected to ignore these relevant first-hand knowledge witnesses, and unbelievably failed to call Rudy Giuliani who is at the center of this criminal scheme, all in the hope of covering up the crime.
Truth will out, and these Republican Senators will all be exposed as accomplices for their complicity in this cover-up of a crime.
UPDATE: Another drip: CNN reports Trump administration reveals it's blocking dozens of emails about Ukraine aid freeze, including President's role:
The filing, released near midnight Friday, marks the first official acknowledgment from the Trump administration that emails about the President's thinking related to the aid exist, and that he was directly involved in asking about and deciding on the aid as early as June. The administration is still blocking those emails from the public and has successfully kept them from Congress.
A lawyer with the Office of Management and Budget wrote to the court that 24 emails between June and September 2019 — including an internal discussion among DOD officials called "POTUS follow-up" on June 24 — should stay confidential because the emails describe "communications by either the President, the Vice President, or the President's immediate advisors regarding Presidential decision-making about the scope, duration, and purpose of the hold on military assistance to Ukraine."
In other words, asserting his bogus "absolute immunity" defense already rejected by the Circuit Court for the District of Columbia, now on appeal.
Senate Democratic Leader Chuck Schumer said in a statement on Saturday, "Every single Republican Senator voted to endorse the White House cover-up of these potentially important truth-revealing emails. Make no mistake, the full truth will eventually come out and Republicans will have to answer for why they were so determined to enable the president to hide it."