The New York Times reported, State Dept. Traces Russian Disinformation Links:
Russia continues to use a network of proxy websites to spread pro-Kremlin disinformation and propaganda in the United States and other parts of the West, according to a State Department report released on Wednesday.
The report is one of the most detailed explanations yet from the Trump administration on how Russia disseminates disinformation, but it largely avoids discussing how Moscow is trying to influence the current campaign. Even as Democrats on Capitol Hill have urged the American government to declassify more information on Russia's efforts to interfere with the election, President Trump has repeatedly told officials such disclosures are unwelcome.
The report was prepared by the department's Global Engagement Center, whose mandate is only to examine propaganda efforts outside the United States.
Secretary of State Mike Pompeo, who announced the release of the report on Wednesday, said the State Department would offer rewards of up to $10 million for information to help identify any person who, acting at the direction of a foreign government, tries to hack into election or campaign infrastructure.
"Biden's campaign is increasingly concerned that pro-Russian sources have already shared disinformation about Biden's family with President Donald Trump's campaign and his Republican allies on Capitol Hill designed to hurt the Democratic candidate in the days leading up to the election." Foreign threats loom ahead of US presidential election:
When asked directly, the Trump campaign refused to say whether it had accepted materials related to Biden from any foreign nationals. Trump was impeached last year after being caught pressuring Ukrainian leaders to produce damaging information about work Biden's son did in the country, even though repeated allegations of corruption against the Bidens have been widely discredited.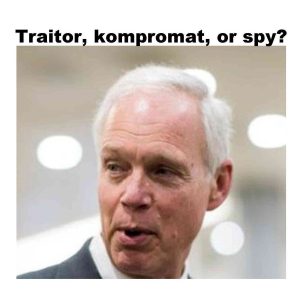 * * *
Meanwhile, Wisconsin Sen. Ron Johnson, a key Trump ally and chair of the Senate Homeland Security Committee, denied having accepted any damaging materials on Biden from foreign nationals after at least one Ukrainian national, Oleksandr Onyshchenko, told The Washington Post he had shared tapes and transcripts with Johnson's committee and Trump ally Rudy Giuliani. House Democrats announced Friday they have subpoenaed Secretary of State Mike Pompeo for documents he turned over to Johnson's panel.
Steve Benen adds, Pressed on possible foreign sources, Republicans remain mum:
[T]he ABC affiliate in Milwaukee asked Sen. Ron Johnson about possibly having relied on information from pro-Kremlin Ukrainians.
Johnson replied that he and his panel "are getting information from a variety of sources."
That's a non-denial.
At a House Intelligence Committee meeting last week, Rep. Sean Patrick Maloney (D-N.Y.) pressed Rep. Devin Nunes (R-Calif.) on whether the Republican had received anti-Biden information from a Kremlin-linked Ukrainian source. According to a transcript from the closed-door discussion, Nunes didn't want to answer.
Maloney responded soon after that Nunes's refusal "speaks volumes."
The 2020 campaigns and party committees have been receiving regular briefings from the National Counterintelligence and Security Center, whose director, Bill Evanina, released a rare public statement last week confirming Russia's continued work to meddle in the U.S. election.
Evanina said that Russia, as part of an effort to weaken the U.S. and its global standing, has been spreading disinformation to undermine confidence in American democracy and "to denigrate what it sees as an anti-Russia 'establishment' in America."
The threat is not limited to Russia. China, a target of escalating condemnation across the Trump administration in recent weeks, has been looking for ways to affect American policy, counter criticism of Beijing and pressure political figures it views as opposed to Chinese interests, Evanina said, while Iran has been involved in circulating disinformation and anti-American content online.
* * *
There is no evidence that America's enemies have yet succeeded in penetrating campaigns or state election systems, but Democrat Joe Biden's presidential campaign confirmed this week that it has faced multiple related threats.
The former vice president's team was reluctant to reveal specifics for fear of giving adversaries useful intelligence.
There is ample evidence that foreign powers are trying to sow confusion by spreading misinformation in addition to seeking to hack into political campaigns, as Evanina said last week.
* * *
Virginia Sen. Mark Warner, the top Democrat on the Senate Intelligence Committee, said in an interview that foreign adversaries "never stopped trying to interfere with our election process."
He noted that the foreign meddling includes some new tactics compared with 2016. He noted, for example, that the Internet Research Agency is operating under a different name.
Warner declined to be more specific about 2020 interference, which has been discussed in classified briefings. He said he has a "huge concern" that voters don't appreciate the true nature of the threat.
"The idea that we could be headed into Labor Day without the American public being officially put on notice seems grossly inappropriate," Warner said.
"The director of the Department of Homeland Security's cybersecurity agency said Wednesday that more details will be released in the future around foreign election interference efforts amid calls from congressional Democrats to release more information to the public." Top federal official says more details coming on foreign election interference:
Cybersecurity and Infrastructure Security Agency (CISA) Director Christopher Krebs described a statement put out by a top official at the Office of the Director of National Intelligence (ODNI) last month – which warned that Russia, China, and Iran were interfering the 2020 elections – as the "beginning" of communications with the public.
"That was the beginning of a conversation with the American people about these threats, about the risks we face, more is absolutely coming, more details and more granular information," Krebs said during the virtual Black Hat cybersecurity conference.
While Krebs would not discuss classified information around potential foreign election interference, he said that foreign adversaries were still "in the game," though not at the same level as interference from Russia in the lead-up to the 2016 presidential election.
"On the election infrastructure targeting, there is just not near anything of what we were seeing in 2016," Krebs said. "Shifting over to the disinformation space and the potential for hack and leak, Russia has never taken its foot off the gas, China's in the game, Iran's in the game, so I just really encourage everyone to pay attention to your sources of information, think before you click, think before you share."
Russia can "take its foot off the gas" when its Kremlin candidate is on the inside and can use the levers of power of the U.S. government to his advantage.
Krebs' comments came in the wake of both the House and Senate receiving classified election security briefings from intelligence officials at agencies including CISA and the FBI. Democrats emerged from both hearings expressing serious concerns about potential foreign interference this year.
"Shocked & appalled—I just left a 90 minute classified briefing on foreign malign threats to our elections," Sen. Richard Blumenthal (D-Conn.) tweeted Tuesday. "From spying to sabotage, Americans need to see & hear these reports."
"Protect our democracy from destruction by declassifying key intel describing the danger of foreign subterfuge to our elections," Blumenthal added. "Congress has been briefed, but sworn to secrecy—unacceptably."
Senator Blumenthal added in an interview with MSBC's Ali Velshi on Wednesday night, "These reports are chilling," discussing Russian interference in the election. "The techniques and tactics now underway by the Russians globally make their past destruction look rudimentary and quaint — in fact, … like child's play."
The briefings were requested by Democratic leaders including House Speaker Nancy Pelosi (D-Calif.) and Senate Minority Leader Charles Schumer (D-N.Y.), who cited concerns that members of Congress were being targeted by a foreign interference campaign ahead of November.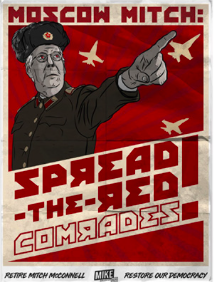 So members of Congress are getting "shocking and appalling" classified briefings about malign foreign governments trying to "interfere" and "sabotage" our elections again in 2020, but the Trump administration doesn't want the American people to know about these attacks on our country, just as "Moscow Mitch" McConnell quashed a strong bipartisan response to the Russian interference in 2016. Mitch McConnell should explain why he obscured Russian interference in our election.
And what are Republicans doing to secure our elections against this foreign interference? Nothing. They have not passed appropriations for a single election security bill passed by the House months ago. They are leaving for August recess for a month. It is now too late to ramp up security in the states.
Rudy Giuliani, Sen. Ron Johnson, and Rep. Devin Nunes have been receiving Russian propaganda provided to them by a pro-Russian source in Ukraine to smear Joe Biden, to do the bidding of Putin's puppet in the White House on behalf of his pal Putin. That makes them active agents.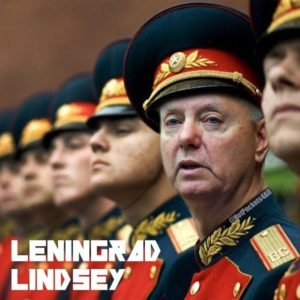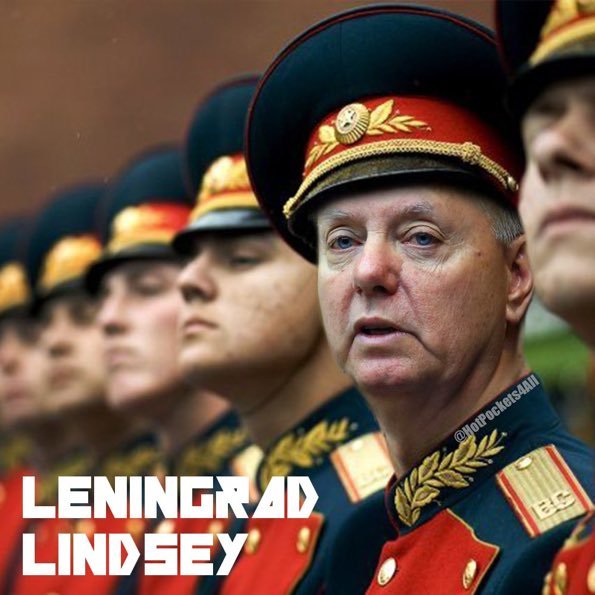 Senator "Leningrad" Lindsey Graham held the second of his Stalinist show trials for the FBI and DOJ public servants who investigated the Trump campaign's multiple contacts with Russian operatives in 2016, as part of the QAnon "deep state" conspiracy theory. Sally Yates, Under Attack by Republicans, Defends Flynn Investigation:
The former deputy attorney general Sally Q. Yates on Wednesday adamantly defended the Justice Department's investigation of Michael T. Flynn, clashing with Senate Republicans who accused her of being part of a politically motivated ploy by the Obama administration to frame President Trump's former national security adviser.
In testimony before the Senate Judiciary Committee, Ms. Yates described how top White House officials became deeply alarmed when they learned in the waning days of President Barack Obama's tenure that the top national security adviser to the incoming president was conducting secretive talks with the Russian ambassador. They worried that Mr. Flynn's purpose was to undercut new American sanctions against Moscow, and that he was apparently withholding those discussions from the incoming vice president.
The F.B.I. eventually responded by dispatching agents to interview Mr. Flynn, who later pleaded guilty to lying to them about his conversations with the ambassador. Though Ms. Yates did not sign off on the interview and disagreed with the process, she argued on Wednesday that it had been justified as a means to better understand what law enforcement officials viewed as a possible counterintelligence threat, especially in the context of an open investigation into possible links between the Trump campaign and Russia.
"General Flynn had essentially neutered the U.S. government's message of deterrence," she said. "Far from rebuking the Russians for their attack on our country, General Flynn was conciliatory."
Her testimony was sharply at odds with the message of Republican lawmakers who control the panel and convened the hearing as part of an inquiry to discredit the broader Trump-Russia investigation, which many of them view as corrupt.
[T]hree and a half years after most of the events in question took place, the hearing drew out few, if any, new facts. Rather, it was another chance for lawmakers in both parties to fight over what those facts meant.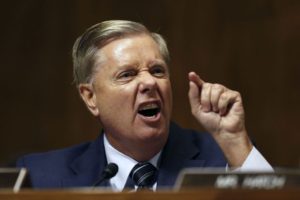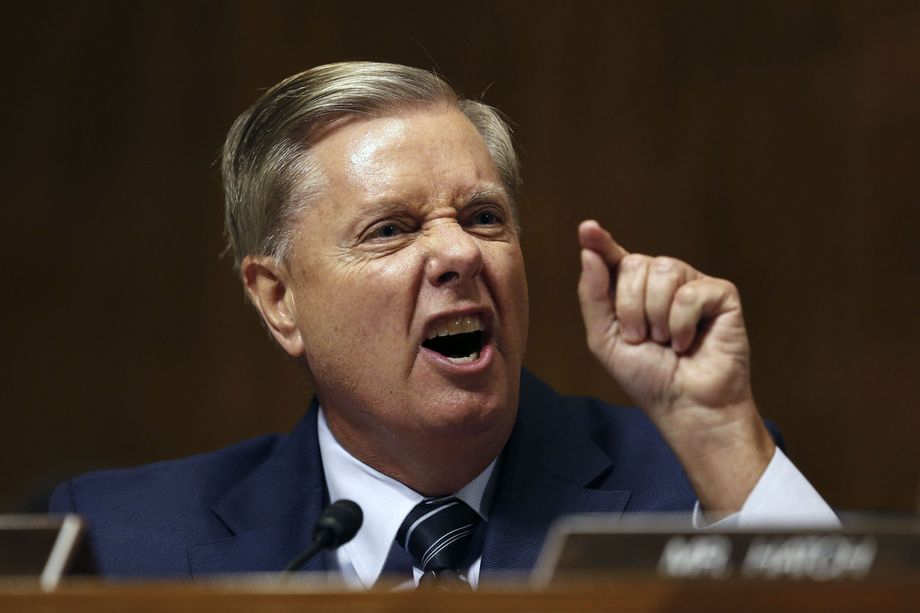 "Leningrad" Lindsey Graham sneered, as he is wont to do, "What we are doing here is criminalizing policy differences," he fumed, specifically calling out Mr. Obama and Joseph R. Biden Jr., the former vice president and presumptive Democratic presidential nominee. "That's why Flynn got prosecuted, because they hated his guts."
Senator John Kennedy, Republican of Louisiana, also posited that Yates despised Mr. Trump.
Ms. Yates repeatedly rejected Republicans' sinister characterization of events.
She said that Mr. Obama and Mr. Biden were purely interested in ensuring that it was safe to share sensitive government secrets with Mr. Flynn after public comments about his talks with the Russian ambassador contradicted intelligence intercepts of their conversations.
They "did not in any way attempt to direct or influence any kind of investigation," she said. "Something like that would have set off alarms for me."
"Leningrad" Lindsey Graham disagreed during the hearing with President Trump and some of his own committee members, repeatedly telling Ms. Yates that he believed she had acted properly by seeking to inform the White House about Mr. Flynn's apparent deception.
So why are we here? Oh yeah, to appease the conspiracy theorist defiling the White Hose.
Republicans played to the camera, reading their scripts prepared by Fox News aka Trump TV for their soundbites, but for the most part, Sally Yates skillfully parried all their partisan attacks and made them look foolish for wasting time on this rather than dealing with the clear and present foreign threats to our election security, or even dealing with the coronavirus pandemic and economic depression.
As Dana Milbank mocks in a sarcastic column today, Our nation is in a free fall. But sure, let's talk about Hillary's emails again.
Here's a clue for you QAnon conspiracy theorists: "Q" is actually an Ivan working for Russian intelligence, and you are all "useful idiots" in spreading Russian propaganda in the U.S. Mystery solved: you are all idiots.