It's all over but the shouting, and the recriminations to come later. The corporate Plutocrats have won. The Hill reports, Senate approves fast-track, sending trade bill to White House: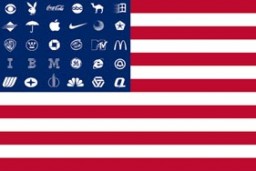 The Senate voted 60-38 Wednesday to approve fast-track authority, securing a big second-term legislative win for President Obama after a months-long struggle. Senate Vote No. 219 (60-38).
Passage of the bill is also a big victory for GOP leaders in Congress, including Senate Majority Leader Mitch McConnell (R-Ky.) and Speaker John Boehner (R-Ohio). The Republican leaders worked closely with an administration they have more frequently opposed to nudge the trade bill over the goal line.
* * *
The Senate is scheduled to vote later Wednesday to end debate on and pass a trailer bill that includes trade preferences for African nations and a workers assistance program known as Trade Adjustment Assistance (TAA).
UPDATE: Senate Vote No. 220 (76-22). This cloture vote sets up the final vote for passage of TAA later today.
Senators will also vote on a motion to go to a conference with the House to resolve differences over customs and enforcement legislation passed by each chamber. That bill is a high priority of Democrats who view it as essential to enforcing trade rules.
Labor unions and liberal Democrats had fought hard against the authority and are likely to now turn their attention toward stopping the Trans-Pacific Partnership, a trade deal Obama is negotiating with 11 other Pacific Rim nations.
Fast-track, or trade promotion authority (TPA), will allow the White House to send trade deals to Congress for up-or-down votes. The Senate will not be able to filibuster them, and lawmakers will not have the power to amend them.
The expedited process, which lasts until 2018 and can be extended until 2021, greatly increases Obama's chances of concluding negotiations on the TPP, which is a key goal of the president's.
* * *
A group of 14 swing Democrats came under heavy pressure from unions to oppose fast-track after it became uncoupled from TAA. Labor officials argued that GOP leaders could not be trusted to get the worker assistance package through the House.
But McConnell and Boehner assured their Democratic partners that all four pieces of Obama's trade agenda, including the customs bill favored by Democrats and a package of trade preferences for African nations, would pass.
"The House will consider TAA once it passes the Senate as part of a new trade preferences bill. And we are ready to go to conference on the customs bill," Boehner pledged in a statement Tuesday ahead of a key procedural vote to advance fast-track to a final vote.
To further entice wavering Democrats to back fast-track, McConnell added to the TAA package the Leveling the Playing Field Act, which empowers U.S. companies to petition the Commerce Department to respond to trade violations.
He also furnished for Democrats a letter signed by a group of Senate Republicans pledging to support TAA. [They did.]
In the end, 13 of the 14 pro-trade Democrats voted to advance fast-track to final passage, the same number who voted for a package that combined fast-track and TAA before Memorial Day.
Sen. Ben Cardin (D-Md.) voted against ending debate on fast-track Tuesday and against final passage on Wednesday.
House Minority Leader Nancy Pelosi (D-Calif.) and her caucus are lining up behind [the TAA] expected to hit the floor of the lower chamber Thursday, securing a key piece of President Obama's trade agenda and setting the stage for a legacy-building trade accord with Pacific Rim nations. Dems wave white flag in trade fight:
[W]ith the Senate set to send a stand-alone fast-track bill to the White House Wednesday, House Democrats say they no longer have any reason to block the TAA, which they've long championed as a protection for workers harmed by trade deals.
"I'm disappointed that the TAA bill isn't nearly as robust as it should be in light of a trade agreement that encompasses 40 percent of the global economy," Pelosi wrote Wednesday morning in a Dear Colleague letter to House Democrats.
"[But] while we may not all vote in the same manner on TAA, I will support its passage because it can open the door to a full debate on TPP."
The TPP is a reference to the Trans-Pacific Partnership (TPP), an almost-finalized trade deal between the U.S. and 11 Pacific-Rim nations that would govern as much as 40 percent of global commerce.
The TPP is the top economic priority of Obama's last years in office, and the administration sees the TPA as vital to securing it because the fast-track authority would prevent Congress from amending or filibustering the president's trade deals.
The fast-track opposition from liberal Democrats has been largely rooted in their concerns that the emerging trans-Pacific deal doesn't go nearly far enough to protect the environment, food safety, workers rights abroad and middle-class jobs at home, among a long list of other apprehensions.
With the TPA headed to Obama's desk, the critics are shifting strategies to focus on improving the TPP. The workers aid bill, they say, is no longer useful leverage in that fight.
"TAA was being used as a bargaining chip for TPA, and that's why we very much resisted," Rep. Sandy Levin (Mich.), senior Democrat on the Ways and Means Committee and a staunch fast-track critic, said Wednesday leaving a closed-door meeting of the Democratic Caucus in the Capitol.
"But now TPA is going to become law, and so therefore we should really focus on what has always been the central issue, and that is what is in TPP."
Levin predicted "a vast majority" of House Democrats will back the TAA when it hits the floor, likely Thursday.
Rep. Ron Kind (D-Wis.), head of the centrist New Democrat Coalition, which has rallied behind Obama's trade agenda, echoed that message Wednesday, saying that even some of the strongest liberal critics of the TPA voiced their support for the TAA during the caucus meeting.
* * *
The Democratic support will be needed to pass the TAA, which provides retraining and education benefits to workers harmed by trade deals. That's because many Republicans — including Rep. Paul Ryan (R-Wis.), the Ways and Means Chairman who co-authored the initial TPA/TAA package — oppose the program on ideological grounds. Only 85 House Republicans voted for the TAA measure earlier in the month.
The quickly evolving events mark a huge victory for Obama, who has taken an enormous political gamble on trade by siding with GOP leaders against the Democrats, labor groups and environmentalists who make up his base.
The TAA is expected to move quickly. Senate Republicans have planned a procedural vote on the bill Wednesday as part of a larger package that includes the African Growth and Opportunity Act (AGOA), a popular measure extending trade preferences to African nations. That sets the stage for final passage in both the Senate and House on Thursday.
* * *
"It's disgusting that they were attached, but we have to play the hand we were dealt and I'm going to vote for it," Rep. G.K. Butterfield (D-N.C.), chairman of the Congressional Black Caucus, said after Wednesday's caucus meeting.
"Right now the TPA is passing the Senate and heading to the president's desk — I suspect that he will sign it very soon — and how are we going to look if we defeat TAA and AGOA?" Butterfield added.
"I mean, who wins? … No one wins."
With the preliminary bouts out of the way by Thursday, action now shifts to the main event, which will be the fight over the specific provisions of the Trans-Pacific Partnership Agreement, once its classified provisions are finally made public for review and Congress considers each provision in up or down votes beginning later this year.