Evil GOP bastard Mitch McConnell has scheduled a vote on Tuesday in his last ditch strategy to repeal Obamacare: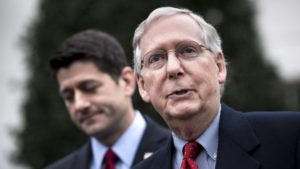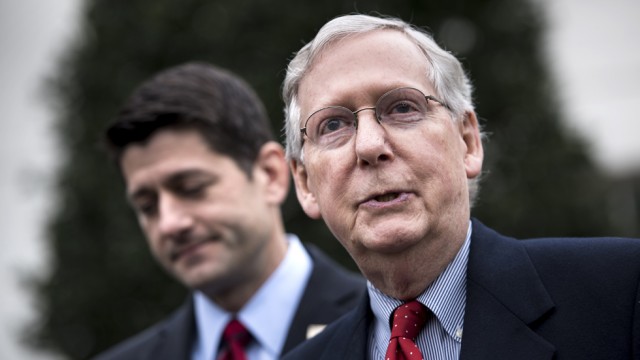 Talking is no longer working. It's time to vote.
Senate Majority Leader Mitch McConnell is taking the rare step of forcing his members to take a tough vote on an Obamacare repeal bill, H.R. 1628 (115), that is on track to fail, making them own their votes.
Senior Senate Republicans believe the high-profile vote expected Tuesday — followed by conservative backlash over the GOP's failure to fulfill its seven-year campaign pledge — might provoke enough heat from the base to bring senators back to the negotiating table.
It seems like a long shot. But McConnell may be playing the long game — making his members walk the plank not as an act of desperation but as part of a strategy that just might work. He's used it before to get what he wants.
* * *
If the strategy doesn't bring senators back to the table, the vote could demarcate a decisive end to at least the public Obamacare repeal debate for some time. That would allow the Senate, which has already spent two months trying to dismantle and replace the health law, to move on and notch some legislative wins [or not]. Many are more than ready to turn to other priorities, like tax reform.
Still, holding a doomed vote is unusual for McConnell, who typically goes to great lengths to protect his members from politically difficult votes.
"Everybody has to be held personally accountable," said Sen. John Cornyn (R-Texas), who has been furiously whipping the repeal effort. "Everybody is a good enough politician that if they've got a reason to justify their vote, they'll be able to sell that."
The vote Tuesday will be to start debate on Obamacare repeal. But it is unclear as of now which bill would serve as the actual policy — an extremely unusual move. McConnell said earlier this week the Senate would vote on a repeat of a 2015 bill that repealed much of the health care law. Since then, senators have floated the idea of voting on multiple options, including repeal, the Senate's repeal-and-replace measure or a combination of these and other policies.
That would be moot if the Senate doesn't even vote to start debate.
With at least two senators having announced they would oppose proceeding to the bill — and the expected absence of Sen. John McCain (R-Ariz.), who was diagnosed with a brain tumor — the vote is likely to fail without major last minute changes. Leaders have opened the door to the idea that if the margin is narrow, they could vote again when McCain could return to Washington. Given his diagnosis, it's not clear when that could happen.
The decision to hold a vote — versus just pulling the bill from the floor without forcing members to go on the record — will be more difficult for some senators than others.
Sen. Jeff Flake (R-Ariz.), who may face a competitive reelection bid next year, dismissed suggestions that voting for a straight repeal of the 2010 health care law could hurt his prospects.
"I've already voted on it. I'm fine with it," Flake said in an interview. "All I can say is, if it comes up, I'll vote for it. There have been so many votes on this over the years that if your opponents want to paint you one way or another, there's lots of fodder they can use."
Yeah, it's always a good idea to so arrogantly dismiss the lives of voters who have been protesting at your senate offices and calling your offices for weeks, begging you not to end their medical care by repealing Obamacare.
The Senate parliamentarian just threw another wrench into the evil plan of Mitch McConnell. Senate Parliamentarian Challenges Key Provisions of Health Bill:
The Senate Republican bill to dismantle the Affordable Care Act encountered huge new problems on Friday night after the Senate parliamentarian challenged key provisions that are needed to win conservative votes and to make the health bill workable.
The provisions appear to violate Senate rules, the parliamentarian said, giving Democrats grounds to challenge them as the Senate prepares for a battle next week over the future of the Affordable Care Act.
One provision questioned by the parliamentarian, Elizabeth MacDonough, and cherished by conservatives would cut off federal funds for Planned Parenthood for one year. Another would prohibit use of federal subsidies to buy insurance that includes coverage for abortions.
A third provision would penalize people who go without health insurance by requiring them to wait six months before their coverage could begin. Insurers would generally be required to impose the waiting period on people who lacked coverage for more than about two months in the prior year.
If formally challenged, the provisions could survive only with 60 votes, a near-impossibility in the partisan, narrowly divided Senate.
And Democrats made clear they would seize on the findings. "The parliamentarian's decision today proves once again that the process Republicans have undertaken to repeal the Affordable Care Act and throw 22 million Americans off of health insurance is a disaster," said Senator Bernie Sanders, independent of Vermont.
Mr. Sanders, the ranking member of the Senate Budget Committee, disclosed the preliminary decisions by the parliamentarian.
* * *
At the moment, Republican leaders lack the votes to ensure passage of their bill to repeal and replace the law, and they are still modifying it in hopes of gaining support from uncommitted Republican senators. All Democrats are expected to oppose the repeal bill.
Under the procedure that Republicans are using to speed passage of the health care bill, senators can object to a provision if it does not change federal spending or revenue or if the budgetary effects are "merely incidental" to some policy objective. The parliamentarian serves as a sort of referee, determining whether specific provisions of the bill comply with Senate rules.
Don Stewart, a spokesman for the Senate majority leader, Mitch McConnell, Republican of Kentucky, emphasized that "this is guidance, not a ruling." The parliamentarian "provided guidance," and that guidance will help inform subsequent drafts of the legislation, he said, suggesting that the bill could be revised to answer her questions.
The Senate's presiding officer usually follows advice from the parliamentarian. But the full Senate can vote to overturn those decisions.
Cue GOP authoritarianism — "rules don't apply to us."
The parliamentarian also objected to a narrowly written provision that would shift Medicaid costs from New York's counties to its state government. This provision, tagged by opponents as the "Buffalo Bailout," was included in a repeal bill passed by the House in May to secure the votes of Republican House members from upstate New York.
The Senate Democratic leader, Chuck Schumer of New York, suggested that other provisions written specifically for different states could also be at risk.
"This will greatly tie the majority leader's hands as he tries to win over reluctant Republicans with state-specific provisions," Mr. Schumer said. "We will challenge every one of them."
* * *
The Congressional Budget Office says the Senate repeal bill would cut projected federal Medicaid spending by more than $750 billion in the coming decade, leaving 15 million fewer people on Medicaid in 2026, compared with the enrollment expected under current law.
Those cuts have caused deep concern to Republican senators from states that expanded Medicaid under the Affordable Care Act, including Rob Portman of Ohio, Shelley Moore Capito of West Virginia and Lisa Murkowski of Alaska.
But not Jeff Flake of Arizona. He's all good with kicking some 400,000 plus Arizonans off of Medicaid (AHCCCS). No concern on his part.
Opponents of repeal, including consumer advocates and health care providers in every state, are keeping up the pressure on Republican senators.
AARP called on senators to vote against the procedural motion to begin debate, while the American Medical Association panned the repeal measure and an alternate Senate bill that would repeal the health law without providing a replacement.
"Recent revisions do not correct core elements that will lead to millions of Americans losing health insurance coverage with a resulting decline in both health status and outcomes," Dr. James L. Madara, the association's chief executive, wrote to Senate leaders on Friday. The Senate legislation, he said, would undermine state Medicaid programs and weaken the individual insurance market.
Keep calling your senators, not that they care or will listen to what you have to say.