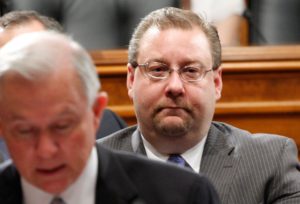 This is inexcusable and indefensible. Senate Tea-Publicans have abdicated their constitutional duty in favor of GOP tribalism to confirm Brian A. Benczkowski to lead the Justice Department's Criminal Division and oversee the government's career prosecutors, including those investigating President Trump.
Benczkowski, who has never tried a case in court and who was hired by Alfa Bank — a Russian bank under scrutiny by the Special Counsel over reports of a communications link to the Trump campaign, Was a Trump Server Communicating With Russia? — to prepare a report exonerating the bank, is not qualified for this position.
Benczkowski is now in the line of succession at DOJ, should Trump decide to engage in a "Saturday night massacre" at the Justice Department. He is a Trump loyalist who will play the role of Robert Bork in the Watergate scandal.
The New York Times reports, Justice Dept. Nominee Who Drew Scrutiny for Russian Bank Work Is Confirmed:
Democrats fought the nomination of the former staff member, Brian A. Benczkowski, raising questions about his qualifications. Mr. Benczkowski has never tried a case in court and was also scrutinized over private-sector work for one of Russia's largest banks.
The 51-to-48 vote was along party lines, with only Senator Joe Manchin III, Democrat of West Virginia, joining Republicans to confirm Mr. Benczkowski.
Mr. Benczkowski, 48, has worked since 2010 as a lawyer focused on white-collar criminal defense cases at the firm Kirkland & Ellis. In that job, he helped Russia's Alfa Bank investigate whether its computer servers had contacted the Trump Organization, a question that touched directly on suspicions about the bank that emerged in the early months of the Trump-Russia affair.
The F.B.I., which also investigated, found that data moving between the bank and the Trump Organization did not amount to clandestine communications, and some experts suggested that it was related to Trump hotel marketing materials.
This is not accurate. FBI still investigating computer link between Trump Organization, Russian bank:
The New York Times and Slate first reported the irregular server activity.
The server in question came under scrutiny last summer after internet data from a computer server owned by the Moscow-based Alfa Bank searched for the contact information of a computer server owned by the Trump Organization.
Their internet searches exceeded other companies, with Alfa Bank alone accounting for 80 percent of the Trump server look-ups, according to CNN, which reported that FBI investigators found the server connection "odd."
The FBI is still investigating whether there was a computer server connection between a Russian bank and the Trump Organization, CNN reported Thursday.
While the first reports of a server connection were dismissed in November, the FBI continues to investigate for possible links, according to the network.
The FBI's counterintelligence team is reportedly handling the investigation, which is also currently examining whether Russia interfered in the 2016 presidential election.
The Special Counsel has not released any definitive findings about the investigation into this matter.
Democratic senators said Mr. Benczkowski's decision to take on the Alfa Bank work last year amid heightened scrutiny over relations between Trump associates and Russia showed a lack of good judgment. Alfa Bank's owners have ties to President Vladimir V. Putin of Russia, and Mr. Benczkowski worked closely with the Trump transition team and was once a Senate Judiciary Committee staff member when Mr. Sessions was on the committee.
The Washington Post adds "Benczkowski had served in prior administrations as chief of staff for the attorney general and deputy attorney general." "He is well-respected, particularly in conservative legal circles, and led the entire Justice Department transition for the Trump team."
"The main criticism is that Brian will be the person in the Justice Department who oversees sensitive cases, criminal trials and people who make calls on things like search warrants," said Joyce Vance, a former United States attorney for the Northern District of Alabama.
He will also help oversee the special counsel investigation into Russian election interference and possible ties to the Trump campaign as well the inquiry into Michael D. Cohen, Mr. Trump's longtime personal lawyer, which is being conducted by federal prosecutors in Manhattan.
Mr. Benczkowski has told lawmakers that he supported Mr. Mueller's investigation but would not promise to recuse himself from issues involving Russia.
The Washington Post adds, "Benczkowski told lawmakers he would recuse himself from any matters involving Alfa bank for two years and would permanently step aside from any matters that touched on his work for the institution."
Senate Democrats sought to block Mr. Benczkowski's confirmation, citing a lack of relevant experience. Though he has served in several Justice Department roles — work in legislative affairs and legal policy as well as key leadership posts for the offices of the attorney general, the deputy attorney general and the Bureau of Alcohol, Tobacco, Firearms and Explosives — Mr. Benczkowski was not a federal prosecutor.
"The only apparent qualification that Mr. Benczkowski has is his close relationship with, and political loyalty to, the attorney general and the president," Senator Patrick J. Leahy, Democrat of Vermont, said in his floor statement during Mr. Benczkowski's confirmation hearing on Wednesday.
"This could prove to be a historic mistake," Senator Richard J. Durbin, Democrat of Illinois, warned after Mr. Benczkowski's confirmation. He, Mr. Leahy and other Democrats on the Judiciary Committee wrote in May to their colleagues urging them to deny Mr. Benczkowski's appointment.
Benczkowski needs to be kept under a microscope by the media examining everything he does and says at DOJ. This should be a flashing red light warning sign for anyone in the know at the Justice Department.