The global economic slowdown and financial-market turmoil are now having an impact on the U.S. economy. An ailing global economy starts to weigh on US job market:
A sagging global economy has finally caught up with the United States.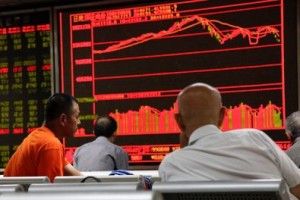 Nervous employers pulled back on hiring in August and September as China's economy slowed, global markets sank and foreigners bought fewer U.S. goods. Friday's monthly jobs report from the government suggested that the U.S. economy, which has been outshining others around the world, may be weakening.
Lackluster growth overseas has reduced exports of U.S. factory goods and cut into the overseas profits of large companies. Canada, the largest U.S. trading partner, is in recession. China, the second-largest economy after the United States, is growing far more slowly. And emerging economies, from Brazil to Turkey, are straining to grow at all.
A result is that economists now expect the Federal Reserve to delay a long-awaited increase in interest rates, possibly until next year.
Steve Benen has the September jobs report. Job growth cools over the summer:
When U.S. job creation fell short of expectations in August, many hoped it was a temporary setback. Today, however, we learned that job totals came up short in September, too.
The Bureau of Labor Statistics reported this morning that the U.S. economy added 142,000 jobs in September, well below the 200,000 expected by economists. The overall unemployment rate remained 5.1%, which is still the lowest point since April 2008, more than seven years ago.
Making matters slightly worse, though summer revisions often paint a more encouraging picture, today's data points in the opposite direction. July's job totals were revised down, from 245,000 to 223,000, while August's totals were also revised down, from 173,000 to 136,000. That's a combined 59,000 jobs we thought we'd created, but didn't.
For those rooting for the U.S. economy, this isn't the report we were hoping for.
That said, overall, the U.S. has added 2.75 million jobs over the last 12 months, which is actually pretty good. September was the 60th consecutive month of positive job growth — the best stretch since 1939 — and the 67th consecutive month in which we've seen private-sector job growth, which is the longest on record.
Daily Kos adds, Government reports weak job growth for September. August and July job numbers revised downward :
As noted previously by many analysts, August is the month in which the Bureau of Labor Statistics' first report on jobs is most likely to be heavily revised. But the expert consensus held August would be revised upward and it went the other way. Originally the bureau reported the August gain at 173,000 jobs. It revised that number Friday to 136,000 and revised its calculations for July from 245,000 to 223,000.
The civilian workforce fell 350,000, after having fallen 41,000 in August. The employment-population ratio fell to 59.2 percent, and the labor force participation rate fell to 62.4 percent.
One of the continuing problems in the economy if you're a worker is the lack of solid growth in wages. September didn't change that. Wages for all employees on private nonfarm payrolls fell by a cent. Wages for private-sector production and nonsupervisory employees were unchanged.
The official unemployment rate, which in BLS jargon is labeled U3, came in at 5.1 percent again. Another measure—known as U6—which estimates both unemployment and underemployment—includes people with no job at all, part-time workers who want a full-time job but can't find one, and many "discouraged" workers. U6 fell in September by 0.3 percent to 10.0 percent. The number of people officially unemployed fell slightly to 7.9 million.
Here's another chart, this one showing monthly job losses/gains in just the private sector since the start of the Great Recession.