We need to briefly revisit a post I wrote shortly after Donald Trump was unexpectedly elected president. The post-truth presidency of Donald Trump (excerpt):
Margaret Sullivan writes at the Washington Post, The post-truth world of the Trump administration is scarier than you think:
You may think you are prepared for a post-truth world, in which political appeals to emotion count for more than statements of verifiable fact.
But now it's time to cross another bridge — into a world without facts. Or, more precisely, where facts do not matter a whit.
On live radio Wednesday morning, Scottie Nell Hughes sounded breezy as she drove a stake into the heart of knowable reality:
"There's no such thing, unfortunately, anymore, of facts," she declared on "The Diane Rehm Show" on Wednesday.
Hughes, a frequent surrogate for President-elect Donald Trump and a paid commentator for CNN during the campaign, kept on defending that assertion at length, though not with much clarity of expression. Rehm had pressed her about Trump's recent evidence-free assertion on Twitter that he, not Hillary Clinton, would have won the popular vote if millions of immigrants had not voted illegally.
(The apparent gen­esis of Trump's claim was Infowars.com, a site that traffics in conspiracy theories and is run by Alex Jones, who says the 2012 massacre of 20 schoolchildren in Newtown, Conn., was a government-sponsored hoax.)
What matters now, Hughes argued, is not whether his fraud claim is true. No, what matters is who believes it.
As of June 10, 2019, President Trump had made 10,796 false or misleading claims. "From the start of his presidency, he has averaged about 12 such claims a day." (The average has been increasing since April). Trump has added hundreds more lies since June.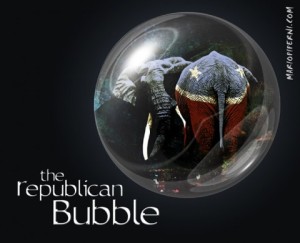 Donald Trump is trying to destroy objective facts and truth itself to create a post-truth world in which one questions everything they hear — fake news! — so people will only put their trust in someone for whom they have an affinity, someone whom they believe is credible (despite all evidence to the contrary).
This is why Trump regularly tells his personality cult followers not to believe the "fake news," only believe what he tells them is true. He is creating his own propaganda bubble. Propaganda is most effective when it is not questioned or challenged by objective factual news reporting. This is the lesson learned by every authoritarian dictator since the dawn of the 20th Century.
Which explains this week's bizarre "Sharpiegate." Donald Trump is gaslighting America into questioning the "fake news" about hurricane Dorian by creating his own alternative reality, insisting that only he is telling the truth. This is not about hurricane Dorian, but his war on the truth.
What would have been a one-off event for anyone else – "I was mistaken, my bad" – Donald Trump has turned an erroneous tweet into a week long fixation. AP Analysis: Storm spat underscores Mr. Never Wrong's mindset:
President Donald Trump doesn't make mistakes. At least according to him.
Trump's relentless justifications of his erroneous warnings that Hurricane Dorian was threatening Alabama on Sunday, which created days of ridicule and skepticism, are just the latest example of the president's lifelong reluctance to admit an error, no matter how innocuous.
His fervent, dayslong pushback has displayed not only his prolonged focus on a personal spat but his willingness, notably again late on Thursday, to deploy government staff and resources to justify an inaccurate claim. Presidential proclamations can move markets, rattle world capitals and, in this case, unnecessarily alarm the residents of a state. Trump's relationship with the truth and accountability threatened to, yet again, diminish the weight of any president's words.
Trump was at it yet again on Friday, contending he had been right all along about the storm and insisting that it was the media, not him, "fixated" on the issue.
This was far from the first time Trump has refused to admit a mistake. Examples range from the harmless, like his assertion that he had the largest inauguration crowd in history, to the more serious, like his claim of widespread voter fraud in 2016 that led to the establishment of an election commission to try and back up his claim.
This particular Trump tempest, as so often, began with a tweet.
On Sunday, the Republican president warned that Alabama was "most likely to be hit (much) harder than anticipated." By then, however, Alabama faced no threat at all from Dorian, as the National Weather Service quickly declared.
Rather than dropping it, Trump went into overdrive defending his alert, and he was still at it four days later.
On Wednesday, Trump displayed a map of Dorian's projected path that showed the cone of uncertainty covering much of Florida but stopping in its panhandle. Until, that is, an extension was added in black marker that covered a swath of Alabama.
The president, who is known for his love of Sharpies, pleaded ignorance about the ad hoc alteration. "I don't know, I don't know, I don't know," he responded when questioned.
Add it to his list of lies. Both Bloomberg News and The Washington Post cite sources who say that Trump himself added the Sharpie alteration.
That night and the next day, he took to Twitter to again insist that certain storm tracking models proved he was right. He tweeted outdated maps, he pushed White House staff to support his claims and he doubled down — eight times over — on his erroneous forecast.
"In the one model through Florida, the Great State of Alabama would have been hit or grazed," he said in one of the tweets. "What I said was accurate! All Fake News in order to demean!"
It should be noted here Why President Trump's Sharpied weather map was likely a crime — and should be:
Until this week, few Americans knew that a provision in the U.S. Code titled "False weather reports" makes it a crime to falsely claim the authority of government weather science: "Whoever knowingly issues or publishes any counterfeit weather forecast or warning of weather falsely representing such forecast or warning to have been issued or published by the Weather Bureau, United States Signal Service, or other branch of the Government service, shall be fined under this title or imprisoned not more than ninety days, or both."
* * *
For the National Weather Service forecasts to benefit the public, Americans needed to be able to trust the information. This required the Weather Bureau to communicate that it would provide the most accurate available information, while discrediting popular competitors. These included "weather prophets" and almanacs that weren't based on reliable local data or accepted meteorological science. But they also included something far more dangerous: "counterfeit" forecasts that could cause unnecessary panic.
* * *
In the case of the Sharpie-altered map of Hurricane Dorian, public injury may well have been caused to residents of Alabama who believed the president's Twitter warning and scrambled to prepare for a devastating hurricane that was claiming lives and destroying property elsewhere. The NWS had to issue a statement emphasizing that Alabama would not actually be affected.
* * *
The hundreds of millions of residents living at risk of dangerous weather in the United States need to have full confidence that government weather forecasts and storm warnings are functioning as they are intended: protecting lives and property as a public good.
The president undermined such trust, and while his stunt might be written off as fodder for late-night comics, it's no joking matter: Falsified forecasts can put lives at risk, something the National Weather Service has been protecting us from for more than a century.
That was Trump's first crime. Then Trump enlisted government officials into "corroborating" his false Twitter weather forecast, because "Dear Leader" is never wrong, he is infallible. After all he is the "King of Israel" and "the Chosen One."
[L]ate Thursday, the White House put out an official statement from Rear Admiral Peter J. Brown, the president's homeland security and counterterrorism adviser.
It was he, Brown wrote under the White House letterhead, who briefed Trump on Sunday, showing him the official National Hurricane Center forecast but also a number of other models, which "showed possible storm impacts well outside the official forecast cone."
Even as the hurricane battered the East Coast, Trump's attention was still on Alabama, repeatedly tweeting old forecasts that suggested Alabama could get hit by the storm.
On Friday, A government science agency was enlisted to aid Trump in his battle against reality:
Late on Friday afternoon, NOAA's communications team — not its scientists — released a deliberately worded statement addressing the ongoing controversy over a tweet Trump sent Sunday morning.
"From Wednesday, August 28, through Monday, September 2, the information provided by NOAA and the National Hurricane Center to President Trump and the wider public demonstrated that tropical-storm-force winds from Hurricane Dorian could impact Alabama," the statement read. It linked to the organization's collection of projected wind-speed maps.
It then threw the NWS under the bus, saying the "Birmingham National Weather Service's Sunday morning tweet spoke in absolute terms that were inconsistent with probabilities from the best forecast products available at the time."
The word "probabilities" is important here. The image below is taken from the collection suggested in the anonymous NOAA spokesman's statement. It was the most up-to-date wind-speed map available at the time of Trump's Sunday tweet.
You'll notice that there is, indeed, some overlap between the green part of the chart and the state of Alabama. If you look closely, though, you'll further notice what that green bar indicates: a 5 to 10 percent chance of tropical-storm-force winds, not hurricane ones. Tropical-storm-force winds are slower and less dangerous than hurricane-force winds; at 40 miles an hour, the lowest end, winds might be enough to snap branches off trees.
What's more, this map was a five-day projection. The three-day projection looked like this:
Three-day projections are more accurate, since they don't look as far forward. As you can see, there was no projected overlap with Alabama three days out.
Admittedly speaking with some subjectivity, a 1-in-10 chance (at the upper end!) of a strong breeze affecting the southeastern corner of the state within the next five days does not seem as though it warrants being described as Alabama being "most likely … hit (much) harder than anticipated" from "one of the largest hurricanes ever."
Notice how carefully worded the NOAA statement is. It notes that its data "demonstrated that tropical-storm-force winds from Hurricane Dorian could impact Alabama," a phrasing that is both accurate and almost certainly intentionally deceptive. Yes, tropical-storm-force winds could impact Alabama, as they could a number of other states.
* * *
But this statement is an important development, one that should not be underestimated. It is an ostensibly scientific organization — one that prides itself on providing accurate, validated information to the public — releasing a statement obviously meant to bolster Trump's defense of his tweet. It is a slightly more sophisticated version of Trump's marker map, taking a product generated through deliberate scientific processes and presenting it misleadingly to save face.
There's an important difference here, though: It seems pretty obvious that Trump or someone at the White House enticed an objective organization to make that change itself.
* * *
It's not just Trump who's trying to mislead the country. It's an organization whose mission is specifically the opposite of that doing so. It's an organization created to offer unvarnished information to the public offering information that's something less than that — for no other obvious reason than pleasing the president.
And that elevates this entire, goofy debate to something else entirely.
UPDATE: A top NOAA official warned its staff against contradicting the president. NOAA staff warned in Sept. 1 directive against contradicting Trump: In an agencywide directive sent Sept. 1 to National Weather Service personnel, hours after Trump asserted, with no evidence, that Alabama "would most likely be hit (much) harder than anticipated," staff was told to "only stick with official National Hurricane Center forecasts if questions arise from some national level social media posts which hit the news this afternoon." They were also told not to "provide any opinion," according to a copy of the email obtained by The Washington Post. The agency sent a similar message warning scientists and meteorologists not to speak out on Sept. 4, after Trump showed a hurricane map from Aug. 29 modified with a hand-drawn, half-circle in black Sharpie around Alabama.
Needless to say, Meteorologists Are Outraged After NOAA Backed Trump's False Hurricane Forecast:
The NOAA statement, and the agency's decision to step into a political fight at the expense of scientists at the National Weather Service office immediately sparked outrage among meteorologists across the country, who fear a dangerous politicization of an agency that is based on science.
"You don't want a hurricane to become a Democrat or Republican object," Brian McNoldy, a senior research associate at the University of Miami's Rosenstiel School, told BuzzFeed News. "A hurricane doesn't care what political party you're affiliated with, and I really hope it doesn't turn into that."
For many meteorologists in the field, the NOAA statement was a clear political move by a federal science agency designed to appease the president's false claim that Alabama was in danger, while throwing the local Birmingham weather service office under the bus.
And several weather experts in the field were quick to show their support of the Birmingham office, pointing out that their Sunday tweet, and hurricane models for Dorian, were correct.
"The Birmingham office in particular represents the best in that agency," Matt Lanza a meteorologist with Space City Weather told BuzzFeed News. "They deserve better than to be falsely blamed for something like this."
McNoldy said no one disputes that early forecasts of Hurricane Dorian, which smashed into the Bahamas as a Category 5 storm, suggested there was a tiny probability that Alabama could see some tropical storm-force winds. But by the time Trump tweeted on Sunday night that Alabama would "most likely be hit (much) harder than anticipated" forecasts and computer models had shown for days that Dorian was making a right turn off of Florida's coast, completely missing Alabama and instead heading toward the Carolinas.
"It was like he was getting information that was two or three days old," McNoldy said.
* * *
For those in the field, the NOAA statement siding with Trump at the expense of weather service forecasters seemed to be the last straw in the fight.
"There's not many things you can get all people to agree on," McNoldy said. "Everyone is against whoever that NOAA person is."
David Titley, NOAA's former Chief Operating Officer from 2012 to 2013 called the agency's statement an act of "moral cowardice."
* * *
Employees with the NWS also spoke out and suggested that NOAA's statement, along with Trump, had undermined public faith in the accurate and timely information provided by forecasters during life-threatening events like hurricanes.
Among those who responded to NOAA's statement was Dan Sobien, president of the union representing National Weather Service employees, calling it "utterly disgusting."
But the biggest concern, McNoldy said, is the doubt that the NOAA statement could sow into the public.
The precise forecasts distributed by the National Weather Service could mean the difference between life and death for communities, especially during dangerous events like hurricanes or tornadoes. NOAA's decision to defend the president in a political fight over a scientific matter, he said, is dangerous.
"There's enough uncertainty in a hurricane forecast as it is," McNoldy said. "We don't need to introduce a whole lot more."
The late night comics and political satirist have been having a field day with mocking "Sharpiegate" this week. But this is no laughing matter.
GOP consultant Rick Wilson says Trump's collapsing presidency has plunged him into his 'eccentric dictator' phase. Attorney George Conway is pushing the case for immediate removal of 'irreparably defective' Trump after Alabama hurricane lies.
While it is obvious for all to see that Donald Trump is mentally and emotionally impaired, his gaslighting of America is actually a deliberate and intentional strategy to create a post-truth world in which to destroy objective factual reporting. The goal is to destroy truth itself. And that is the ultimate crime.
UPDATE: Grifters gotta grift: Trump campaign is selling branded markers after Sharpiegate:
Donald Trump's reelection campaign has added a Trump-branded permanent marker to its web store, capitalizing on the Sharpie-gate drama and expanding the campaign's culture war offerings that already include stick-it-to-the-liberals plastic straws.
The marker, announced on Twitter this morning by campaign manager Brad Parscale, is the latest effort by the campaign to amplify and then commodify what could have been a relatively minor controversy.
"Buy the official Trump marker, which is different than every other marker on the market, because this one has the special ability to drive @CNN and the rest of the fake news crazy!" Parscale tweeted.
This is further proof that this was never about hurricane Dorian, but Donald Trump's war on the truth.