Two-time loser CD 2 GOP congressional candidate Martha McSally, who has been avoiding taking questions from the media (except the friendly confines of FAUX News) and even questions from her CD 2 constituents, was afforded an opportunity to "write about whatever you want" by Green Valley News editor Dan Shearer in advance of the one and only CD 2 GOP primary debate in which she will appear with her primary opponents this coming Saturday.
McSally has earned a national reputation for her unwillingness to state her position on issues and to simply answer the damn question from reporters, hence the "Silent Sally" moniker we have been testing out at this blog.
But after the op-ed McSally submitted to the Green Valley News, it's time to drop the pretense and just call her what she is: a shameless liar willing to say anything without regard for the facts.
Let's take a look at the whoppers told by Martha McSally in her op-ed:
Whopper #1. Social Security is going bankrupt
"Green Valley's seniors have paid into Social Security and Medicare and they deserve exactly what they were promised. That has always been my pledge to seniors. To accomplish this goal, we must find common ground to stop these programs from going bankrupt.
At our current pace, Social Security will go bankrupt in 20 years; Medicare may run out even sooner."
This is a favorite scare tactic among GOP candidates, and it is a complete lie. Iian Moscovitz wrote at the Motley Fool in 2012, 5 Huge Myths About Social Security – DailyFinance:
Myth No. 1: Social Security is going bankrupt
The biggest misunderstanding out there relates to Social Security's financial challenges. (A Google search for "Social Security bankruptcy" turned up 50 million hits.) But the fact is that Social Security isn't going bankrupt, nor is bankruptcy really possible as the system is currently set up.
Here's the source of the confusion: Historically, Social Security has collected more than it paid out. The extra money built up in a trust fund that collects interest. But due to demographic and economic changes (more on that in a minute), it's expected that insurance payments will begin to exceed income in 2021. Around 2033, the fund will run out.
But even then, the revenue Social Security collects each year would still be enough to pay out about three-quarters of scheduled benefits as far as the eye can see.
In short, to say Social Security is going bankrupt, you have to ignore its revenues. But by such a weird standard — ignoring revenues and seeing how long it would take expenses to drive tangible net assets to zero — the average member of the Dow would go "bankrupt" in just under three months . . .
Of course, doing nothing would mean that Social Security won't be able to meet its full obligations two decades from now. But it's not going bankrupt.
Myth No. 2: Meeting Social Security's future shortfall is really hard
We only need to come up with about 0.9% of GDP in order to make Social Security's revenues match up with its expenses for the next 75 years. To put that into perspective, 0.9% is close to the cost of unemployment insurance, the high-end Bush tax cuts, or one-fifth of the Defense budget. That's not insignificant, but it's hardly apocalyptic.
There are two basic ways to close that gap. We could increase payroll tax revenue by raising the cap (currently any personal income beyond $110,100 is exempt from Social Security payroll taxes) or raising the rate. Or we could cut benefits by lowering payments and/or raising the retirement age. Other strategies could include things like allowing more immigration to reinforce the population of working-age citizens or paying for it out of the general fund, but they aren't discussed as often.
Generally speaking, polls tend to show more support for revenue increases than benefit cuts, though there are plenty of different options. To get a sense of what they are, here are a bunch of different tweaks the Congressional Budget Office examined that could help us reach that 0.9% threshold: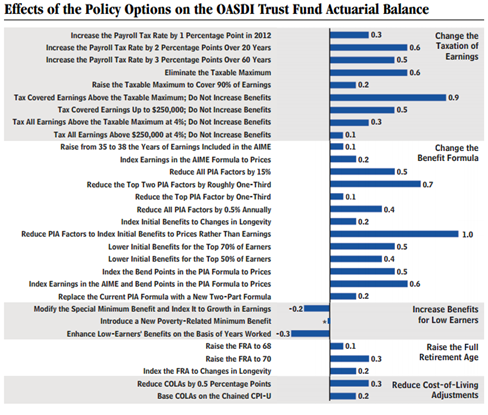 Source: Congressional Budget Office.
Whopper #2. "I absolutely oppose privatizing Social Security"
What would undermine the Social Security system is allowing people to opt out of the system. McSally writes in her op-ed to the Green Valley News, "I absolutely oppose privatizing Social Security."
This would be a reversal of her previous position in 2012, when McSally argued for allowing people to invest their Social Security payments in private accounts. McSally wrote, "For younger workers, we need to consider approaches such as gradually increasing the retirement age and allowing them to invest a portion of their Social Security payments in ways that will allow them to maximize their returns." [Green Valley News 4/04/12; Arizona Daily Star 3/25/12]. McSally also wrote, "We need to look at gradually increasing the retirement age for younger workers and giving individuals more options to invest part of their benefits for higher returns." Id.
Whopper #3. Medicare is going bankrupt
"At our current pace, Social Security will go bankrupt in 20 years; Medicare may run out even sooner."
"So what about Medicare?" you ask. This is a "Mediscare" tactic from McSally. The chief of Medicare in May 2013 credited Obamacare for continuing to help extend the life of Medicare after a new trustees' report said it will be solvent for two years longer than expected. Medicare Chief: Obamacare Is Extending Medicare's Life:
The trustees' report found that Medicare's trust fund will remain fully solvent until 2026; last year's projection was 2024. The two years comes on top of eight more years of initially projected solvency for Medicare due to the Affordable Care Act.
"The Medicare Hospital Insurance trust fund is projected to be solvent for longer, which is good news for beneficiaries," said Marilyn Tavenner, who runs the Centers for Medicare & Medicaid Services. "Thanks to the Affordable Care Act, we are taking important steps to improve the delivery of care for seniors with Medicare."
Whopper #4. The return of the $716 billion "lie that will not die"
"Washington Democrats, including Congressman Barber, have supported and defended drastic cuts to Medicare and Medicare Advantage amounting to $1,500 per senior in order to fund Obamacare. Meanwhile, some Washington Republicans have proposed altering Medicare to an untested and unproven model in the Ryan Budget. I oppose both these approaches because they do not uphold the promise our country has made to seniors."
The cuts to Medicare Advantage providers marks the third election cycle in a row that the GOPropagandists have trotted out this "Mediscare" tactic which has been thoroughly debunked by fact checkers since 2010. I have fact-checked this several times in posts over the years. See NRCC's 'pants on fire' – the $700 billion lie that will not die:
"Even after every media fact check organization in America rated the GOP claim that Democrats cut $500 billion from Medicare benefits a "pants on fire" lie repeatedly since 2010, my summary here Fact Check: The NRCC's 'pants on fire' – the $500 billion lie that will not die," they did it again in 2012. I posted the fact checks by CNN, ABC News and PolitiFact in Fact Check: Romney-Ryan 'pants on fire' – the $700 billion lie that will not die. The Washington Post's fact checker Glenn Kessler is here. Answering readers' questions about Medicare – The Washington Post. This is the same recycled bullshit from the previous two election cycles.
As Sahil Kapur pointed out in Medicare Chief: Obamacare Is Extending Medicare's Life above:
The Affordable Care Act cuts Medicare spending by some $716 billion over the next 10 years by reducing payments to private insurers under Medicare Advantage as well as hospitals and other providers [there are no cuts to beneficiaries]. The law also aims to save money over time by transitioning Medicare from paying providers for quantity of services to quality of care.
"These reforms aim to reduce spending while improving the quality of care, and are an important down payment on solving Medicare's long term financial issues," Tavenner said.
Margaret Sanger-Katz at the New York Times' Upshot column just last week reported, Expected Health Spending Declines (Again):
The last few years have seen a puzzling and welcome new trend in health care spending: Instead of going up and up, increases have slowed way down.
Since health care costs are growing more slowly than they have in decades, they're making budget forecasts look better and better.
According to a report published on Tuesday by the Congressional Budget Office, Medicare is now expected to make up 4.6 percent of G.D.P. in 25 years, down from 4.9 percent in last year's estimate. That's a big enough difference that it buys the Medicare trust fund, which pays for hospital care for senior citizens and the disabled, about six more years of solvency in the budget office's estimate compared with last year.
Over the last few years, the Congressional Budget Office, the official scorekeeper on federal spending, has repeatedly reduced its forecasts of how much Medicare will cost. And to nearly everyone's surprise, the program keeps underspending even those revised estimates. A recent summary of the C.B.O. numbers published last week by the Kaiser Family Foundation, a health care research group, found that Medicare is currently spending $1,000 less a person this year than was forecast in 2010.
To the simpleton McSally: reducing health care costs actually extends the life of Medicare. It is not going "bankrupt."
Whopper #5. I am opposed to the Paul Ryan Budget plan to voucherize Medicare
"Meanwhile, some Washington Republicans have proposed altering Medicare to an untested and unproven model in the Ryan Budget. I oppose both these approaches because they do not uphold the promise our country has made to seniors."
McSally writes that she is now opposed to the Paul Ryan Budget, the official House GOP budget, which contains a plan to privatize Medicare under a "premium support" system by offering the elderly a coupon voucher to buy a private plan (by the way, it also retains the $716 billion in reduced payments to private insurers under Medicare Advantage in the Affordable Care Act). the Paul Ryan Budget also included increasing the eligibility age for Medicare over time.
This is a reversal of McSally's previous position on the Paul Ryan Budget. In February 2012, McSally said that she supported "many elements" of the Paul Ryan [2012] budget proposal. [Interview on azstarnet.com, 2/28/12]. In April 2012, McSally said that she would have voted for Congressman Paul Ryan's budget for FY 2013. "There were several budgets actually that were tied up last week to the House and the one that did pass is the one that Paul Ryan had created and I would have voted for that budget' she said. [KGUN 9 News,4/09/12].
Half-Truth
"A report came out this month from the White House showing Medicare alone had $36 billion in improper or excessive payments. $36 billion is enough to fund benefits for 3 million additional Medicare recipients. $36 billion is approximately 6 percent of Medicare's budget, and saving 6 percent would be a huge step forward."
McSally is referring to the Wall Street Journal, Report Raises Red Flags on Medicare Lab Billing:
The report, by the Department of Health and Human Services' Office of Inspector General, found that more than 1,000 laboratories showed five or more measures of questionable billing during [2010], the latest available when the office began compiling the data. That includes various metrics signifying higher-than-average billing, using ineligible physician identification numbers and administering duplicate tests, among other things.
The findings show how Medicare remains vulnerable to inappropriate spending. In fiscal 2013, the rate of improper payments in Medicare was 10.1%, representing $36 billion in improper payments, according to the Centers for Medicare and Medicaid Services. That is up from 8.5%, or $29.6 billion, the previous year.
Clinical laboratory services, which include blood counts, cholesterol screenings and urinalyses, lend themselves to suspect billing in part because physicians order the services instead of providing them directly, according to Medicare fraud specialists.
A tiny sliver of doctors and other medical providers accounted for an outsize portion of Medicare's 2012 costs, according to the analysis of federal data that lays out details of physicians' billings.  The top 1% of 825,000 individual medical providers accounted for 14% of the $77 billion in billing recorded in the data.
Is McSally serious about prosecuting these wealthy medical providers for Medicare fraud? Because they tend to contribute heavily to GOP candidates. One is even governor of Florida. Rick Scott 'oversaw the largest Medicare fraud in the nation's history' (Scott's prior tenure as CEO of Columbia/HCA about a decade ago, when the hospital company was fined $1.7 billion for Medicare fraud).
Speaking in GOP Code
[W]e need to lower the overall cost of health care by enacting patient-centered reforms. Doing this will improve Medicare's sustainability and improve efficiency and quality of care for senior This includes replacing Obamacare with initiatives that strengthen doctor-patient decisions and focus on health outcomes driven by choice, transparency, and flexibility instead of the mandates, penalties, and taxes inherent in Obamacare.
This is the obligatory "repeal ObamaCare" mantra that everyone knows is not going to happen. "Patient-centered reforms" is GOP code for health savings accounts, tax credits, tort reform, etc. See House GOP Solutions Group Outlines Health Care Plan to Increase Affordability, Accessibility, Availability (.pdf). It is simply an outline of well-worn GOP talking points – 4 pages –  that the GOP has never put into a piece of actual legislation as part of its bogus promise to "repeal and replace ObamaCare" with a plan of their own over the past four years.
I am a constituent of CD 2. I will not tolerate a candidate who finds it so easy to lie me and to treat me as if I am ignorant and do not know better. In fact just the opposite is true. This is Martha McSally's third run for Congress, and she has demonstrated to me that she is ignorant of public policy and lacks the intellectual curiosity to educate herself to be knowledgeable about public policy matters. She simply parrots the GOP talking points her GOP handlers give her to say. I will not tolerate a candidate who is so wilfully ignorant and intellectually lazy. There is no there there, and voters should not reward such a vacuous candidate.