After a tepid start earlier this year, the U.S. economy surges to strongest growth in two years: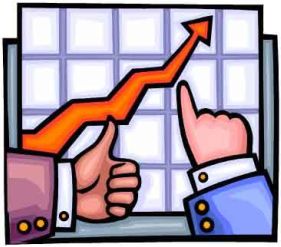 The U.S. economy grew at its strongest pace in two years in the third quarter, according to government data released Friday morning, helping to allay fears that the world's largest economy might be stalling after a sustained period of weakness.
Between the months of July and September, the nation's gross domestic product expanded at an annualized rate of 2.9 percent, slower than before the financial crisis, but fast enough to create new jobs and pare down the unemployment rate, economists said. The reading surpassed expectations of economists surveyed by Bloomberg News, who had forecast growth of 2.6 percent.
The data showed the nation's economy bouncing back following months of stubbornly sluggish economic growth. Growth in GDP — a broad measure of America's economic activity — has remained below 2.7 percent for the previous seven quarters.
"It's a sigh of relief after just over barely 1 percent growth in the first half of the year," said Stuart Hoffman, chief economist at PNC.
Economists cautioned that the recovery shouldn't be overestimated, as growth in the quarter was driven by several events unlikely to be repeated in the near future.
One of those events was a surge in shipments of American soybeans to South America, which suffered from a bad harvest. That helped lift exports 10 percent in the third quarter, the biggest increase in nearly three years.
Growth was also buoyed as businesses made new purchases to restock their inventories, after struggling to draw down on large stockpiles of goods in previous quarters.
Jared Bernstein quips at the Washington Post, GDP growth climbs to 2.9 percent in Q3: I knew those soybeans had a liberal bias!:
The last gross domestic product report before the election came out this morning, showing that the U.S. economy expanded at an annual rate of 2.9 percent in the last quarter (2016Q3). That's the fastest growth rate in two years and a nice pickup from the prior quarter's rate of 1.4 percent.
Significant contributors to growth in the quarter included net exports and the first inventory buildup in over a year. Consumer spending grew at a moderate 2.1 percent, while prices remained subdued, with consumer prices up 1.4 percent and core prices — the Federal Reserve's key gauge — up 1.7 percent, another low-side miss for the Fed of their 2 percent inflation target.
* * *
But this being D.C. a few weeks before a presidential election, let's put aside such analytic points and ask how this number plugs into the debate.
Political scientists argue, with some evidence, that it's too late for economic numbers to move the needle, and I suspect they're right. To the extent that someone's undecided or wavering at this late date, after everything we've been through, I can't imagine why a number — even a nice one like this — will move them.
But trust me, you'll still hear this 2.9 percent thrown about with great abandon, as D's argue a GDP resurgence and R's argue a conspiracy of soybean exporters, who are of course known to have a deeply liberal bias.
The truth is that the resilient U.S. economy remains in growth mode, though growth has downshifted because of the factors noted above. Slower labor force growth is largely, though not wholly, because of our aging demographics, and productivity growth — well that's just a tough one that economists do not adequately understand. Employment growth remains strong — the over half-a-million jobs created in the third quarter helped boost consumer spending — and wages have been picking up though not in such a way as to drive up prices much.
What you should unequivocally and thoroughly dismiss is any notion that the U.S. economy is an irreparable basket case. No question, we need to try to boost labor supply and productivity, and no question that the growth which has occurred has yet to reach enough households, an important reminder that in the age of inequality, growth is necessary but not sufficient to raise the living standards of the poor and middle class. For that to happen, we need to get to and stay at full employment, meaning the Fed has be especially careful not to overreact.
But sufficiency aside, growth sure is necessary, and it's good to see that it remains ongoing.
In other good economic news, Matthew Iglesias reports, Americans' wages just hit an all-time high:
The inflation adjusted weekly income of the typical full-time American worker hit an all-time high in the third quarter of 2016, according to data released yesterday by the Bureau of Labor Statistics.
Median weekly earnings had been approximately stagnant for the first 15 years of the 21st century. (They spiked temporarily during the Great Recession because low-wage workers were disproportionately likely to be laid off.) But earnings have rebounded sharply over the past 18 months. That's a mix of an improving labor market giving workers some bargaining power and cheap energy prices keeping inflation low.
This is a slightly different finding from the Census Bureau's report in September that median household income surged in 2015. The Census looks at all households, whether they're working or unemployed or retired, while the BLS looks only at individuals who have a job. But the two reports point in the same direction — the economy is getting stronger for ordinary people.
Thanks, Obama!