With normalization of relations with Cuba, that leaves only one Communist country in the world with which the U.S. does not maintain relations: the "Hermit Kingdom" of North Korea (Democratic People's Republic of Korea).
This will be a tougher nut to crack. North Korea is a cult of personality, with its citizens required to worship Dear Leader, Li'l Kim (Kim Jong-un), as a demigod.
Pick up a copy of Without You, There Is No Us, by Suki Kim for a description of life in North Korea. This place is a seriously effed up hell hole.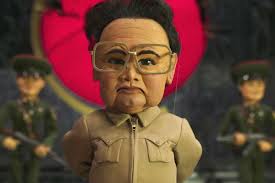 It turns out that Li'l Kim and the Hermit Kingdom are sensitive to criticism. I mean really sensitive to any criticism. Remember the controversy over Team America: World Police (2004) by South Park creators  Trey Parker, Matt Stone,and Pam Brady? Li'l Kim's old man, Kim Jong-il was parodied in the film, and North Korea sought to ban the film in the Czech Republic. The Czechs told them to go pound sand.
Ten years later his son Li'l Kim apparently has ratcheted things up a notch, or two, or three.
Sony Pictures scheduled a Christmas day release of a supposed action-comedy, The Interview, in which the plot is that two producers of a popular celebrity tabloid TV show are recruited by the CIA to assassinate Kim Jong-un during an interview, after they discover the North Korean dictator Kim Jong-un is a fan of their show.
Yeah, assassinations are hilarious. Not at all inappropriate, especially on Christmas day.
North Korea is alleged to have hired some computer hackers to hack into Sony Pictures. The hackers call themselves the Guardians of Peace (probably because the Guardians of the Galaxy was already taken) and recently threatened violence against movie theater patrons if the movie was released.
Riiight. Somehow I can't imagine computer hackers wanting to get their hands dirty with actual physical acts of terrorism and a risk of being captured or killed. That's not their thing. This is the equivalent of someone phoning in a bomb threat. Nevertheless, Sony Pictures panicked and pulled the movie from release.
As an aside, there's a part of me that wants to thank the Guardians of Peace for torpedoing what appears to be yet another crappy movie from Seth Rogan. Is there any chance they can repeat this for the next Adam Sandler movie? Or the next Will Ferrell movie? But I digress.
The New York Times reports, Sony Drops 'The Interview' Following Terrorist Threats:
Sony Pictures Entertainment on Wednesday dropped plans for its Christmas Day release of "The Interview," a movie that depicts the assassination of the North Korean leader Kim Jong-un, after receiving a terror threat against theaters.
Before that, the four largest theater chains in the United States said they would not show the movie, which has been at the center of a devastating hacking attack on Sony over the last several weeks. In a statement, Sony said: "We respect and understand our partners' decision and, of course, completely share their paramount interest in the safety of employees and theatergoers."
American intelligence officials on Wednesday concluded that the North Korean government was centrally involved with the attacks on Sony's computers. That determination and the cancellation of the film were new twists in a series of developments that has found a major studio fighting for its art, and perhaps life, against forces driven by a foreign government.
Shortly before Sony stepped back, AMC Theaters, citing a need for customers to "plan their holiday moviegoing with certainty and confidence," joined Regal Entertainment, Cinemark and Carmike Cinemas in dropping the film. Together, those exhibitors control more than 19,200 screens across the United States. Smaller chains in the United States and Canada's Cineplex Entertainment also canceled bookings.
A Sony spokesman said the studio "has no further release plans" for the $44 million comedy. The cancellation was a sharp defeat for the studio, which for months had stood behind the film and its plot as being within its creative rights, even as North Korean officials excoriated it as "an act of war," and a group of hackers raided the studio's computers and published mounds of private corporate data online in declared retribution for the movie. "The Interview" was co-directed by Seth Rogen and Evan Goldberg.
On Tuesday, a threat of terrorism against theaters that show "The Interview" was made in rambling emails sent to various news outlets. The threat read in part, "Remember the 11th of September 2001." The emails aimed the threat at "the very times and places" at which "The Interview" was to play in its early showings.
Once the hackers threatened physical violence, the film's cancellation became almost inevitable, even though Sony spent a day steadfastly maintaining its plans for the release and premiere. Since the Aurora, Colo., theater shootings in 2012, Cinemark had fought lawsuits with a defense that said the incident was not foreseeable — a stance that would have been nearly impossible with "The Interview."
The film's collapse stirred considerable animosity among Hollywood companies and players. Theater owners were angry that they had been boxed into leading the pullback. Executives at competing studios privately complained that Sony should have acted sooner or avoided making the film altogether. To depict the killing of a sitting world leader, comically or otherwise, is virtually without precedent in major studio movies, film historians say.
* * *
The multiplex operators made their decision in the face of pressure from malls, which worried that a terror threat could affect the end of the holiday shopping season. Similarly, studios that compete with Sony were scrambling behind the scenes to protect releases that include the latest "Hobbit" extravaganza and the musical "Into the Woods."
Regal said in a statement: "Due to the wavering support of the film 'The Interview' by Sony Pictures, as well as the ambiguous nature of any real or perceived security threats, Regal Entertainment Group has decided to delay the opening of the film." Cinemark confirmed that it had decided to pull the film. Carmike said in a statement that it "must take threats against movie theaters very seriously" and that it would "delay the exhibition" in an "abundance of caution."
* * *
The National Association of Theater Owners, which represents exhibitors, mobilized its own response to the crisis immediately as the threat of violence surfaced on Tuesday. The association convened its board for briefings by both Sony and by officials with the F.B.I. and the Department of Homeland Security, according to a person briefed on the sessions, who spoke on the condition of anonymity because he was not authorized to comment.
* * *
That person said the officials spoke in terms far less assuring than those used publicly by Homeland Security, which had played down the threat. Instead, theater owners were told that government agencies could not gauge the ability of the hackers to go from digital to physical threat, leaving each exhibition company to decide individually how to proceed.
Similarly, this person said, Sony "punted," asking theater owners to take responsibility for solving a problem that, in their view, belonged to the studio.
* * *
[S]ome experts in security had harsh words.
"The notion that Sony and the theaters are going to react by caving on this film — a comedy — is ridiculous," said Frances Fragos Townsend, who was President George W. Bush's counterterrorism adviser. "This is a horrible precedent," Ms. Townsend added.
* * *
Pulling "The Interview" added to the financial hardship that the attack has already had on Sony. Along with the $44 million production cost, which was shouldered in part by LStar Capital, Sony has spent at least $35 million to promote the film. (It moved to end advertising on Wednesday morning.) By not showing "The Interview" in theaters, ancillary income — deals that ensure certain television rerun revenue — are threatened.
Wait, if this is an act of cyber-terrorism by a state sponsor of terrorism, North Korea, then isn't this an act of war? Where is Neocon war monger John McCain and his little puppet boy Lindsey Graham calling for war with North Korea? I'm sure South Korea and American troops stationed there are down with that (not).
Here is how one theater in Texas (where else) planned to respond to Li'l Kim's cyber-terrorism. Refusing to let terrorist hackers win, Texas theater will give out free toy guns and screen 'Team America' (see how I brought this back around full circle?):
One Dallas-area movie theater refuses to take the fallout from Sony's epic data breach sitting down. In true Texas form, it's dialed up the patriotism to 15 and announced plans to host a screening of "Team America: World Police" instead of the embattled assassination comedy "The Interview" next week.
"With cap guns for everyone … for free," said James Wallace, who programs the Dallas/Ft. Worth Alamo Drafthouse Cinema, according to the Dallas Morning News. "Because you can't spell freedom without free."
Wallace and his theater plan to make the Dec. 27 screening a celebration of America and its greatness — complete with guns, American flags, red white and blue streamers, balloons, and outbursts of "America! F*** yeah!"
Just one problem for our gun-crazed Texas theater owner:
Update: 2:42 p.m.:
Alamo Drafthouse Cinema and two other theaters with plans to screen "Team America: World Police" instead of Sony's "The Interview" next week have abruptly cancelled those plans. They say Paramount Pictures, which made the "Team America" film, pulled the movie from all theaters.
There are plenty of copies of Team America: World Police in circulation, and I assume it is still available for download to your computer, so knock yourselves out. "America! F*** yeah!" We ain't afraid of no Li'l Kim.