The testimony of 50 voters rejected the gerrymandered voting District 17 that created a safe Republican district in a predominantly Democratic County. They spoke during a six-hour Virtual Town Hall held by the Independent Redistricting Commission on Saturday, Nov. 6, 2021.
There was only one speaker who spoke in favor of draft map LD 17, the Chair of the Santa Cruz County GOP.
About 250 people registered to testify at the statewide Zoom meeting. Legislative District 17 map was created to perpetuate the Republican majority in the state Legislature for the next decade. This sprawling district is split in half by a mountain and connects Red Rock to Vail 71 miles away.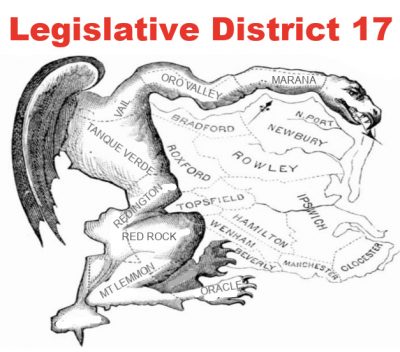 The map was drawn by a Republican Spy, Anna Clark, who is 2d VP of the Pima County Republican Party. She sent the LD17 map through an intermediary to GOP Commissioner David Mehl.
Speakers criticized the distorted LD17 as resembling a Gila monster, a boa constrictor, or a chimera.
Constitutional violations
Proposed District 17 violates the Arizona Constitution in three different ways.
District 17 is not "compact and contiguous." It is made up of selected Republican suburbs from opposite ends of the Tucson area that are separated by a mountain range and 71-mile drive.
District 17 does not "respect communities of interest." Voters in Tanque Verde and Vail have little to do with the distant suburbs of Marana and Oro Valley, and have much closer ties to midtown Tucson.
Designing District 17 to create a safe Republican district violates the constitutional requirement that "competitive districts should be favored."
"My name is Alison Jones, I live in Tucson and serve on the Tucson Citizens Advisory Committee and the Regional Waste Water Recycling Advisory Committee. The IRC approved features for a District 17 that was literally conceived of and drawn by the GOP to give the Republicans a safe district. And I gotta hand it to them. It wasn't easy. They had to include a mountain range and wrap it around the city, like a boa constrictor, you can't drive from one end of it to the other without driving through other districts. District 17 has drawn as a partisan gerrymander, and the GOP knew this when they drew it, otherwise, they would not have tried to pass it off as drawn by the Southern Arizona Leadership Council. This is shameful."
Maria Hildalgo: "I found it so disheartening to think that a special interest group, the Southern Arizona Leadership Council, would submit a map through a political party, and pretty much go to the head of the line. The IRC was set up so that citizens can speak their voices. Please listen to these voices. There is a reason why we have hung on this long because we needed to be heard."
"My name is Nancy Wexler. Competitiveness is the lifeblood of our country and our state. In elections, it gives people a choice to elect representatives who stand for the good of the many. The draft map version 10.0 is a self-inflicted wound to the heart of our communities. Watching the creation of the legislative draft map was witnessing a game of Twister, contorting LD17 for highly partisan purposes. Earlier test maps such as Version 9.0 and those submitted by members of my community, like Barbara Tellman, show the possibility of keeping true communities of interest together and making districts including District 17 fair and competitive. Again, competitiveness does serve us all. It's the power of a democratic republic and the power of an independent commission that serves to give the voters the right to choose their electors, not the state. I urge you to deliver legislative and congressional maps where Arizona's voters decide not a predetermined bias group of special interest."
"My name is Robert Federoff. I am a retired social studies teacher in the Sunnyside School District. The chairperson has allowed four of the six goals of the Constitution to be violated. Violation number one, the district shall be geographically compact and contiguous, she failed by a landslide. Violation number two: district boundaries shall respect communities of interest. Violation number three: the district shall use visible geographic features, city, town, and country boundaries, and undivided census tracts. Failed. Finally, violation number four, a district should be fair. I find the chairperson is derelict in her duties to be an independent and impartial chair of the committee."
"My name is Lisa Wolf, I've lived in Tucson for 67 years. And as all the speakers before me have said, this was created specifically to get the Republicans a safe district, and that is not one of the [constitutional] criteria for the maps."
"My name is Carol Malan. I have resided in the Catalina Hills of Tucson since 1989. I am a certified public accountant. The map submitted by [Commissioner] Mehl results in a ludicrous shape for District 17 and includes parts of town that have nothing to do with the Catalina Foothills. The current map has been designed to ensure that a Republican is elected, and this violates the constitutional requirement that the district should be competitive. The new District 17 map is not compact nor contiguous."
"My name is Mike Weingarten, I live in the residential mid-town area of Tucson. I'm very much opposed to how District 17 has been defined. District 17 boundaries come from a partisan submitted map, it violates the constitutional goals of compactness and contiguousness, it fails to follow the geographic boundaries of the Catalina mountains, and it's manufactured to include disparate communities for the sole purpose of creating a safe Republican district. So I also would request that the commission go back to District map version 9.0, which [Democratic] Commissioner Shereen Lerner proposed. It solves all the problems I've talked about."
"My name is Thomas Meconi, and I'm a resident of the Oro Valley. Unfortunately, at the last minute, a map was submitted. It was created by a so-called business organization with direct ties to Republican Commissioner [Mehl]. The Commissioner should have immediately recused himself from the obvious conflict of interest. But instead of avoiding the appearance of impropriety,, he embraced it. Had Democrats submitted the last-minute map created and submitted by a Democrat, Republican heads would have exploded."
"Hi, my name is Catherine Nichols, and I was born and bred in Tucson, Arizona. I am the daughter of a legislator who served for 10 years, and I am currently in District 17. I would just like to say that as a family member who ran in a competitive district, it forced us to be better campaigners, that forced us to speak to all voters. Competitive districts make for better legislators, and so I just wanted to put my voice in for map 9.0 and in general, for competitive districts."
"My name is Jennifer Dawson, I have lived in Tucson for 20 years, and I currently live in LD10. Like many others, I'm concerned about District 17, which is neither fair nor balanced and blatantly disregards redistricting goals as set out in the Arizona constitution. Instead, it serves the goal of creating a safe republican district in a predominantly Democratic County. District 17 is not compact and contiguous. It is made up of cherry-picked Republican-leaning suburbs, separated by a mountain range and a 45-minute long drive. It does not respect communities of interest. It is most definitely not competitive. Democratic commissioner Shereen Lerner proposed the alternative version of District 17 that was contiguous and highly competitive, but it was rejected on the grounds that it failed to create a safe Republican district. Therefore, to meet federal and state requirements, the IRC needs to go back to LD17 map version 9.0 as proposed by Commissioner Lerner."
"My name is Kay Schriner, and I live in Oro Valley. I'd like to comment on the proposed map of LD17 because it raises questions about its compliance with the requirements for redistricting is set out in the Constitution. It's an odd-shaped sprawling district spread over a large area and swinging around a mountain range. It looks gerrymandered. It looks like an animal. It disrupts natural communities of interest that already exist in Oro Valley and Casa Adobes in the Catalina Foothills. Also, it's not possible to travel from the northern section to the eastern and southern sections without passing through another district. From a practical standpoint, it places a burden on most forms of political participation. The commission is tasked with creating fair and competitive maps, not gerrymandering. Before accepting the Republican map, the commission had put aside the maps submitted by the Arizona Latino Coalition and the Navajo Nation, and the disparity in treatment is concerning."
"My name is Linda Horowitz. My husband and I moved to Catalina Foothills over 25 years ago. This district 17 is sneaking around to grab different constituencies without regard to communities of interest or geographic location. They, unfortunately, have the appearance of being gerrymandered for one political party over another. I'm so disappointed."
"I am Dianne Coscarelli. I will be addressing LD-17, and I am very concerned. LD17 disregards many of the goals of the Arizona constitution, it is not at all compact or continuous, its communities of interest are far-flung and disparate, and it lacks competitiveness. It sweeps around the outskirts of Tucson, creating an unusual figure to fashion an obviously safe Republican district. I really fear that this version of LD17 will not only kill voter participation, but it will also encourage extremism."
"My name is Margaret Voge, and I've been a resident of Pima County since 1984. District 17 is very troublesome. I'm disappointed that it does not meet the constitutional requirements and instead appears drafted just for political gain. I agree with my other citizens in Southern Arizona, that map 9.0 really better reflects our community."
"My name is Melissa Westbrook, and I live in the far northwest of Tucson. The creation of LD17 is partisan and clearly favors one party. The map affects every Pima County legislative district adversely. There used to be the idea that voters elected their representatives, and now, the representatives choose their constituents. A consensus must be the order of the day, and that includes creating competitive districts. Put our grand State of Arizona first. Not any party. Remember, history will judge you."
"My name is Julia Kendrick-Conway, and I reside in Sabino Springs. Looking at the map for LD17, it's obviously manipulated to support a certain position. 'Competitive districts' does not mean splitting the state up into X amount of districts that are one color, and X amount of districts that are another color. Competitive means there's an opportunity for a candidate to run on issues within their district that are meaningful to their district. LD17 is not geographically compact or contiguous, it does not respect the boundaries of communities of interest, and it is not competitive. It is partisan, and the people who drafted this map were not even hiding the fact that this was a partisan district."
"My name is Susan Anderson. For the past 10 years, I have been part of [pro-Republican] LD11. Consequently, we have been represented by some of the most extreme politicians in the entire state – Mark Finchem and Vince Leach. They have listened only to their base because there's been no need for them to listen to other residents. We stated that a new LD17 is meant to be a safe Republican district. It is worrisome to me that we could end up having a repeat of LD11 to with extreme politicians."
Only two more chances to testify
There are only two additional opportunities to make your voice heard:
Friday, November 12th from 12 pm to 1:00pm
Southern & Eastern AZ Virtual Town Hall
Please note: you must be registered by 9:00 a.m. in order to speak. Link to be announced.
Saturday, December 4th, 2021
Public Hearing – Main Location 10:00am
South Tucson, AZ
Four Points by Sheraton Tucson Airport
7060 S Tucson Blvd, Tucson, AZ 85756