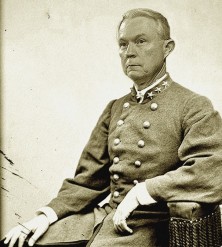 Our Confederate Attorney General, Jefferson Beauregard Sessions III, is in legal jeopardy as Special Counsel Robert Mueller closes in on the obstruction of justice leg of his investigation.
Sessions was directly involved in the firing of former FBI Director James Comey. According to Axios.com, "at the public urging of President Donald Trump — Sessions has [also] been pressuring FBI Director Christopher Wray to fire Deputy Director Andrew McCabe, but Wray threatened to resign if McCabe was removed. Scoop: FBI director threatened to resign amid Trump, Sessions pressure:
Wray's resignation under those circumstances would have created a media firestorm. The White House — understandably gun-shy after the Comey debacle — didn't want that scene, so McCabe remains.
Sessions told White House Counsel Don McGahn about how upset Wray was about the pressure on him to fire McCabe, and McGahn told Sessions this issue wasn't worth losing the FBI Director over, according to a source familiar with the situation.

Why it matters:

Trump started his presidency by pressuring one FBI Director (before canning him), and then began pressuring another (this time wanting his deputy canned). This much meddling with the FBI for this long is not normal.
McGahn has been informed about these ongoing conversations, though he has not spoken with Wray about FBI personnel, according to an administration source briefed on the situation. Trump nominated Wray, previously an assistant attorney general under George W. Bush, last June to replace James Comey as director.
Trump has also tweeted negatively about other senior FBI officials who are allies of Comey, including the former top FBI lawyer James A. Baker who was recently "reassigned" after pressure from Sessions.
White House Principal Deputy Press Secretary Raj Shah said of Wray: "As we've said, the president has enormous respect for the thousands of rank and file FBI agents who make up the world's most professional and talented law enforcement agency. He believes politically-motivated senior leaders including former Director Comey and others he empowered have tainted the agency's reputation for unbiased pursuit of justice. The president appointed Chris Wray because he is a man of true character and integrity and the right choice to clean up the misconduct at the highest levels of the FBI and give the rank and file confidence in their leadership."
As I reported last night, Sessions has adamantly urged Wray to make a "fresh start" with his core team.
Trump and other Republicans have been hammering McCabe— who was selected by the White House as acting director after the Comey firing — for months on Twitter.
On July 26, Trump tweeted: "Why didn't A.G. Sessions replace Acting FBI Director Andrew McCabe, a Comey friend who was in charge of Clinton investigation but got…big dollars ($700,000) for his wife's political run from Hillary Clinton and her representatives. Drain the Swamp!"
The latest: The New York Times — and others — reported in December that McCabe "is expected to retire after he becomes eligible for his pension [in] early [2018]." But senior Justice officials are still not sure what McCabe plans to do.
Mark Sumner at Daily Kos adds this tidbit:
McCabe is expected to retire in the spring, clearing the slot for Trump to insert someone he thinks will give him proper allegiance. But Trump has been determined to stop McCabe from retiring peacefully by pushing him out only days before he would reach full pension benefits.
That level of open pettiness and spitefulness seems excessive—for anyone other than Trump. But Trump has been out to hurt the Deputy Director since McCabe became Acting FBI Director after Trump fired James Comey for the twin crimes of refusing to drop the Russia investigation and failing to swear fealty to Trump. McCabe proved no more tractable than Comey, and since then, McCabe has been a frequent target for Trump's frustration. Trump's attacks on McCabe have included false accusations about his wife's campaign, claims that McCabe was responsible for no charges being filed against Hillary Clinton over her use of a private email server, and claims that McCabe used his FBI office for political purposes.
President Trump said Tuesday that FBI Director Christopher Wray did not threaten to resign — "he didn't even a little bit" — following the Axios.com report that Wray threatened to resign if Attorney General Jeff Sessions kept pressuring him to move Deputy FBI Director Andrew McCabe, and others, out of their jobs. The backstory on Trump's FBI director threatening to resign:
Axios stands by its reporting. Trump was not involved in any of the conversations with Wray, and we never reported that he was.
The conversations were between Wray and Sessions, over several months. Trump applied public pressure and Sessions applied private pressure. When we gave the FBI and Justice Department full visibility of our story before publishing, neither agency took issue with our characterization of the Wray-Sessions conversations or of Wray's threat to resign. Even now, nearly 24 hours after publishing, neither Justice nor the FBI has gone on the record to deny that fact.
The Washington Post adds another layer to the McCabe story. Trump asked the acting FBI director how he voted during Oval Office meeting:
Shortly after President Trump fired his FBI director in May, he summoned to the Oval Office the bureau's acting director for a get-to-know-you meeting.
The two men exchanged pleasantries, but before long, Trump, according to several current and former U.S. officials, asked Andrew McCabe a pointed question: Whom did he vote for in the 2016 election?
McCabe said he didn't vote, according to the officials, who, like others interviewed for this article, spoke on the condition of anonymity to talk candidly about a sensitive matter.
[ Trump had also sought a loyalty oath from Comey and was annoyed that the FBI director would not state publicly at the time that Trump was not personally under investigation.]
Trump, the officials said, also vented his anger at McCabe over the several hundred thousand dollars in donations that his wife, a Democrat, received for her failed 2015 Virginia state Senate bid from a political action committee controlled by a close friend of Hillary Clinton. [McCabe's wife, Jill McCabe, received nearly $500,000 in donations from a political action committee controlled by ­then-Virginia governor Terry McAuliffe, a close friend of Bill and Hillary Clinton who chaired Hillary Clinton's unsuccessful 2008 run for president.]
McCabe, who has spent more than two decades at the bureau, found the conversation with Trump "disturbing," said one former U.S. official. Inside the FBI, officials familiar with the exchange expressed frustration that a civil servant — even a very senior agent in the No. 2 position — would be asked how he voted and criticized for his wife's political leanings by the president.
One person said the Trump-McCabe conversation is of interest to special counsel Robert S. Mueller III.
The encounter is also the latest example of Trump erupting at a senior official, whether Attorney General Jeff Sessions, for recusing himself from the Russia probe, or White House counsel Donald McGahn, for not doing more to quash the investigation early on.
* * *
At the end of October 2016, as the presidential election neared and the FBI faced intense public scrutiny over McCabe's role, he recused himself from the Clinton probes.
McCabe's conduct is now the subject of an investigation by the Justice Department's inspector general, and a report is expected in the spring.
* * *
A year into his presidency, it is clear that Trump still harbors a deep dislike of McCabe. Another White House official said Trump frequently complained about the FBI official, labeling him a Democrat. Over the past seven months or so, Trump has tweeted criticisms of McCabe, erroneously saying McCabe headed the Clinton investigation while his wife was taking Clinton money for her state Senate campaign.
When The Washington Post reported in December that McCabe planned to retire from the FBI in March once he becomes fully eligible for his pension, the president quickly tweeted a fresh criticism of McCabe, again citing the campaign donations to his wife.
Attorney General Sessions has previously created problems for himself in sworn testimony before congressional committees. He has provided several conflicting accounts of his contacts with Russians, and his role in the firing of National Security Director Michael Flynn and former FBI Director James Comey. Sessions has set a perjury trap for himself by dissembling in his conflicting testimony. Which puts Sessions in legal jeopardy with Special Counsel Robert Mueller.
The New York Times reports, Sessions Is Questioned as Russia Inquiry Focuses on Obstruction:
Attorney General Jeff Sessions was questioned for several hours last week as part of the special counsel investigation, the Justice Department confirmed Tuesday, making him the first member of President Trump's cabinet to be interviewed in the inquiry.
The interview occurred as the special counsel, Robert S. Mueller III, is increasingly focused on Mr. Trump's conduct in office and on whether he obstructed the investigation itself, according to two people briefed on the matter. In recent weeks, Mr. Mueller has told the president's lawyers that he will most likely want to interview Mr. Trump about the firing of the F.B.I. director, James B. Comey, and about the former national security adviser, Michael T. Flynn, one of the people said. Mr. Mueller's investigators have asked current and former Trump administration officials about what Mr. Trump cited as reasons for Mr. Comey's firing, and why Mr. Trump was so concerned about having someone loyal to him oversee the Russia investigation, people familiar with the interviews said.
For Mr. Sessions, the interview was the latest in a balancing act that has lasted nearly a year. He has sought to get back in Mr. Trump's good graces by pursuing investigations into issues like leaks to the news media and relaying Mr. Trump's displeasure about senior F.B.I. leadership to the bureau's current director, Christopher A. Wray.
* * *
News of the interview set off a day of revelations that highlighted Mr. Trump's charged relationship with his top law enforcement officials. According to a person briefed on the matter, Mr. Comey met last year with Mr. Mueller's investigators to answer questions about memos he wrote detailing interactions with the president that had unnerved him.
* * *
The report, by the website Axios, said Mr. Sessions was pressuring Mr. Wray, at the president's behest, to clear the F.B.I. of loyalists to Mr. Comey. But Mr. Wray responded that he needed to move at his own pace to make changes, and that if Mr. Sessions and the president wanted replacements made more quickly, someone else would have to do it, a person familiar with the exchange said, adding that Mr. Wray stopped short of threatening to quit.
Mr. Wray's tenure has been tense as the president has repeatedly fanned suspicion about whether the F.B.I.'s work is politically motivated, including the Russia investigation.
Mr. Trump and his allies have focused their ire on Andrew G. McCabe, the bureau's deputy director. Mr. McCabe's wife was a Virginia State Senate candidate in 2015, and she received donations from the "super PAC" supporting the state's governor at the time, Terry McAuliffe, a longtime ally of Hillary Clinton's.
* * *
Though Mr. Wray has resisted the pressure to change Mr. McCabe's role, he has begun to alter the F.B.I.'s leadership. He removed James Baker, the general counsel for the bureau under Mr. Comey, and replaced him with Dana Boente, the United States attorney for the Eastern District of Virginia and the acting head of the Justice Department's national security division, according to a person familiar with the move.
Mr. Wray also said in a statement on Tuesday that he has replaced his departing chief of staff, James Rybicki, who served under Mr. Comey, with Zachary Harmon, whom Mr. Wray worked with in private practice and who previously served at the Justice Department.
During the daily White House news briefing, the press secretary, Sarah Huckabee Sanders, insisted that the president has "100 percent" confidence in Mr. Wray and that it was up to Mr. Wray to decide how to handle the bureau's leadership.
* * *
For Mr. Mueller, Mr. Sessions is a key witness to two of the major issues he is investigating: the Trump campaign's possible ties to the Russians and whether the Mr. Trump tried to obstruct the Russia investigation.
Mr. Mueller can question Mr. Sessions about his role as the head of the campaign's foreign policy team. Mr. Sessions was involved in developing Mr. Trump's position toward Russia and he met with Russian officials, including the ambassador.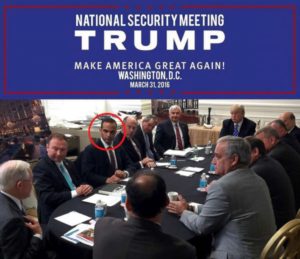 Along with Mr. Trump, Mr. Sessions led a March 2016 meeting where one of the campaign's foreign policy advisers, George Papadopoulos, pitched the idea of a personal meeting between Mr. Trump and President Vladimir V. Putin of Russia. Mr. Papadopoulos pleaded guilty in October to lying to federal authorities about the nature of his contacts with Russians and agreed to cooperate with the special counsel's inquiry.
When Mr. Trump learned in March that Mr. Sessions, by then the attorney general, was considering whether to recuse himself from overseeing the Russia investigation, the president had the White House's top lawyer, Donald F. McGahn II, lobby Mr. Sessions to remain in charge of the inquiry.
Mr. Sessions instead followed the guidance of career prosecutors at the Justice Department, who advised him that he should stay out of the investigation. When Mr. Trump was informed, the president erupted in anger, saying he needed an attorney general to protect him. ["Where is my Roy Cohn!," a shyster lawyer who was disbarred for violating the law.]
The special counsel's investigators have also asked witnesses about the president's desires to fire Mr. Sessions, whom Mr. Trump has criticized publicly and privately for recusing himself from the inquiry, though he has left Mr. Sessions in charge of the Justice Department.
Mr. Trump believes Mr. Mueller would never have been appointed if Mr. Sessions had not stepped aside. After Mr. Mueller was appointed in May, Mr. Trump again grew angry at Mr. Sessions, who offered to resign. Days later, Mr. Trump rejected that offer.
The questions that Mr. Mueller's investigators have asked in relation to Mr. Comey were based in part on information he provided during his own interviews with the special counsel's office last year, according to people familiar with the matter. In one of his memos, Mr. Comey wrote that Mr. Trump had asked him to end the F.B.I.'s investigation into Mr. Flynn.
After the president's request was revealed publicly, the deputy attorney general, Rod J. Rosenstein, appointed Mr. Mueller as the special counsel to lead the Russia investigation and examine whether the president obstructed justice.
All of this is leading to the very last witness in the Special Counsel's obstruction of justice investigation. Mueller seeks to question Trump about Flynn and Comey departures:
Special counsel Robert S. Mueller III is seeking to question President Trump in the coming weeks about his decisions to oust national security adviser Michael Flynn and FBI Director James B. Comey, according to two people familiar with his plans.
Mueller's interest in the events that led Trump to push out Flynn and Comey indicates that his investigation is aggressively scrutinizing possible efforts by the president or others to hamper the special counsel's probe.
Mueller now appears to be turning his attention to Trump and key witnesses in his inner circle, raising the pressure on the White House as the administration enters its second year.
Donald Trump can agree to be interviewed by the Special Counsel under oath,  or if he refuses, he will be subpoenaed to testify before the grand jury. Either way, he is going to have to testify. I cannot imagine that this pathological liar will not lie under oath, setting up a perjury charge — the very charge that led to Bill Clinton's impeachment.
UPDATE: NBC News reports:
NBC News also has learned that former acting Attorney General Sally Yates, who informed the White House about Flynn's interview two days after it took place, has cooperated with the special counsel. CIA Director Mike Pompeo, who was allegedly asked by Trump to lean on Comey to drop his investigation, has also been interviewed, according to people familiar with the inquiry.
One person familiar with the matter described Pompeo, Coats and Rogers as "peripheral witnesses" to the Comey firing. Attorney General Jeff Sessions, who played a key role in Comey's departure and was a top adviser on the Trump campaign, was interviewed by Mueller last week as the special counsel's team inches closer to possibly questioning the president himself.
* * *
McGahn has sat for two days of interviews with Mueller's team, according to a person familiar with the matter, including one interview that was rescheduled after Flynn's plea deal was announced the day it was supposed to take place. Yates spoke extensively with Mueller's team last year, according to people familiar with the matter.
* * *
Trump's former chief strategist Steve Bannon is expected to meet with Mueller's team by Jan. 31, according to a person familiar with the discussions.
Unresolved is whether Trump will voluntarily agree to be interviewed by Mueller. So far, according to two people familiar with the discussions, Trump's team has not reached an agreement with the special counsel for their client to meet with him.
"For Trump opponents, his war with the FBI is an effort to undermine the Russia investigation. For Trump and his allies, he's battling a conspiracy within the top ranks of the Justice Department to undermine his presidency."