Special Counsel Robert Mueller has filed a new 32-count indictment Read the Special Counsel's indictment (.pdf) against former Trump campaign manager Paul Manafort and his business associate Rick Gates. The Washington Post reports, Special counsel Mueller files new charges in Manafort, Gates case: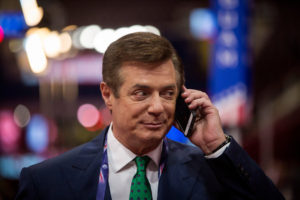 The indictment ratchets up pressure on Manafort and his deputy Rick Gates, who were already preparing for a trial that could come later this year on fraud and money laundering charges.
The additional charges had been expected in special counsel Robert S. Mueller III's prosecution of Manafort and Gates. Manafort joined the Trump campaign in March 2016, and served as the campaign chairman from June to August of that year. Gates also served as a top official on Trump's campaign [and the transition].
Mueller accused the men of lying on their income tax returns and conspiring to commit bank fraud to get loans. The indictment was filed in federal court in Virginia — a technical requirement because that was where the suspects filed their tax returns.
A court filing indicates that prosecutors initially sought to combine the new charges with the preexisting indictment in federal court in Washington, but Manafort declined to agree, leading to the possibility of two separate trials in two neighboring jurisdictions.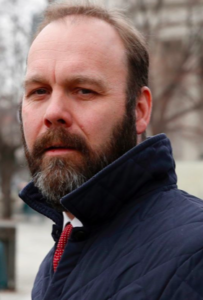 The new indictment offers a more detailed portrait of what prosecutors say was a multi-year scheme by Manafort and Gates to use their income from working for a Ukrainian political party to buy properties, evade taxes and support a lavish lifestyle even after their business connections in Kiev evaporated.
"Manafort and Gates generated tens of millions of dollars in income as a result of their Ukraine work. From approximately 2006 through the present, Manafort and Gates engaged in a scheme to hide income from United States authorities, while enjoying the use of the money," the indictment charges.
From 2006 to 2015, Manafort, with help from Gates, allegedly failed to pay taxes on this money by disguising it as loans from offshore corporate entities, and by using foreign bank accounts to make payments to businesses in the United States on Manafort's behalf.
According to the indictment, Manafort's Ukraine income dwindled in 2015, and the scheme took on a new form — getting $20 million in loans based on Manafort's real estate properties in the United States. But to do that, the grand jury charged, he and his deputy made false claims to banks about their company's income and existing debts.
The indictment describes one bank employee conspiring with Manafort in the fraud. In spring 2016, that unidentified co-conspirator allegedly wrote that a document looked doctored and asked them to "do a clean excel doc" and send that instead.
Another detail in the indictment suggests that Manafort was under significant financial pressure even as he ascended to running the Trump campaign in mid-2016.
One bank lender "questioned Manafort about a $300,000 delinquency on his American Express card, which was more than 90 days past due. The delinquency significantly affected Manafort's credit rating score." In response, according to the indictment, Manafort got Gates to supply a letter falsely claiming that he, not Manafort, had borrowed the card to make the purchases and would pay him back.
On Tuesday, an associate of Gates pleaded guilty to lying to the FBI in the course of the Russia investigation. Alex van der Zwaan, a former lawyer at a premier law firm, admitted to lying about his contacts with Gates.Lawyer pleads guilty to lying about contacts with Rick Gates.
This follows reporting yesterday that Special Counsel Robert Mueller's team is looking into the possibility that former Trump campaign chair Paul Manafort promised a Chicago banker a job in the White House in exchange for $16 million in home loans. Mueller asking if Manafort promised banker White House job in return for loans:
Federal investigators are probing whether former Trump campaign chair Paul Manafort promised a Chicago banker a job in the Trump White House in return for $16 million in home loans, two people with direct knowledge of the matter told NBC News.
Manafort received three separate loans in December 2016 and January 2017 from Federal Savings Bank for homes in New York City, Virginia and the Hamptons.
The banker, Stephen Calk, president of the Federal Savings Bank, was announced as a member of candidate Trump's Council of Economic Advisers in August 2016.
Special counsel Robert Mueller's team is now investigating whether there was a quid pro quo agreement between Manafort and Calk. Manafort left the Trump campaign in August 2016 after the millions he had earned working for a pro-Russian political party in Ukraine drew media scrutiny. Calk did not receive a job in President Donald Trump's cabinet.
The sources say the three loans were questioned by other officials at the bank, and one source said that at least one of the bank employees who felt pressured into approving the deals is cooperating with investigators.
In court filings on Friday related to Manafort's bail, federal prosecutors said they have "substantial evidence" that a loan made from the bank to Manafort using the Virginia and Hamptons properties as collateral was secured through false representations made by Manafort, including misstatements of income.
The existence of a federal probe of Calk and the Federal Savings Bank by the U.S. Attorney's Office was first reported by Bloomberg News.
Read the NBC and Bloomberg reports for greater details.
If the Special Counsel is looking into Manafort's and Gates' real estate deal financing, money laundering schemes, bank fraud and tax evasion, how can he not be looking at Donald Trump's real estate deal financing, money laundering schemes, alleged bank fraud and undisclosed tax returns as have been widely reported and speculated about in the media? He would be derelict in his duty if he failed to do so.
The latest indictment strikes me as a warning to the Trump White House that this is exactly what the Special Counsel is looking into.
UPDATE: And there it is … Rick Gates, Trump Campaign Aide, to Plead Guilty in Mueller Inquiry and Cooperate:
Rick Gates, who once served as Mr. Trump's deputy campaign chairman, indicted by the special counsel was expected to plead guilty as soon as Friday afternoon, according to two people familiar with his plea agreement, a move that signals he is cooperating with the investigation into Russia's interference in the 2016 election.
The plea deal could be a significant development in the investigation — a sign that Mr. Gates plans to offer incriminating information against his longtime associate and the former campaign chairman, Paul Manafort, or other members of the Trump campaign in exchange for a lighter punishment.
The deal comes as the special counsel, Robert S. Mueller III, has been raising pressure on Mr. Gates and Mr. Manafort with dozens of new charges of money laundering and bank fraud that were unsealed on Thursday. Mr. Mueller first indicted both men in October, and both pleaded not guilty.
Mr. Gates's primary concern has been protecting his family, both emotionally and financially, from the prospect of a drawn-out trial, according to a person familiar with his defense strategy who was not authorized to publicly discuss the case and spoke on the condition of anonymity.
If Mr. Manafort continues to fight the charges in a trial, testimony from Mr. Gates could give Mr. Mueller's team a first-person account of the criminal conduct that is claimed in the indictments — a potential blow to Mr. Manafort's defense strategy.
It was unclear exactly what Mr. Gates might have to offer the special counsel's team, whether about Mr. Manafort or about other members of the Trump campaign.
* * *
But Mr. Gates was present for the most significant periods of activity of the campaign, as Mr. Trump began developing policy positions and his digital operation engaged with millions of voters on platforms such as Facebook. Even after Mr. Manafort was fired by Mr. Trump in August 2016, Mr. Gates remained on in a different role, as a liaison between the campaign and the Republican National Committee. He traveled aboard the Trump plane through Election Day.
Pro Tip: This plea deal was in the works before the new indictments from the Special Prosecutor were filed yesterday. The information was likely supplied, in large part, by Rick Gates as part of his plea deal and cooperation agreement. His guilty plea on these set of facts will make it much more difficult for Paul Manafort to defend himself. Time to flip, Paul.
UPDATE:  Read the Superceding Criminal Information (.pdf) that Rick Gates plead guilty to and entered into a cooperation agreement with the Special Counsel.
Gates' plea agreement requires him to cooperate with Mueller's various lines of investigation, including his prosecution of Manafort, Gates' former business partner and mentor, who served as Trump's campaign chairman in the summer of 2016.
Via POLITICO:
As a cooperating witness, Gates can expect to be asked about his time working on the Trump campaign starting in March 2016 and his rise to the job of deputy campaign chairman when Manafort himself took the top slot that May. Gates' time working for Trump overlapped with the release of hacked Democratic emails that damaged Hillary Clinton's campaign, as well as the June 2016 Trump Tower meeting involving Donald Trump Jr.; the president's son-in-law Jared Kushner; Manafort; and a Russian lawyer who promised dirt on Clinton.
While Manafort resigned in mid-August 2016 from his job as campaign chairman amid scrutiny over his lobbying work in Ukraine, Gates hung on and became a middleman to the Republican National Committee.
Steve Bannon and Kellyanne Conway, whom Trump tapped to replace Manafort, looked at Gates with some degree of suspicion because of his ties to the ousted former campaign chairman. But Gates remained close to both Kushner and a Trump confidant, Tom Barrack, a relationship that, combined with his political experience on a campaign filled with inexperienced people, helped to preserve his place on team Trump.Gates' competence helped land him a top job after the election on the Presidential Inauguration Committee, where he served beneath Barrack and CEO Sara Armstrong.
After the inauguration, Gates resurfaced on one of the main Trump political organizations, America First Policies, that was being set up to boost the White House agenda. But the team — which included former campaign staffers Brad Parscale, Nick Ayres, Marty Obst, David Bossie and Katrina Pierson — was also rife with internal jockeying, and Gates was gone by March.
Read the Superceding Indictment (.pdf) filed against Paul Manafort on Friday.