This serious piece of shit keeps turning up like a bad penny.
Jake Hoffman is the president and chief executive of the Phoenix-based digital marketing firm Rally Forge which ran a Russian-style troll farm for Charlie Kirk's Turning Point Action in 2020, using teeenage trolls to spam "conservative points of view and values" on social media. Turning Point Action (USA) Creates Its Own Russian Troll Farm In Phoenix. He was running for the state legislature in the District 12 House at the time.
As Laurie Roberts of The Republic followed up after the election, Arizona's minister of disinformation is appointed to help oversee election law? Seriously?:
The newly elected legislator who ran what amounts to an internet troll farm — paying teens to post conservative talking points and baseless conspiracy theories aimed at getting President Donald Trump re-elected — has been appointed to the state House committee that oversees elections.
No, really.
House Speaker Rusty Bowers this week not only appointed incoming Rep. Jake Hoffman to the House Government and Elections Committee, he made this minister of disinformation the panel's vice chairman.
The Washington Post in September exposed Hoffman's Rally Forge, a digital marketing firm that paid teenagers, some of them minors, to set up fake personas and blanket social media with thousands of nearly identical posts aimed at undermining confidence in the validity of election and downplaying the impact of COVID-19.
Their posts, often replies to news stories, created the appearance of a social media groundswell of youth support for conservative causes but actually were slightly edited comments lifted from a shared document, according to the Post.
Hoffman paid kids to deceive you
In other words, Hoffman wanted to fool you into thinking these were real people spontaneously expressing deeply held conservative beliefs instead of what they were — a group of kids being paid to deceive you, reportedly scoring bonuses, to boot, if they could create enough buzz around their posts.
Their posts cast doubt on the integrity of mail-in ballots and trumpeted the baseless claim that 28 million of them have gone missing in the past four elections. They noted that "Democrats will do anything to screw over Americans" and that Joe Biden "is being controlled by behind the scenes individuals who want to take America down the dangerous path towards socialism".
It's the kind of thing you might expect to come out of Russia. Instead, it came out of Phoenix — or more specifically Hoffman's secret cell of paid teenage trolls.
"In 2016, there were Macedonian teenagers interfering in the election by running a troll farm and writing salacious articles for money," Graham Brookie, director of the Atlantic Council's Digital Forensic Research Lab, told the Post this fall. "In this election, the troll farm is in Phoenix."
We want him influencing election law?
And now, the head troll is the No. 2 man on the House committee responsible for proposing changes to Arizona's election laws.
A spokesman for Speaker Bowers defended the appointment of the Queen Creek Republican.
"Incoming Representative Hoffman was duly elected by the voters in LD12 and will bring experience to the Government & Elections Committee with his previous elected service on the Queen Creek Town Council and Higley School Board," House spokesman Andrew Wilder told the Phoenix New Times' Erasmus Baxter.
Gee, perhaps Hoffman should also run the committee that oversees issues involving social media.
He was, after all, permanently suspended by Twitter along 261 other accounts associated with Rally Forge, for violating rules on platform manipulation and spam once the story came to light. Facebook also banned his marketing firm for "deceptive behavior", removing 202 accounts, 54 pages and 76 Instagram accounts tied to Rally Forge — accounts that had amassed 400,000 followers.
Or, as I like to think of them, 400,000 suckers.
"In each case, the people behind this activity coordinated with one another and used fictitious accounts and personas as a central part of their operations to mislead people about who they are and what they are doing," Facebook wrote, referring to its investigations into trolling operations based in Myanmar, Azerbaijan and Hoffman's cell in Phoenix.
And this is the guy Speaker Bowers appoints to the panel that approves changes to Arizona's elections laws: a guy who specializes in internet disinformation campaigns.
In December 2020 the Arizona Republic reported Fake electors try to deliver Arizona's 11 votes for Trump:
Copies of the documents obtained by The Arizona Republic show a group that claimed to represent the "sovereign citizens of the Great State of Arizona" submitted signed papers casting votes for what they want: a second term for Trump and Vice President Mike Pence.
Mesa resident Lori Osiecki, 62, helped created a facsimile of the "certificate of ascertainment" that is submitted to formally cast each state's electoral votes as part of an effort to prevent what she views as the fraudulent theft of the election.
Osiecki said she and others associated with a group called "AZ Protect the Vote" have attended the postelection rallies protesting the results, including the daylong meeting in Phoenix that included Trump attorney Rudy Giuliani. She left that gathering upset that Gov. Doug Ducey wasn't supporting the president's efforts and she wanted to take further action. She and the others chose electors as a result.
[W]hile Osiecki's elector documents do not appear to have been taken as genuine, they are part of a weekslong effort, led by Trump, his advisers, and involving Arizona Republican Party officials and three members of Arizona's GOP congressional delegation casting doubt on the legitimacy of Biden's victory in Arizona and nationally.
Arizona's ersatz electors sent their choices using documents notarized by Melanie Hunsaker, who works in real estate. Her husband, Jamie Hunsaker, is a Trump enthusiast and one of the purported electors.
Donald Paul Schween, another would-be elector, has been active in Republican Party politics.
Federico Buck, another real estate veteran, is among the signatories. Others include Cynthia Franco, Sarai Franco, Stewart A. Hogue, Carrie Lundell, Christeen Taryn Moser, Danjee J. Moser, Jessica Panell and Peter Wang. Osiecki attested to the group's eligibility as electors.
This week, first Politico and then MSNBC's Rachel Maddow Show obtained the copies of the actual forged documents. Why Has Attorney General Mark Brnovich Not Already Prosecuted These Fake Republican Electors? (Updated). Here is the forged list of fake Republican electors.
Brahm Resnik from 12 News/KPNX TV (NBC) in Phoenix asked Rep. Jake Hoffman about a phony certification he signed in 2020 that Arizona electors voted for Trump, with a follow up question from an Arizona Republic reporter.
THE DOCS Here's bogus declaration signed 12/14/20 by Arizona's 11 Trump electors, inc. Hoffman. US
Senate candidate @jim_lamon also signed. On same day, top AZ Senate Republican announced he'd subpoena Maricopa County's election equipment for an audit. pic.twitter.com/cLs8BcdSsZ

— Brahm Resnik (@brahmresnik) January 13, 2022
I truly did just have questions on the same topic. But in retrospect, I should have asked them with a Canadian accent: "What was that second slate of electors all a-boot?" https://t.co/8UzsrLbup7

— ruelaswritings (@ruelaswritings) January 13, 2022
Take a closer look at the signatories to this bogus certificate.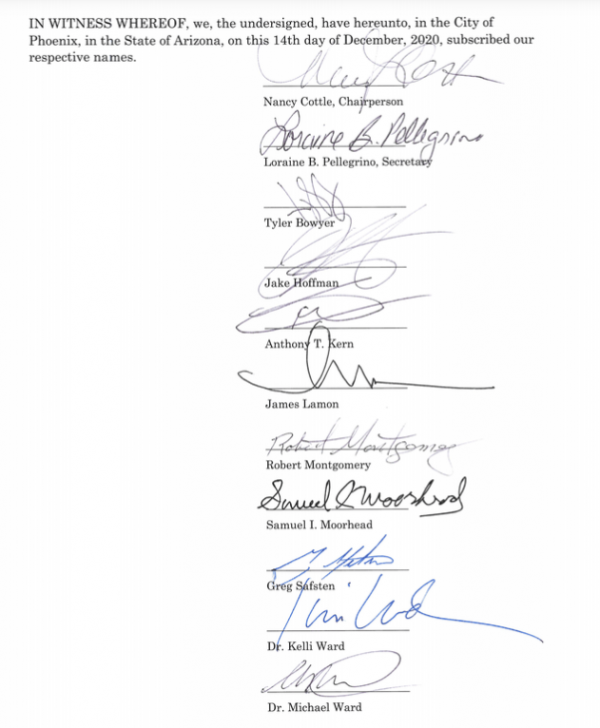 It includes recently defeated Rep. Anthony Kern, who was a leader of the Arizona "Srop The Steal" Big Lie, and who was in Washington, D.C. on January 6 along with fellow leader of the Arizona "Srop The Steal" Big Lie, Rep. Mark Finchem, for the MAGA/QAnon seditious insurrection, and he was later permitted to count ballots in the Arizona Senate's GQP sham "fraudit." Where Was Anthony Kern On January 6?; and Ex-State Rep. Anthony Kern, Who Was at Capitol Riot, Seen Counting Ballots in Arizona Audit.
It includes current GQP Senate candidate Jim Lamon, a shameless MAGA/QAnon "Stop The Steal" Big Lie advocate who, as Brahm Resnik indicates, called for the Arizona Senate GQP sham "fraudit."
More importantly, it includes the chair of the Arizona Republican Party, "Chemtrails" Kelli Ward and her husband. Ward has been one of the most shameless and worst offenders of the "Stop The Steal" Big Lie. In this interview, Jake Hoffman says to ask Kelli Ward about this bogus certification, throwing her under the bus for its creation. OK, maybe reporters should do that.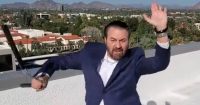 Note: None of this illegality has been investigated by our partisan hack Attorney General Mark Brnovich aka "Nunchucks" (or is it numbnuts?) The Attorney General's Office has an Election Integrity Unit with a $530,000 budget (2019) to investigate election fraud. This is a clear cut case which does not take any prosecutor over a year to bring charges. The fake Republican electors, and the fake certification of electors, should have already been prosecuted. Are they not being prosecuted because they are Republican Party activists and candidates?
The Rachel Maddow Show followed up on Wednesday night. MSNBC has uncovered similar efforts in five states that Trump lost (so far, there could be more).
UPDATE: CNN says it is up to seven states. Trump allies' fake Electoral College certificates offer fresh insights about plot to overturn Biden's victory: "In the weeks after the 2020 election, then-President Donald Trump's allies sent fake certificates to the National Archives declaring that Trump won seven states that he actually lost." The fake certificates were created by Trump allies in Georgia, Arizona, Michigan, Pennsylvania, Wisconsin, Nevada and New Mexico.
This now appears to be part of a coordinated effort across several states that Donald Trump lost in furtherance of the "coup memos" plot from Trump lawyers John Eastman and Jenna Ellis, and rogue DOJ lawyer Jeffrey Clark, to submit competing slates of presidential electors to invoke the 12th Amendment and the Electoral Count Act of 1887, so that Vice President Mike Pence could then refuse to accept the certified Electoral College results from states as disputed and throw the election into the House where each state gets one vote, and surprise! Republicans would have more states because of sparsely populated rural states that elect Republicans. The House would reelect Donald Trump president. This was the plan, but Mike Pence balked at going along with this self-coup.
The House Select Committee to Investigate the January 6th Attack on the U.S. Capitol is investigating this self-coup plot.
But where is our partisan hack Attorney General Mark Brnovich and his vaunted Election Integrity Unit in investigating and prosecuting these Arizona Republicans who were participants in this grand conspiracy to overturn an election and American democracy? Why are reporters not asking Brno questions?
The House Democratic Caucus should file an ethics complaint (yes, it will go nowhere in the GQP controlled committee, but do it anyway). Rep. Jake Hoffman should not be allowed anywhere near a committee with jurisdiction over elections.
The House Democratic Caucus should also submit a Request for Investigation under A.R.S. §41-194.01 to the Attorney General's Office.  Force this partisan hack to do his job.  "Once a complete request is deemed received by the Office, there is a thirty-day period for the Office to complete its investigation and for the Attorney General to issue a report concluding whether the action that is the subject of the request violates, may violate, or does not violate state law."
Expose these Republicans for the shameless criminals that they are.