I posted on April 22, Herman Cain withdraws his nomination, time for Stephen Moore to do the same.
It took a little longer than I expected, but it finally happened today. Stephen Moore withdraws from consideration for Fed job, Trump says:
Stephen Moore, the former campaign adviser whom President Donald Trump had been considering for a seat on the Federal Reserve, has withdrawn his name from consideration, Trump said Thursday.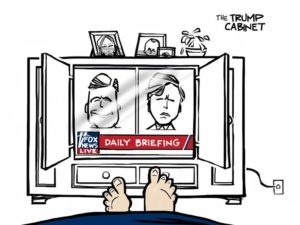 I won't repeat his gag-inducing comments praising this right-wing provocateur.
I'm sure that Trump will find someone just as unqualified from his stable of Fox News and Fox Business hosts while he is watching TV. It will be someone he thinks "looks like he comes from central casting," because that is his only hiring qualification.
Moore, who had worked as an economic adviser to the 2016 Trump presidential campaign, had come under increasing criticism in recent weeks over statements he made about gender and earnings, as well as prior writings some have deemed sexist.
Earlier this week, Moore was being criticized for such comments after telling CNBC that the biggest challenge facing the U.S. economy was the drop in earnings for men.
Moore also faced questions about past writings, including a piece he wrote for National Review in which he worried about a society where women earned more than men.
"The biggest problem I see in the economy over the last 25 years is what has happened to male earnings, for black males and white males as well," Moore said. "They've been declining. That is, I think, a big problem."
Moore has a well-documented history of making other remarks critical of women and that appear to disparage the need for gender equality.
He was never officially nominated to be a a Federal Reserve governor, a post that carries a 14-year term.
Moore, who co-authored a 2018 book titled, "Trumponomics: Inside the America First Plan to Revive Our Economy," had also come under criticism due to what many saw as a close proximity to Trump's inner circle that could cause Wall Street to worry that White House pressure, not data, might drive the Fed's actions.
* * *
In a letter to Trump, Moore said he was "respectfully asking that you withdraw my name from consideration" due to "unrelenting attacks on my character" that "have become untenable for me and my family."
Moore added that "3 more months of this would be too hard on us."
Trump's announcement of Moore's withdrawal, however, may have come as a surprise to Moore. A Bloomberg News reporter said on Twitter that he had spoken with Moore 30 minutes prior to Trump's tweet and that Moore had said his nomination was "full steam ahead."
* * *
At least one top Democrat celebrated Trump's tweet about Moore on Thursday.
"First, Herman Cain. Now, Stephen Moore. Thank goodness neither were actually nominated," Senate Minority Leader Chuck Schumer, D-N.Y., tweeted. "The only thing less funny than some of Mr. Moore's tasteless, offensive, sexist 'jokes' was the idea that President @realDonaldTrump would even consider him for a seat on the Federal Reserve."
That's two big "W"'s in the win column, but like I said, Trump will find someone worse, because he only hires "the best worst people."