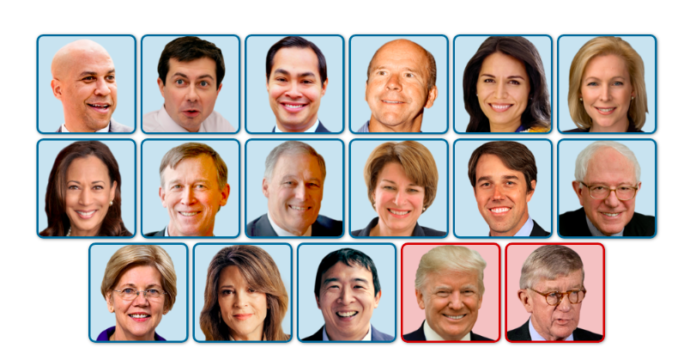 Democrats have too many candidates who want to be president, and not enough who want to take back the Senate.
Let's be clear: the presidency is nothing without taking back the Senate (and holding the House of Representatives). Without the Senate a Democratic president's agenda would be subjected to the GOP's "total obstruction" warfare and go nowhere. The Senate is equally important in 2020.
And let's not forget the all-important governorships and state legislative races with the 2020 Census and redistricting on the horizon.
This is why I am bothered by candidates who lost their 2018 races who now seem to think this is a reason to run for president. This includes social media star former congressman Beto O'Rourke of Texas, who narrowly lost his race to the "most hated man in the Senate" Ted Cruz (R-TX), and voting rights advocate and Minority Leader of the Georgia House of Representatives Stacey Abrams, who narrowly lost the governor's race in Georgia in a disputed election.
Beto O'Rourke should be running against one of the architects of the GOP's "total obstruction" warfare, Senator Joh Cornyn (R-TX). The grassroots Democratic Party structure that O'Rourke began to rebuild in in Texas in 2018 should be redoubled in 2020. The changing demographics of Texas could put the state in play in 2020, ahead of demographers predictions of 2024.
Stacey Abrams should be running for the Senate in Georgia against Senator David Perdue, who narrowly won his first term in 2014. The changing demographics of Georgia make Perdue vulnerable to an outstanding candidate like Stacey Abrams and could put the state in play in 2020.
If Pete Buttigieg, Mayor of South Bend, Indiana is as brilliant as he says, he should be running for governor of Indiana. Former Mayor of Tallahassee, FL Andrew Gillum, and current Mayor of Miramar, FL Wayne Messam should be running for the Florida legislature or planning their runs for statewide office in 2022.
Too many candidates appear to be listening to the fatuous flattery of people who tell them how exceptional they are, even after a loss, and they start to believe the flattery. Beto O'Rourke boasted to Vanity Fair that "I want to be in it. Man, I'm just born to be in it." Get a grip, Dude!
At least in ancient Rome when a "triumph" was celebrated for a victorious general, "behind the victorious general in the chariot stood a slave, holding a golden crown over his head, and whispering to him throughout the procession, 'Remember you are mortal' in the ears of the victorious generals as they were paraded through the streets, reminding him that he is a man even when he is triumphing."
Some of our Democrats could use a reality check like this today.
Here is the list of Senate seats up for election in 2020.
Update: Senators Lamar Alexander (R-TN) and Pat Roberts (R-KS) have announced their retirements, so these are open seats.
In 2019, there are three governor seats up for election.
Kentucky    Matt Bevin (R)            2015
Louisiana    John Bel Edwards (D)  2016
Mississippi  Phil Bryant (R)            2012
Here is the list of Governor seats up for election in 2020.
It is possible that some of the Democrats running for president could end their campaigns in time to make the filing deadline to run for other offices. Polling numbers and the "money primary" may force their hand.
No Republican seat should go uncontested. Democrats must recruit quality candidates to challenge every seat. You never know what might happen.