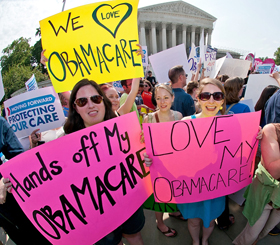 In a bit of a surprise today, Maricopa County Superior Judge Douglas Gerlach ruled in favor of Governor Jan Brewer's  Medicaid (AHCCCS) expansion plan, and the bipartisan coalition of Democrats and a handful of Republicans who came together to pass the legislation by a simple majority.
As I have previously warned you, this case is no longer about Governor Jan Brewer's  Medicaid (AHCCCS) expansion plan per se, it is about the "Kochtopus" Death Star, the Goldwater Institute, trying to preserve the GOP's "weapon of mass destruction," Prop. 108 (1992), the "two-thirds for taxes" amendment. The Goldwater Institute, representing the 36 Tea-Publican legislators/plaintiffs in this case, will appeal. This case is far from over.
The Arizona Republic reports, Judge: Medicaid expansion was constitutional:
The Arizona Legislature needed only a simple-majority vote to expand the state's Medicaid program in 2013, a Superior Court judged ruled on Wednesday.
The case hinges on whether a hospital assessment lawmakers approved to fund the expansion, which extended health-care coverage to more than 250,000 low-income Arizonans, is a fee, as its proponents argued, or a tax.
Judge Douglas Gerlach, in his ruling, said the fee "does not qualify as a tax," as the 36 Republican legislators who opposed it have argued. As a result, there was no need for a two-thirds super-majority to enact the legislation.
The Goldwater Institute, which represented the GOP lawmakers who filed the suit, said it was disappointed with the ruling but will appeal.
The issue is about more than Medicaid expansion, Goldwater attorney Christina Sandefur said. The case's outcome could affect future decisions to raise fees and assessments.
What did I just say?
Christina Sandefur of the Goldwater Institute told a judge last month that keeping the hospital assessment in effect would gut a voter-approved law that requires a super-majority vote for tax increases. Judge says Arizona Medicaid plan hospital fee constitutional:
"It was never, ever in my mind about the folks who were being funded or not," said Republican Steve Yarbrough, Senate majority leader and one of the lawmakers who sued. "I was indeed focused on the constitutional question, and to me that is the key question – is it a tax? And a Superior Court judge has said apparently that it is not. Well, we'll see what the appellate court ultimately says."
A lawyer representing state Medicaid Director Tom Betlach said a provision of Proposition 108 exempts the type of fee imposed to help fund Medicaid expansion from the supermajority requirement. Attorney Douglas Northup told Gerlach that Sandefur was trying to convince the judge that an assessment set by a state agency benefiting those who pay it qualifies as a tax.
Gerlach came down decisively on Betlach's side. But he also noted that the lawmakers who sued failed because of a presumption in such challenges that an enacted law is constitutional.
"That is because, by any reasonable standard, the arguments in support of HB 2010 are, at a minimum, fairly debatable, and as such, the long-recognized and well-settled presumption in favor of constitutionality dictates the outcome," Gerlach wrote.
* * *
It's good news for the Arizona citizens that now have health care in our state that had gone uncovered for years," Democratic House minority leader Eric Meyer, a physician, said of the ruling. "I practiced emergency medicine, all those patients came to the ER without insurance. Now they have physicians they can go to in the community. It's created jobs in our community and it's good for our state."
Medical centers are pleased to pay it, according to a friend-of-the-court brief filed by several hospital chains and the state hospital association.
"We applaud the court's decision while bearing in mind – unfortunately – this is almost certainly not the end of the legal battle involving Medicaid Restoration," Greg Vigdor, president of the Arizona Hospital and Healthcare Association, said in a statement. "Regardless, this is a good day."
In the nine months after the assessment went into effect in January 2014, hospitals paid $143 million to the state, but they collected $488 million in payments for caring for patients that previously didn't qualify for Medicaid insurance, according to records from the Arizona Health Care Cost Containment System.
Gov. Doug Ducey, an outspoken opponent of President Barack Obama's health care overhaul law, said Wednesday he had just heard of the decision.
"I've been outspoken that I think Obamacare is a monumental disaster, but if the courts have made that decision we'll follow the law," Ducey said.
Yeah, sure you will, Guv. The 36 Tea-Publican legislators/plaintiffs and the "Kochtopus" Death Star, the Goldwater Institute, say otherwise.
Sandefur called Gerlach's ruling disappointing and said it "allows a bare majority of legislators to vote to evade a constitutional super-majority requirement, handing an unelected administrator the unlimited power to tax, even though (the) Legislature would need super-majority to impose that same levy itself."
Or we could finally put repeal of Prop. 108, the "two-thirds for taxes" amendment on the ballot in 2016, and get rid of this destructive law once and for all.