Last week, the Special Counsel's office Mueller accuses Paul Manafort of witness tampering: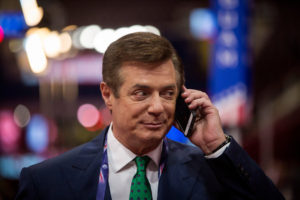 Federal prosecutors accused former Trump presidential campaign chairman Paul Manafort of witness tampering in a pleading filed late Monday in his criminal case and asked a federal judge to consider revoking or revising his pretrial release. [Manafort is subject to home confinement, and is wearing two ankle bracelet court monitors.]
Prosecutors accused Manafort and a longtime associate they linked to Russian intelligence of repeatedly contacting two members of a public relations firm and asking them to falsely testify about secret lobbying they did at Manafort's behest.
The firm of former senior European officials, informally called the "Hapsburg group," was secretly retained in 2012 by Manafort to advocate for Ukraine, where Manafort had clients, prosecutors charged.
In court documents, prosecutors with special counsel Robert S. Mueller III allege that Manafort and his associate — referred to only as Person A — tried to contact the two witnesses by phone and through encrypted messaging apps. The description of Person A matches his longtime business colleague in Ukraine, Konstantin Kilimnik.
The filings mark the second time prosecutors have complained to the judge about Manafort's behavior awaiting trial. Early in the case, after he was released to his home, the investigators said they intercepted emails showing Manafort helped write an opinion piece defending his actions that ran in Ukrainian publications.
Prosecutors filed the motion Monday in Manafort's pending Washington case, which includes charges of filing misleading lobbying disclosure statements, and also noted his alleged tampering in his related tax and bank fraud case in Alexandria.
If a judge were to revoke Manafort's bail conditions and order him to jail pending his two trials this summer, that would intensify the pressure on him to reach a plea deal with prosecutors.
The Special Counsel's office today followed up with a superseding indictment for an additional count of obstruction of justice based upon the witness tampering. Mueller Adds Obstruction Charge on Manafort and Indicts His Right-Hand Man:
The special counsel, Robert S. Mueller III, brought new obstruction charges on Friday against President Trump's former campaign chairman, Paul Manafort, and added allegations against a close associate, who prosecutors suspect has ties to Russian intelligence.
Prosecutors said the obstruction charge relates to Mr. Manafort's efforts to coach the stories of witnesses against him. He remains accused of money laundering, illegal foreign lobbying and lying to federal officials. He has pleaded not guilty to those charges.
Mr. Manafort's longtime associate, Konstantin V. Kilimnik, was added to the case, and was charged with obstruction of justice and conspiracy to obstruct justice. The charges are related to an effort by him, Mr. Manafort and other associates to have prominent European politicians vouch publicly for Viktor F. Yanukovych, the pro-Russia former president of Ukraine, who was Mr. Manafort's client.
Mr. Kilimnik and Mr. Manafort tried to persuade two associates who worked on the campaign involving the Europeans, whom they referred to as the "Hapsburg group," to lie about its scope, prosecutors said.
The men placed op-eds from the politicians and arranged meetings for them in the United States and around the world, according to court papers. Mr. Manafort, who coordinated the effort, provided $2.4 million from overseas bank accounts to fund the Hapsburg group's activities, according to court papers.
But prosecutors allege that Mr. Manafort and Mr. Kilimnik contacted the associates starting in February to urge them to tell investigators that the Hapsburg group's efforts only consisted of outreach in Europe and not in the United States. That is significant because any lobbying or public relations in the United States on behalf of foreign politicians, governments or companies would trigger an obligation under the Foreign Agents Registration Act to disclose those activities to the Department of Justice.
In a filing this week, the special counsel alleged that the outreach by Mr. Manafort and Mr. Kilimnik was an attempt to tamper with witnesses. Mr. Kilimnik was not named in the filing, which instead referred to him as "Person A," a description used in several previous filings by Mr. Mueller's team.
In those filings, the special counsel had indicated that Mr. Kilimnik, who began working with Mr. Manafort in 2005 for Mr. Yanukovych's political party and its supporters, had ties to Russian intelligence.
The Court has scheduled a hearing for June 15, which could be moved up after the  superseding indictment filed today. It is almost a certainty that Paul Manafort will be ordered held in jail pending his two trials this summer. It will be the last day of his life that he is not in incarceration.
Time to cut a plea deal, Paulie. Last chance.