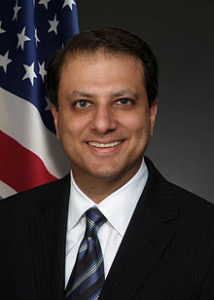 Former U.S. Attorney Preet Bharara said in an interview with ABC's This Week that Trump's alleged effort to dissuade then-FBI director James Comey from pursuing an investigation into former national security director Michael Flynn's contacts with Russia merited an inquiry.
"I think there's absolutely evidence to begin a case," Bharara told This Week host George Stephanopoulos, adding: "I think it's very important for all sorts of armchair speculators in the law to be clear that no one knows right now whether there is a provable case of obstruction."
"It's also true I think from based on what I see as a third party and out of government that there's no basis to say there's no obstruction," he said.
More importantly, Preet Bharara says he was similarly pressured by Donald Trump as former FBI Director James Comey testified under oath. Former U.S. Atty. Preet Bharara says Trump fired him after a series of 'uncomfortable' calls:
Preet Bharara, the former U.S. attorney for Manhattan, told an interviewer Sunday that he was fired after a series of  "uncomfortable" telephone calls that made him feel that President Trump might be trying to compromise his independence as a federal prosecutor.
Trump, who was then president-elect, first telephoned in December, "ostensibly to shoot the breeze and asked me how I was doing and wanted to make sure I was OK," Bharara said on ABC's "This Week."
"It appeared to be that he was trying to cultivate some kind of relationship."
Bharara had already met with Trump and had been asked to stay on as U.S. attorney, so he was surprised by the call, and by a similar one a few weeks later. When Trump telephoned a third time, after the inauguration, Bharara said he didn't return the call. He was fired 22 hours later.
The experience had echoes of the testimony given last week by fired FBI Director James B. Comey about seemingly inappropriate conversations with Trump.
After reading the stories about how Trump kept contacting Comey, Bharara said it "felt a little bit like deja vu."
"I'm not the FBI director, but I was the chief federal law enforcement officer in Manhattan with jurisdiction over a lot of things including, you know, business interests and other things in New York."
Among other investigations handled by Bharara's office at the Southern District of New York was an inquiry into stock trades by Tom Price, Trump's Health and Human Services secretary, according to the nonprofit news outlet ProPublica.
This is the kind of pattern and practice evidence that prosecutors love, and from a highly credible witness.
While "The Donald" and his lawyer have both flatly denied that he ever asked James Comey on behalf of Gen. Michael Flynn to "let this go," his own idiot son Donald Trump Jr. seems to confirm Comey's account of the president's comments on the Flynn investigation:
Soon after former FBI director James B. Comey testified that President Trump told him that he "hoped" the FBI would drop its investigation of former national security adviser Michael Flynn, the president's personal lawyer flatly denied that accusation and said Trump "never, in form or substance, directed or suggested that Mr. Comey stop investigating anyone."
But Donald Trump Jr. — the president's eldest son — seemed to confirm Comey's version of events in a Saturday interview on Fox News as he tried to emphasize the fact that his father did not directly order Comey to stop investigating Flynn.
"When he tells you to do something, guess what? There's no ambiguity in it, there's no, 'Hey, I'm hoping,'" Trump Jr. said. "You and I are friends: 'Hey, I hope this happens, but you've got to do your job.' That's what he told Comey. And for this guy, as a politician, to then go back and write a memo: 'Oh, I felt threatened.' He felt so threatened — but he didn't do anything."
* * *
His comment came during an interview with [FOX News commentator] Jeanine Pirro, a former New York district attorney and judge who is a longtime friend of the Trump family. Pirro has long been a go-to interviewer for the president and his allies when they need a sympathetic cable news host who will enthusiastically agree with them and not ask any difficult questions. (That same day, Pirro attended a baby shower in New York for Lara Trump, who is married to Eric Trump.) After the interview aired late Saturday night, Pirro tweeted: "Such a great interview!" Trump Jr. agreed and tweeted: "Good times. Thanks Judge."
So two things from dumbass Donny Jr.:  One, he just confirmed the conversation did in fact occur that his old man and his lawyer have flatly denied ever occurred. And two, Trump has been trying to make the claim that Comey leaked "privileged" communications with the president, yet Trump clearly has shared his conversations with his idiot son (and likely others), who has no security clearance, thus destroying whatever executive privilege claim that he "hoped" to assert later.
The rotten fruit didn't fall far from the poisonous tree.