The Swing Left organization formed in the aftermath of the surprising 2016 elections by Ethan Todras-Whitehill, Joshua Krafchin, and Miriam Stone.
A group designed by non-politicians, Swing Left has grown across the county as a "grassroots movement." Their goal, according to their website is to:
"We focus our efforts on flipping seats from red to blue and winning Democratic majorities. Instead of engaging in the primaries, Swing Left organizes and fundraises year-round to give eventual Democratic nominees critical support in their general election battles."
"We can all help save the country from the forces attacking our democracy."
One of these members is Deborah Howard who is a volunteer Co-Director of Swing Left Maricopa County.
Maricopa County has been cited by multiple commentators as one of the pivotal counties to monitor for trends on election night (November 3, 2020.)
Ms. Howard and her colleagues want to take the mission of Swing Left ("Transform our government in 2020 by winning all the Houses—including the White House, the Senate, and the statehouses key to rolling back Republican gerrymandering") and apply it to Maricopa County "by engaging voters and fundraising for campaigns in the Super States, where the key fights of 2020 will be won or lost."
Swing Left Maricopa County will also work on assisting Democrats outside the area in targeted races like Mayor Coral Evans and Colonel Felicia French in Legislative District Six.
Ms. Howard graciously took the time to discuss Swing Left Maricopa County and its goals for 2020.
The questions and her responses are below.
Please describe the political purpose/goals of Swing Left Maricopa
"Our purpose is to elect Democrats at every level in Maricopa County by providing voters easy access to information about the candidates, the races, and how to get involved. We want to make it easy to get involved and for activists to know that their engagement helps where it is most needed and can make the winning difference."
"Founded in early 2019, over the last 18 months more than 200 people have participated in one or more Swing Left Maricopa County (SLMC) events. Recent events are drawing between 15 – 80 participants – depending on the headliner. The Meet-the-Candidate event earlier this month with LD20 House candidate Judy Schwiebert and LD 28 Senate candidate Christine Marsh had more than 80 participants."  
Please list the 2020 election goals for Swing Left Maricopa.
"By focusing on electing Democrats, we will help elect Joe Biden President and Mark Kelly U.S. Senator. Absolutely, hands down, we must. And.. we believe the best way to make sure we succeed nationally is to do everything we can locally to flip the state capitol, the Maricopa County Board of Supervisors, County Offices and the Arizona Corporations Commission."
"To flip the state capitol we need to win three additional Senate seats and two additional House seats. Our Maricopa County top priority target races are LD 17 (AJ Kurdoglu for Senate and re-elect Representative Jennifer Pawlik); LD 20 (Doug Ervin for Senate and Judy Schwiebert for House); and LD 28 (Christine Marsh for State Senate). Although outside Maricopa, we are committed to supporting the election of Felicia French (Senate) and Coral Evans (House) in LD Six."
"SLMC is also supporting candidates Kathy Knecht (LD21 House,) Seth Blattman and Eric Kurland(LD 23 Senate and House respectively.)"
"And I know that sounds like a lot – but we're not done. The election of Sheriff Paul Penzone and Recorder Adrian Fontes in 2016 has demonstrated to all Maricopa County residents the power of electing leaders who care more about public service and doing the job than headlines or currying favor with ideologues here in Arizona or nationally. We want to make sure that both are re-elected and are joined by the full slate of County candidates — for Assessor (Aaron Connor); Attorney (TBD); Superintendent (Jeanne Casteen) and Treasurer (Dan Toporek)."
"We are supporting the Democratic candidates running to flip the Arizona Corporations Commission and the Board of Supervisors as well. All of these races are on our radar screen – and events calendar."
"In Presidential races, there is always talk of coat-tails. Certainly, we expect that Vice President Joe Biden and Capt. Mark Kelly will create a tailwind for down-ballot races. But we know that voters who walk into the voting booth – or sit down at the table when they vote at home – who already know their local candidates and how important these offices are to the issues that matter in their daily life – well, then they'll be creating some of their own tailwinds up-ballot."
Is it just in Maricopa County that your organization is targeting seats? Please explain.
 "Mostly yes. LD Six is the exception that proves the rule." 
Please describe the outreach methods you and your team have employed to get the word out and achieve your goals for Swing Left.
 "Our toolbox looks a lot like everybody else's toolbox at the moment. That includes virtual everything –  meet the candidates, phone banks, texting campaigns, letter writing, and fundraising. And social media."
"As a partner with Swing Left Export Teams (those Swing Left groups who are organized in blue states and blue districts) we connect and collaborate to support their efforts here; and they ours locally. As a partner with the candidate campaigns (or the MCDP) we fill in where there might be gaps – or just supplement already strong efforts. These are really strong candidates running strong campaigns. And we are not stopping until polls close on November 3, 2020."
"One tool we are really excited to share is the Swing Left Maricopa County website. It's really a tool for Maricopa County voters pulling together all the information a voter might want about elections, polling places, voter registration, PELV, etc.; as well as the Democratic candidates and their campaigns."
"All of this information exists someplace else on the web – but not bundled in just one place. And my favorite page on the website is the events page – where we feature events hosted by Swing Left Maricopa County (SLMC), but also those of the campaigns, our Export Team partners, and other organizations. It is the easiest place for new (or returning) volunteers to connect with a campaign event. It's about expanding access to existing information, not re-creating the wheel."
"We don't want one vote left on the table – the stakes are too high, our candidates too great, the opportunity to good to miss."
With regards to Swing Left, are you and your team partnering with other organizations or candidates? Please describe.
"So we've already talked about partnering with Swing Left Export Teams and the campaigns. But as a battleground county in a battleground state, the streets are thick with organizations engaging here. Some are partisan (like SLMC), some are non-partisan. Election Night 2020 will have so much to celebrate – we want to work with everyone who wants to get to the same place we do."
"Here are a couple of examples. In February (when we could still meet in person), we partnered with Field Team 6 (partisan) on a week-long voter registration effort to register 1,000 new democratic voters – and then followed up with a Weekend of Action canvassing for candidates in LD 20 and LD22. Vote Forward (non-partisan) has a great letter-writing program we use to reach out to low propensity voters to get out the vote."
To what extent is Swing Left well recruited and staffed?
 "SLMC is all volunteer. There are some paid regional positions and paid staff at the national level – who provide the locals like SLMC amazing resources – including training, resource guides, and 1:1 support for any event, fundraising, or strategy. Perhaps most important is the network that allows Export Teams and local teams like SLMC to connect and collaborate with each other in support of, and with, targeted campaigns."
"For SLMC we ask every member to commit to five hours a week – which is roughly two events a week. Maybe a virtual phone bank and a letter-writing party. There are some who are committed to much more than that; others, less. That's life. Moving into the high-campaign season we anticipate we might be asking for more than that. We'll also be adding some fundraising events to the calendar."
Please describe the number of outreach and educational events you promote Swing Left and what is the approximate number you hold per month?
"Our standing events include our monthly meeting on the first Tuesday of each month. For the LD candidates, we host virtual phone banks on the day of the district each month. So, for LD 6, we make calls on the 6th of the month; for LD 17, we call on the 17th of the month; For LD20, on the 20th of the month – etc."
"Starting in mid-August we'll be initiating "Maricopa Mondays" for candidates for the County offices, Board of Supervisor, and Arizona Corporations Commission. And lastly, for those ready for a fun treat (or who just refuse to make phone calls – really, it's not that scary) we'll be hosting letter-writing parties on Wednesdays each week. Again starting in mid-August. Additional events as they pop up. The best place to check out these events and find something that best suits a specific interest is on our events page: www.SwingLeftMaricopa.org."
"Swing Left Maricopa County is driven to offer every voter, every activist the opportunity to be involved in what is a historic election. Win or lose (but we're planning on winning) it will be historic. And come the morning after we want every Maricopa County voter or activist who wanted to be involved in electing democratic candidates, to feel good about the opportunities provided through Swing Left – that the actions were targeted, meaningful and effective; that their efforts mattered, and helped drive wins across the county."
"Final Word: While I am really proud of the work SLMC is doing – not one bit of it could take place without the work that preceded it to recruit and field such an awesome slate of candidates – at every level – and the willing sacrifice of each candidate to step up. Credit that Maricopa County is on the brink of this transformation belongs to those who have been working hard to get to this point for many years when success seemed impossible. SLMC is humbled to be here, near the finish line, for any assistance we can provide. And to cheer the hard-won and well-deserved victories."
Please like us on Facebook – https://www.facebook.com/SwingLeftMaricopaCo/
follow up on Twitter – @SLMaricoopaCo and Instagram – swingleftmaricopa
Website: Swingleftmaricopa.org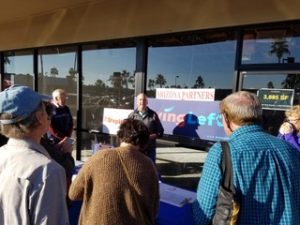 Remember Election Day is 107 days away.
Please remember:
Primary Election Day is on August 4, 2020, and General Election Day is on November 3. 2020. Please see the below graphic for all-important voting dates. 
Please check your voter registration at vote.
Register/sign up for the Permanent Early Voting List (PEVL) in Arizona or any state that allows early or absentee balloting and mail. Arizona residents can sign up at vote. 
Arizona residents, mail your General Election ballot by October 28, 2020, for the November 3, 2020 election.
Check-in with the Secretary of State's office where you live to verify your mail-in ballot was received, processed, verified, and counted.
Know the voter ID requirements in your state.
If you can, support Clean Election Candidates with a small contribution.
Also, please remember to stay informed on all the candidates and vote for all the offices on the ballot.
Also, remember to research all the ballot initiatives, sign to get them on the ballot if you support the measure, and vote on them as well.