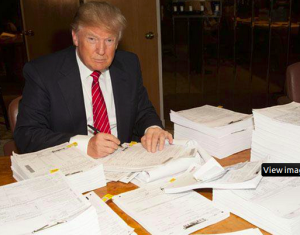 Donald Trump has routinely stated that he cannot reveal his tax returns because they are "under audit," and that he will release his tax returns when the audit is completed. There is no evidence that his tax returns are actually under audit. Trump has never produced any letter from the IRS indicating that his taxes are under audit, for any year, despite repeated requests from the media.
Moreover, there is no law or IRS regulation that prevents him from disclosing his tax returns even if under an IRS audit. President Richard Nixon disclosed his tax returns while he was under an IRS audit.
And there is one tax return that we know for certain is not under audit –Trump's current 2016 federal tax return due on April 18. Previous presidents have released their tax returns well in advance of the filing deadline mostly to encourage Americans to file their taxes. Not this year.
An idea that sprung from a law professor's tweet after President Trump's inauguration will unfold Saturday on the Mall in Washington, D.C., where thousands of protesters plan to call on Trump to release his personal tax returns. Thousands expected for Tax Day march calling for Trump to release his returns: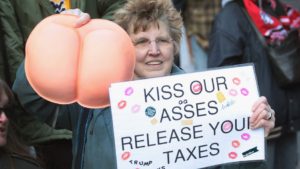 The Tax March, which falls on the nation's traditional April 15 deadline to file taxes, is expected to be one of the most high-profile demonstrations of the Trump era since protesters around the world participated in women's marches — marches that served as an unprecedented rebuke to Trump's presidency on his first full day in office. Presidents are not required to release their tax returns but have done so voluntarily dating to the 1970s.
Jennifer Taub, a law professor specializing in business at Vermont Law School, said that after she attended a Women's March protest on Jan. 21 in Boston, she felt optimistic about the power of organized resistance. It spurred her to action the next day when she heard counselor to the president Kellyanne Conway say on national television that Trump wouldn't release his tax returns because people don't care.
Taub tweeted that the nation should plan a march on Tax Day to show the White House that the public does care. At the same time, comedian Frank Lesser made a similar plea on Twitter. The tweets caught on, and now Taub and Lesser are co-founders of the march, which has garnered the support of nearly 70 progressive organizations.
"I do care about his taxes. I care about transparency and conflict of interest," Taub said. "I think it's important for us, we the people, to express First Amendment rights and say we want to see them."
Trump has refused to release his tax returns, stating that he has been under audit. Asked for comment Thursday on the Tax March, the White House referred to comments earlier this week from press secretary Sean Spicer, who repeated that Trump is under an IRS audit, but indicated the president has been transparent with his finances.
"We filed our financial disclosure forms the other day in a way that allows everyone to understand," Spicer said at a Tuesday news briefing.
Marchers in Washington are expected to be joined by those in more than 100 other cities across the country and around the world, including New Orleans, San Antonio, Nashville and London, organizers say.
* * *
The Tax March will begin at noon Saturday on the west lawn in front of the Capitol, with a lineup of speakers that includes Sen. Ron Wyden (D-Ore.), Rep. Maxine Waters (D-Calif.) and Rep. Jamie B. Raskin (D-Md.).
From there, protesters will march west along Pennsylvania Avenue NW before ending near the Lincoln Memorial. The event is expected to end about 4 p.m.
In an interview, Raskin referred to polls during the presidential campaign that showed a majority of Americans — and a majority of Republicans — believed that Trump should release his tax returns. Raskin said Congress couldn't have meaningful conversations about a tax revamp without knowing whether proposed tax laws would be a financial boon to Trump and his businesses.
"This is going to be an old-fashioned tax protest calling for King Donald to release his taxes," Raskin said. "The reason why this is such a big deal is that, whether you like it or not, Donald Trump is a role model for the rest of the country. Donald Trump has made it clear that he will try to get away with whatever he can and then try to fight it out in court. If the rest of the country acted the way he did, the tax system would fall apart."
Taub said she doesn't expect the president to release his tax returns as a result of the march, but she said its impact might be felt in other ways, such as compelling state legislatures to pass laws calling for more financial transparency from elected officials. New laws on the state or federal level, she said, could eventually force Trump and future presidents to release their returns.
"One way or another, we will see his tax returns, I believe," Taub said.
Mike Litterst, a spokesman for the Park Service, said the Tax March and the Science March the following weekend are among the largest protests the agency is expecting this spring in Washington.
According to the Tax March.org web site, local rallies are planned in:
Phoenix, 10:00 a.m., in front of the Arizona House of Represetatives, 1700 W. Washington Street, Phoenix.
Tucson, 10:00 a.m., in front of the judiciary courts of the state, 407 W. Congress Street (west of the federal court house), Tucson.
Florence, 10:00 a.m., in front of the historic Florence Court House, 135 N. Pinal Street, Florence.
Oracle, 7:30 a.m., Indivisible Copper Corridor, led by Indivisible Oracle, will visit every town in the region with their Tax Day Caravan. The Tax Day Caravan will start in Oracle, then visit San Manuel, Mammoth, Dudleyville, Winkelman/Hayden, and Kearny, and complete its journey in Superior.For updates to the caravan's itinerary, or to join Indivisible Copper Corridor, please visit www.indivisible.cc or call 520-487-1967.
Sierra Vista, 3:00 p.m., on the sidewalk in front of the H&R Block, 2103 E. Fry Blvd., Sierra Vista.
Yuma, 10:00 a.m., in front of the Yuma County Courthouse, 168 S. 2nd Avenue at 2nd Street, Yuma.
Not on the list:
Flagstaff, 12:30 p.m., Sponsored by Together We Will Northern Arizona ( TWWNAZ.org), on the City Hall lawn, 211 W. Aspen Avenue, Flagstaff.
If you know of other Tax March rallies, post the info in the comments.