A couple of weeks ago I posted about the latest extortion attempt by Tea-Publican economic terrorists to take a hostage and manufacture a crisis by refusing to extend the Medicaid "Doc Fix" provision unless Democrats agreed to a five year delay in the individual mandate of "ObamaCare." Hundreds of thousands of doctors who participate in Medicare would have faced a 24 percent pay cut on April 1.
The Congressional Budget Office said the delay in ObamaCare would cause health insurance premiums to go up and lead 13 million Americans to go without insurance. "GOP lawmakers said they didn't care — they had a hostage demand and they expected their ransom to be paid, regardless of merit." Until today.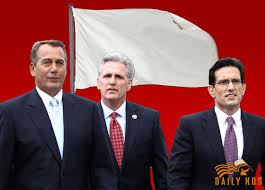 Steve Benen writes, House GOP caves on 'doc fix':
Democrats, of course, dismissed the [GOP] ploy as ridiculous, sat back, and waited for Republicans to cave. That happened this morning.
House Republican leaders are preparing to pass a new "doc fix" bill that would prevent a 24 percent cut in reimbursements to physicians under Medicare.

Republicans plan to bring up the bill this week to prevent the cut, which is set to happen on April 1.

According to the 121-page bill posted on the House Clerk's website late Tuesday night, the House will pass a year-long extension, through the end of March 2015. The bill also extends several related healthcare measures until the end of March 2015.
As you might have guessed, the demands for a five-year delay in the individual mandate are gone. The House is expected to vote tomorrow, and the Senate will reportedly follow soon after.
And while the predictable resolution is reassuring — it seemed pretty obvious Republicans wouldn't follow through on their threats, and just took the hostage to see what might happen — it does make one wonder why GOP lawmakers scramble to make sure physicians get paid, but ignore the unemployed.
Indeed, Roll Call's David Hawkings suggested the other day that Republicans are inviting "one of the most tin-eared headlines of this campaign year: Congress bails out doctors again but still spurns the unemployed."
* * *
By all appearances, medical professionals have political capital, so congressional Republicans aren't willing to risk their ire.
The unemployed, however, lack political capital in the GOP's eyes, so there's no real concern about passing extended benefits, regardless of the human and economic costs.
There can be a cost to the GOP if the millions of long-term unemployed register to vote and vote to kick out every last Tea-Publican in November. Take out your frustration and anger on them.
h/t graphic Daily Kos