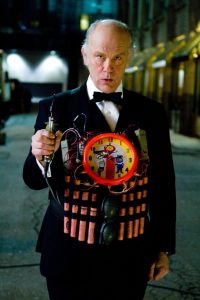 Remember when the media villagers and Beltway bloviators told us that the GOP was done with the economic terrorism of taking America hostage to extort the ransom of killing "ObamaCare," because this is an election year?
Yeah, they're all idiots. The job of an anti-government terrorist is to terrorize. It's their nature.
Sahil Kapur at Talking Points Memo reports, GOP Plots New Round Of Hostage-Taking To Stop Obamacare:
House Republicans expect to vote this Friday on legislation that would risk steep, destabilizing Medicare cuts (the Medicare "doc fix," threatening a 24 percent cut in physician payments)  at the end of the month unless Democrats agree to a five-year delay of Obamacare's individual mandate.
It mirrors some of the brinkmanship in the government shutdown fight last fall in that the GOP is using a must-pass bill as a vehicle to chop the Affordable Care Act. Democratic leaders have repeatedly rejected proposals to tinker with the mandate to buy insurance and have warned Republicans not to tie a physician payment fix to their partisan quest to unravel Obamacare.
The legislation would delay the penalty for noncompliance with the individual mandate until 2019. It suffered a blow on Wednesday when the Congressional Budget Office found that it would raise premiums and cause 13 million fewer people to be insured come 2018. It would save the federal government $170 billion and use the money to cover the $138 billion cost of replacing the Sustainable Growth Rate (SGR) formula, which calculates Medicare payments to physicians and will automatically impose a 24 percent pay on April 1 unless Congress acts.
The individual mandate is a sweet target for Republicans in an election year because it's both unpopular and critical to the success of Obamacare. GOP leaders weren't fazed by the CBO score and fast-tracked the bill to a Friday vote.
[The] Insurance industry wrote a letter this week calling on Speaker John Boehner (R-OH) to leave the individual mandate alone, warning of higher premiums if it's unraveled. Even the top physicians group, the American Medical Association, which has made SGR repeal a priority, voiced disappointment with the partisan direction the issue has taken.
* * *
The big question is whether Republicans will hold firm on the individual mandate pay-for or relent and look elsewhere. Democratic aides say the battle could get ugly.
The path forward is murky but bends toward yet another short-term patch to put off the Medicare cuts. Senate Democrats moved to advance an unfunded SGR replacement on Wednesday, which won't fly with Republicans. And an individual mandate delay won't fly with Democrats or the White House. So the likelier outcome is a bipartisan deal for a short-term patch, plausibly funded with different cuts to health providers.
But there's no clear endgame on how to get there, or whether Congress can make it in time. The House can probably pass the GOP bill. But Senate Democrats need at least five Republicans to break a filibuster on their own "clean" SGR bill. So it may be left to Reid to scrape off enough of them to steer a short-term SGR fix through the Senate and pressure House GOP leaders to play ball. He has put out feelers but so far no solution has emerged.
The steep Medicare cuts are less than three weeks away.
UPDATE: Joan McCarter reports, Bloomberg poll: Obamacare gets record support:
While the Republican House of Representatives is preparing to vote on what is basically their 52nd attempt to repeal Obamacare wholly or in part, a new poll from Bloomberg shows the foolishness of that agenda.
President Barack Obama's health-care law is becoming more entrenched, with 64 percent of Americans now supporting it outright or backing small changes. […]"Things definitely seem to be getting better," said Paul Attard, 50, a political independent in Evergreen, Colorado and a program manager for a cell-phone company who wants the law modified rather than repealed. "It seems like they are getting a lot more people to join. It's a sign that the system is working." […]

Fifty-one percent of Americans favor retaining the Affordable Care Act with "small modifications," while 13 percent would leave the law intact and 34 percent would repeal it. That's the highest level of public acceptance for the law yet in the Bloomberg poll.