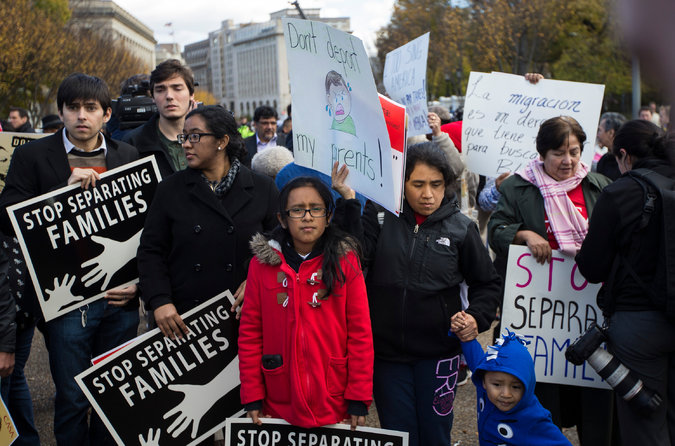 Tea-Publicans in Congress and the GOPropagandists in the conservative media entertainment complex have been apoplectic since Thursday afternoon when the New York Times (h/t photo) reported what they believe to be a friendly leak from the White House on the outlines of the executive orders that President Obama intends to sign regarding undocumented immigrants in the U.S.
Rather than schedule a vote in the House on the Senate Comprehensive Immigration Reform bill, which has been sitting on Weeper of the House John Boehner's desk collecting dust since July 2013, Tea-Publican insurrectionists are doing what they always do best: threaten to take budget bills hostage and to shut down the federal government again if they do not get their way.
The New York Times reports, Obama Plan May Allow Millions of Immigrants to Stay and Work in U.S.:
President Obama will ignore angry protests from Republicans and announce as soon as next week a broad overhaul of the nation's immigration enforcement system that will protect up to five million unauthorized immigrants from the threat of deportation and provide many of them with work permits, according to administration officials who have direct knowledge of the plan.
Asserting his authority as president to enforce the nation's laws with discretion, Mr. Obama intends to order changes that will significantly refocus the activities of the government's 12,000 immigration agents. One key piece of the order, officials said, will allow many parents of children who are American citizens or legal residents to obtain legal work documents and no longer worry about being discovered, separated from their families and sent away.
That part of Mr. Obama's plan alone could affect as many as 3.3 million people who have been living in the United States illegally for at least five years, according to an analysis by the Migration Policy Institute, an immigration research organization in Washington. But the White House is also considering a stricter policy that would limit the benefits to people who have lived in the country for at least 10 years, or about 2.5 million people.
Extending protections to more undocumented immigrants who came to the United States as children, and to their parents, could affect an additional one million or more if they are included in the final plan that the president announces. White House officials are also still debating whether to include protections for farm workers who have entered the country illegally but have been employed for years in the agriculture industry, a move that could affect hundreds of thousands of people.
Mr. Obama's actions will also expand opportunities for legal immigrants who have high-tech skills, shift extra security resources to the nation's southern border, revamp a controversial immigration enforcement program called Secure Communities, and provide clearer guidance to the agencies that enforce immigration laws about who should be a low priority for deportation, especially those with strong family ties and no serious criminal history.
A new memorandum, which will direct the actions of enforcement and border agents and immigration judges, will make clear that deportations should still proceed for convicted criminals, foreigners who pose national security risks and recent border crossers, officials said.
White House officials declined to comment publicly before a formal announcement by Mr. Obama, who will return from an eight-day trip to Asia on Sunday. Administration officials said details about the package of executive actions were still being finished and could change. An announcement could be pushed off until next month but will not be delayed to next year, officials said.
* * *
Waiting until later in December could allow the budget to be approved before setting off a fight over immigration.
"Before the end of the year, we're going to take whatever lawful actions that I can take that I believe will improve the functioning of our immigration system," Mr. Obama said during a news conference a day after last week's midterm elections. "What I'm not going to do is just wait."
The decision to move forward sets in motion a political confrontation between Mr. Obama and his Republican adversaries that is likely to affect budget negotiations and the debate over Loretta E. Lynch, the president's nominee to be attorney general, during the lame-duck session of Congress that began this week.
Speaker John A. Boehner said Thursday afternoon that if Mr. Obama went forward on his own, House Republicans would "fight the president tooth and nail."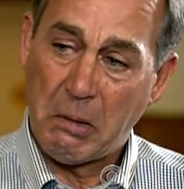 Mr. Boehner is considering suing Mr. Obama over immigration — as Republicans have said they might do on the president's health care law — and on Thursday he refused to rule out a government shutdown, despite saying that was not his goal.
"We are looking at all options, and they're on the table," Mr. Boehner said.
Bullshit! The weakest Speaker in modern American history is not considering the one option that this craven coward should do today to resolve this: schedule the Senate Comprehensive Immigration Reform bill for a vote in the House. Passing comprehensive immigration reform would render the executive orders unnecessary, and would have far broader application. And it would resolve the issue politically. The onus is on you, TanMan.
Roll Call reports today, Gutiérrez: There Are '40, 50, 60′ GOP Votes in House for Immigration:
Rep. Luis V. Gutiérrez, the Illinois Democrat who has been at the forefront of efforts to overhaul immigration in Congress, said Friday there are enough votes in the House Republican caucus now to pass a bipartisan bill.
"There are 40, 50, 60 … Republicans" who will join Democrats to pass a bill, Gutiérrez said in an appearance on MSNBC. The congressman and other Democrats, frustrated with lack of action from GOP leaders, are urging on President Barack Obama, who has indicated he will take unilateral action on immigration perhaps as early as next week.
"The problem is they won't give us a vote on all of the wonderful work. I don't want to mention the names of my Republican colleagues that I worked with but you know who they are," the Illinois Democrat told MSNBC's Jose Diaz-Balart, whose brother is a Republican congressman from Miami. "There are dozens of them."
Diaz-Balart's brother, Rep. Mario Diaz-Balart, R-Fla., told CQ Roll Call earlier this year that he was close to having enough Republican votes to pass a bipartisan immigration overhaul in the House that would balance GOP demands for border security with Democratic calls for legal status for the undocumented.
The votes are there to pass the Senate bill. We have been assured of this since July 2013. And yet the cowardly TanMan allowed the Tea Party "Deportation Caucus" led by Reps. Steve King (IA) and Michele Bachmann (MN) to roll him and his leadership last August with the no compromise "deport 'em all!' bill.
The TanMan is afraid that the Deportation Republicans and the nominal Speaker of the House, Senator Ted "Calgary" Cruz (TX), will revolt against him and cost him his Speaker position when the House votes on leadership in January.
This craven coward cares more about his title and perks than his country. the Tan Man should grow a pair and bring the Senate bill to a vote today — let's find out just how many Republicans really want comprehensive immigration reform, and how many are really just gaming the system to pay lip service to the idea without ever actually having to vote for it.
The Times continues:
In the Senate, a group of Republicans — led by Mr. Cruz, Senator Mike Lee of Utah and Senator Jeff Sessions of Alabama — is already planning to thwart any executive action on immigration. The senators are hoping to rally their fellow Republicans to oppose efforts to pass a budget next month unless it prohibits the president from enacting what they call "executive amnesty" for people in the country illegally.
"If the president wants to change the legal structure, he should go through Congress rather than acting on his own," Mr. Lee said Thursday. "I think it's very important for us to do what we can to prevent it."
Who listens to this fool? "Calgary" Cruz led the Tea Party in the House into a blind alley with a federal government shut down last year, then walked away from it with "Who, me? I never said anything about shut down the government." What kind of idiot does it take to follow this fool down that blind alley again?
The major elements of the president's plan are based on longstanding legal precedents that give the executive branch the right to exercise "prosecutorial discretion" in how it enforces the laws. Those precedents are also the basis of a 2012 decision to protect from deportation the so-called Dreamers, who came to the United States as young children.
"I'm confident that what the president will do will be consistent with our laws," Attorney General Eric H. Holder Jr. said Thursday.
The White House expects a chorus of outside legal experts to back the administration's legal assessment once Mr. Obama makes the plan official.
More on this last point in the next post.