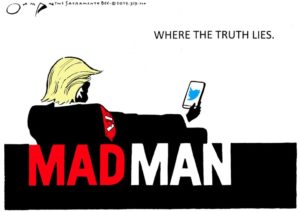 As I posted yesterday, the Trump administration is seeking to discredit anyone in the chain of investigators investigating the Trump campaign and his financial connections to Russia in order to provide grist to the conservative media entertainment complex to wage a propaganda campaign against Special Counsel Robert Mueller and his team of investigators, for the purpose of laying the groundwork for Trump's eventual move to a "Saturday Night Massacre" and finding someone at the Justice Department to "Bork" (fire) Robert Mueller.
Trump is also working on a "get out of jail free" card by having his lawyers explore the parameters of his issuing a presidential pardon to his ne'er-do-well family of grifters and con men, and more importantly, to himself.
If Trump is as innocent as he claims, he would be cooperating with Congress and the Justice Department to resolve this matter as quickly as possible to clear his name. He would not be going to war with his own Department of Justice. Trump is plainly behaving as a man who has something to hide.
The Washington Post reports, Trump team seeks to control, block Mueller's Russia investigation:
Some of President Trump's lawyers are exploring ways to limit or undercut special counsel Robert S. Mueller III's Russia investigation, building a case against what they allege are his conflicts of interest and discussing the president's authority to grant pardons, according to people familiar with the effort.
Trump has asked his advisers about his power to pardon aides, family members and even himself in connection with the probe, according to one of those people. A second person said Trump's lawyers have been discussing the president's pardoning powers among themselves.
One adviser said the president has simply expressed a curiosity in understanding the reach of his pardoning authority, as well as the limits of Mueller's investigation.
"This is not in the context of, 'I can't wait to pardon myself,' " a close adviser said.
With the Russia investigation continuing to widen, Trump's lawyers are working to corral the probe and question the propriety of the special counsel's work. They are actively compiling a list of Mueller's alleged potential conflicts of interest, which they say could serve as a way to stymie his work, according to several of Trump's legal advisers.
A conflict of interest is one of the possible grounds that can be cited by an attorney general to remove a special counsel from office under Justice Department regulations that set rules for the job.
* * *
Trump has been fuming about the probe in recent weeks as he has been informed about the legal questions that he and his family could face. His primary frustration centers on why allegations that his campaign coordinated with Russia should spread into scrutinizing many years of Trump dealmaking. He has told aides he was especially disturbed after learning Mueller would be able to access several years of his tax returns.
Trump has repeatedly refused to make his tax returns public after first claiming he could not do so because he was under audit or after promising to release them after an IRS audit was completed.
* * *
"If you're looking at Russian collusion, the president's tax returns would be outside that investigation," said a close adviser to the president.
Jay Sekulow, one of the president's private lawyers, said in an interview Thursday that the president and his legal team are intent on making sure Mueller stays within the boundaries of his assignment as special counsel. He said they will complain directly to Mueller if necessary.
"The fact is that the president is concerned about conflicts that exist within the special counsel's office and any changes in the scope of the investigation," Sekulow said. "The scope is going to have to stay within his mandate. If there's drifting, we're going to object."
Sekulow cited Bloomberg News reports that Mueller is scrutinizing some of Trump's business dealings, Mueller Expands Probe to Trump Business Transactions, including with a Russian oligarch who purchased a Palm Beach mansion from Trump for $95 million in 2008.
"They're talking about real estate transactions in Palm Beach several years ago," Sekulow said. "In our view, this is far outside the scope of a legitimate investigation."
"Trump is coming face-to-face with a powerful investigative team that is able to study evidence of any crime it encounters in the probe — including tax fraud, lying to federal agents and interference in the investigation."
There was quite a bit of discussion of presidential pardons by the cable news jockeys last night, but they did not clarify that what they were talking about is really a "preemptive" pardon before a conviction.
Thomas Gettler, a New York lawyer, succinctly summarized the law a number of yeqrs ago:
At the Constitutional Convention of 1787 debate on this point was won by the delegates who urged that pardons be permitted before conviction (see Zimmet, "The Law of Pardon," 1974-75 Annual Survey of American Law, page 179; "The Nixon Pardon," Connecticut Law Review, 1974, Volume 7, page 56).
Accordingly, the Constitution simply provides that the President "shall have power to grant reprieves and pardons for offenses against the United States, except in cases of impeachment" (Article II, section 2).
The leading Supreme Court case is Ex parte Garland (1867). Justice Stephen J. Field, writing for the Court in a 5-4 decision, held that the President's pardoning power is "unlimited," and "It extends to every offense known to the law, and may be exercised at any time after its commission, either before legal proceedings are taken, or during their pendency, or after conviction and judgment."
In Murphy v. Ford (1975), a Federal District Court in Michigan rejected a suit for a declaratory judgment that President Ford's unconditional pardon of Richard M. Nixon was unconstitutional. The court found that the President had the constitutional power to grant a pre-indictment pardon, citing Ex parte Garland in its support.
No president has ever sought to pardon himself. Although this option was presented to Richard Nixon, he declined to exercise it. Donald Trump appears to be the kind of man who would not hesitate to do so.
The issue has never been tested in court and therefore is unresolved. In a country that prides itself on the principle that "no man is above the law," a president who pardons himself for "offenses against the United States" would undermine this bedrock American principle.
Chris Cillizza of CNN interviewed Brian C. Kalt, a professor of law at Michigan State University and the author of a 2012 book entitled "Constitutional Cliffhangers: A Legal Guide for Presidents and Their Enemies," whom the Post article above relied on for comment. Can President Trump pardon himself?:
Cillizza: Finish this sentence: "The chances of a president being able to pardon himself are roughly ______%." Now, explain.
Kalt: Ha! I have been studying self-pardons and writing about them for over 20 years now (including in Chapter 2 of my book), and I have thoroughly convinced myself that any court faced with the issue should rule against self-pardons' validity. But "should" and "would" are two different things, and it is so hard to predict just what the Supreme Court would do that I can't say with any precision. I'll just say that I think it's less than 50%, but not close to 0%.
On the president's side is the fact that the Constitution does not expressly prohibit self-pardons.
The argument is a bit more complicated on the prosecution's side — that's how it would get to court; the president would have to pardon himself and the prosecutor would have to prosecute him anyway, presumably after the president had left office.
First, as I said in my answer to [your first question], there are limits in the pardon power implicit in the notion of what a "pardon" is. So the prosecutor would say that a pardon is inherently bilateral — something you can only give to someone else. "Pardon" comes from the same Latin root as "donate," and it doesn't make sense to speak of donating things to yourself.
Second, there is a venerable principle in the law that no one can be the judge in his own case. We would not permit a judge to preside over his own trial, for instance. So we would say here that if a president wants a pardon he has to get it from someone else, i.e., a successor. [Is there any doubt that Mike Pence would do so?]
Third, there are some historical arguments that support the idea that the framers of the Constitution assumed presidents could not pardon themselves.
One could also interpret your question more practically: What are the chances that a president would feel able to get away with a self-pardon. Given how bad it would look, how it provides grounds for impeachment, and how it could even be a crime of its own (similar to how a pardon given in exchange for a bribe could be prosecuted as a bribe, a pardon given to obstruct justice could be prosecuted as obstruction of justice), and given how it would not affect any state prosecutions, presidents have lots of good reasons not to try to pardon themselves.
Finally, a pardon must be accepted and comes with a confession of guilt. After Gerald Ford left the White House, he privately justified his pardon of Richard Nixon by carrying in his wallet a portion of the text of Burdick v. United States, a 1915 U.S. Supreme Court decision that suggested that a pardon carried an imputation of guilt and that acceptance carried a confession of guilt. (Legal scholars have questioned whether this portion of Burdick is meaningful or merely dicta).
So if Trump were to pardon himself, he would thereby be confessing his guilt "for offenses against the United States." And this would serve as a predicate for impeachment.