I watched the CBS Evening News (and the local CBS news) Saturday night, and saw Walter Cronkite's old haunt uncritically report President Trump's tweets on his supposed deal to suspend his plan to impose tariffs on Mexican goods, and Trump then praising his deal with Mexico that promises a crackdown on illegal immigration.
Apparently, Mexico has also agreed to pay extortion — buying more corn from Iowa — because the CBS News report included Senator "Hog Castrator," Joni Ernst (R-IA), praising Trump as a "brilliant negotiator" for this bit of extortion. [Note: See the update below.] This woman is nuts (and I don't mean the hogs). Video Link.
There was literally no attempt to provide any factual details or analysis of what is actually going on here. For CBS News, stenographically reporting Trump's tweets was good enough. The "tweets speak for themselves." (I am singling out CBS News as an example here, but virtually all of the television news networks did exactly the same thing).
This is an abject failure of the television news media, and is the reason why this country is in the sorry state it is in. Walter Cronkite must be spinning in his grave.
This is a big problem because the majority of Americans still prefer to get their news by watching television newscasts — not reading or listening to it, according to a new survey by the Pew Research Center (December 2018).
The report finds that nearly half of Americans surveyed (47%) prefer watching the news, while 34% prefer reading it and 19% prefer listening. Television remains the news source of choice for Americans, a reality that's largely unchanged from a year earlier.
So the fact checking and analysis that print media do, including this blog, does not reach the larger television-only news audience. The television news media is miserably failing its alleged primary mission, to inform the public. The television-only news audience is probably the least informed news consumer.
Here is the graphic that the CBS News report above provided to begin our analysis.
Let's take these "factoids" one by one.
First, I have spent a fair amount of time in Mexico over the years, and I was unaware that Mexico even had a National Guard. Probably because only until very recently it did not. This seems to me to be an important detail that deserved some additional reporting analysis. Is Mexico's New National Guard Just Another Uniform?
Mexico's new National Guard is another step closer to taking up arms, but the logic behind the agency's creation and its potential for improving the nation's security remain uncertain.
On March 13, the state legislature of Yucatán approved a constitutional reform creating the National Guard, one of President Andrés Manuel López Obrador's signature security policies. With that vote, each of the 32 states has approved the new police force, making its creation all but certain.
These votes follow the February passage of legislation in both houses of Congress that established the legal basis for the 60,000-member National Guard. The López Obrador administration has allocated $767 million to fund the National Guard's first year of operations, and it is proceeding with plans to build 87 bases for the new service.
The basic idea behind the creation of the National Guard is to establish an alternative to the military in the fight against organized crime in Mexico. The role of the force also emphasizes citizen security.
But the new force is not a clean break from the militarized approach of the past 12 years. The National Guard will initially be populated by veterans of the Mexican military and federal police, and though it operates under the civilian Ministry of Security and Citizen Protection, it may be headed by a military officer.
Secondly, in what way is this new National Guard going to "crack down on criminal smugglers" any differently in kind or degree than what the Mexican Army and Federal Police have already been doing?
The National Guard's creation has sparked two related critiques within Mexico.
The first is that the National Guard is a betrayal of López Obrador's promises to deescalate the war on drugs. A man who campaigned on the slogan of "hugs not bullets" and who ridiculed the idea of "fighting fire with fire" has now made permanent the participation of a quasi-military body in domestic security.
Critics also warn that the staffing of the new force with former soldiers means that it will not be immune to the abuses characterizing military deployments, such as those seen in a scandal like the Tlatlaya massacre.
* * *
The second major criticism is that there is nothing sufficiently different about the National Guard to justify the effort and expense of creating this new agency. Past presidential administrations, promising to revolutionize the fight against organization crime, have enacted similar sweeping institutional reforms of federal police bodies. Vicente Fox created the Federal Investigative Agency, which was to be the FBI of Mexico. Enrique Peña Nieto created the ill-defined gendarmerie.
None of these forces had an appreciable impact on security. In fairness, this is largely because the new forces are often radically reshaped or eliminated once a new administration takes office.
López Obrador's own words also do little to clarify the role of the new force. He recently compared the National Guard to the blue-helmeted peacekeepers of the UN. Similarly, in a November interview shortly after the new agency was announced, he said that the National Guard was meant to "guarantee peace," though he did not describe how it would do so. In December, amid growing criticism, he sounded similar notes: "We are proposing…the National Guard because we want to guarantee peace and tranquility, that there be no violence."
At no point in his justifications has he given insights on how exactly the new force will contribute to a safer and more peaceful Mexico.
The New York Times reports that this latest agreement was actually already agreed to beginning last December. Mexico Agreed to Take Border Actions Months Before Trump Announced Tariff Deal:
The deal to avert tariffs that President Trump announced with great fanfare on Friday night consists largely of actions that Mexico had already promised to take in prior discussions with the United States over the past several months, according to officials from both countries who are familiar with the negotiations.
Friday's joint declaration says Mexico agreed to the "deployment of its National Guard throughout Mexico, giving priority to its southern border." But the Mexican government had already pledged to do that in March during secret talks in Miami between Kirstjen Nielsen, then the secretary of homeland security, and Olga Sanchez, the Mexican secretary of the interior, the officials said.
The centerpiece of Mr. Trump's deal was an expansion of a program to allow asylum-seekers to remain in Mexico while their legal cases proceed. But that arrangement was reached in December in a pair of painstakingly negotiated diplomatic notes that the two countries exchanged. Ms. Nielsen announced the Migrant Protection Protocols during a hearing of the House Judiciary Committee five days before Christmas.
And over the past week, negotiators failed to persuade Mexico to accept a "safe third country" treaty that would have given the United States the legal ability to reject asylum seekers if they had not sought refuge in Mexico first.
Mr. Trump hailed the agreement anyway on Saturday, writing on Twitter: "Everyone very excited about the new deal with Mexico!" He thanked the president of Mexico for "working so long and hard" on a plan to reduce the surge of migration into the United States.
It was unclear whether Mr. Trump believed that the agreement truly represented new and broader concessions, or whether the president understood the limits of the deal but accepted it as a face-saving way to escape from the political and economic consequences of imposing tariffs on Mexico, which he began threatening less than two weeks ago.
After nine days of uncertainty, Mr. Trump backed down and accepted Mexico's promises. A Drama of Trump's Own Making Ends With a Familiar Hero: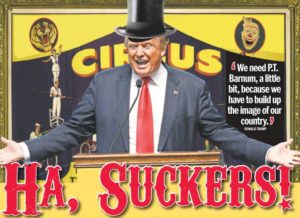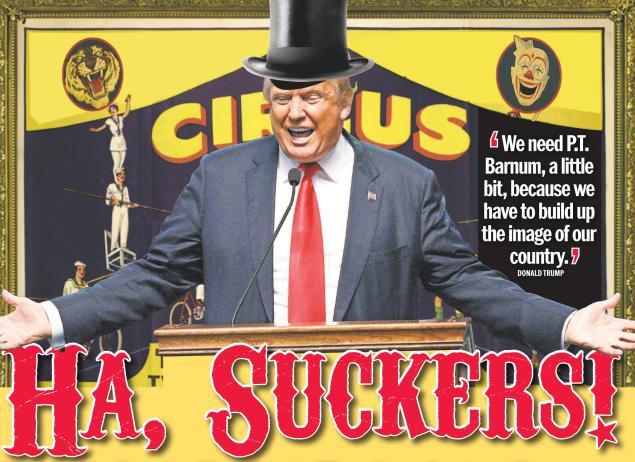 Nine days in spring offered a case study in Mr. Trump's approach to some of the most daunting issues confronting him and the nation: When the goal seems frustratingly out of reach through traditional means, threaten drastic action, set a deadline, demand concessions, cut a deal — real or imagined — avert the dire outcome and declare victory. If nothing else, he forces attention on the issue at hand. Whether the approach yields sustainable results seem less certain.
These are often dramas of his own making, with him naturally the hero. He stakes out maximalist positions and issues brutal ultimatums to compel action, arguing that extreme problems demand extreme tactics. At times, though, it can seem like little more than smoke and mirrors substituting for serious policymaking, a way of pretending to make progress without actually solving the underlying problem.
"This is a pattern we've seen since the first days of this administration," said Ned Price, a former C.I.A. official who worked on President Barack Obama's National Security Council staff and is now director of policy at National Security Action, a progressive foreign policy advocacy organization.
"The president manufactures a crisis, galvanizes his base around the challenge, leaves the definition of success undefined, pretends to play hardball and, lo and behold, finds a solution that entails little more than window-dressing, if that," Mr. Price said. "For Trump, it's a win-win." But "the loser tends to be the American people, oftentimes Trump's base first and foremost," he added.
This same script played out just two months ago. Mr. Trump loudly threatened to close the border with Mexico altogether unless it did more to stop illegal immigration. Mexico promised action. Mr. Trump dropped the threat. But then the flow of migrants only increased, prompting Mr. Trump to issue a new threat on May 30 this time to impose escalating tariffs that would have started on Monday.
None of this critical analysis from the NY Times (print media) made it into the CBS News (television media) reporting above. And that is everything that is wrong with the television news media.
The third and final CBS 'factoid" above, not clearly stated, has to do with the Trump administration's "remain in Mexico" asylum policy. The CBS report makes absolutely no mention of the fact that in April, a Federal Judge in California Blocked the Trump Administration Policy Of Sending Asylum-Seekers To Mexico:
U.S. District Judge Richard Seeborg in San Francisco wrote in a 27-page ruling that current U.S. law does not authorize the Department of Homeland Security to enact the Migrant Protection Protocols, first announced in a December 2018 memo by outgoing Secretary of Homeland Security Kirstjen Nielsen. Seeborg also wrote that the MPP lacked sufficient safeguards for ensuring that people who want to apply for asylum are not returned "to places where they face undue risk to their lives or freedom."
The ruling came in response to a lawsuit brought by the American Civil Liberties Union and other advocacy groups on behalf of 11 asylum-seekers from Central America. It argued that requiring the migrants to wait in Mexico violated humanitarian protections offered under U.S. and international law.
"The court strongly rejected the Trump administration's unprecedented and illegal policy of forcing asylum seekers to return to Mexico without hearing their claims," said deputy director of the ACLU's Immigrants' Rights Project, Judy Rabinovitz in a statement. "Try as it may, the Trump administration cannot simply ignore our laws in order to accomplish its goal of preventing people from seeking asylum in the United States."
The ruling, even if its implementation is delayed, is a setback for the Trump administration, which says its hard-line immigration policies are an appropriate response to a crisis at the border. The administration had hoped that the asylum protocols, dubbed by some officials as Remain in Mexico, would discourage migrants from seeking refuge in the U.S.
Now, a three judge appellate panel has since lifted Judge Seeborg's stay of the Trump administration's "Remain in Mexico" policy pending a trial on the merits in Judge Seeborg's court. Appeals Court Rules Trump Administration Can Keep Sending Asylum-Seekers To Mexico:
A federal appeals court has ruled that the Trump administration may continue requiring asylum-seekers to remain in Mexico as they await court proceedings in the United States. It might be seen as a victory for Trump, though a temporary one.
A three-judge panel of the Ninth Circuit Court of Appeals overturned a lower court's injunction on the administration's policy officially known as the Migration Protection Protocols. The policy, better known as "Remain in Mexico," was first announced in a December 2018 memo by former Secretary of Homeland Security Kirstjen Nielsen.
A lower court in San Francisco must still rule on merits of the case, which may end up before the Supreme Court.
* * *
Comments by two of the panel's three [appellate] judges were critical of Trump Administration policies.
Judge William Fletcher, who was appointed by President Clinton, disagreed with the ruling. He wrote that he is "hopeful that the regular argument panel that will ultimately hear the appeal, with the benefit of full briefing and regularly scheduled argument, will be able to see the Government's arguments for what they are—baseless arguments in support of an illegal policy that will, if sustained, require bona fide asylum applicants to wait in Mexico for years while their applications are adjudicated."
I should not be the one to have to provide this fact checking and analysis to what is actually going on here. A venerable news organization with the storied history of CBS News should be doing this for a television audience of millions of viewers, most of whom only get their news from television news media.
Maybe television news networks should spend less time doing personal interest stories and more time doing actual hard news reporting. After all, it is your job to inform the public.
Do your damn job!
UPDATE: It looks like Senator "Hog Castrator" was working as a GOPropagandist for Trump. President Trump's claims about why he ended his trade war with Mexico collapsed under scrutiny during the first 24-hours after he claimed victory. Mexico joins the New York Times in debunking Trump's claims about what he got for calling off his trade war:
On Saturday, The New York Times published a bombshell report that Mexico's supposed concessions had actually been agreed to beforeTrump launched his trade war. That fact essentially made Trump's claims of victory — or even the need to launch the trade war in the first place — were all based on lies.
However, Trump didn't just claim victory on the trade war, he said he'd additionally won a side deal.
Mexican officials said that never occurred, Bloomberg News reported.
"President Donald Trump boasted of "large" agricultural sales to Mexico as part of a deal reached Friday on border security and illegal immigration that averted the threat of U.S. tariffs, but the deal as released had none, and three Mexican officials say they're not aware of any side accord," Bloomberg reported. "Increasing Mexico's purchases from the U.S. wasn't discussed during the three days of talks in Washington that led up to Friday's agreement, said the three people with knowledge of the deliberations who weren't authorized to speak publicly."
There might not even be a mechanism for such discussions to ever occur.
"Mexico has no state-owned agricultural conglomerate to buy food products or handle distribution, or a government program that could buy farm equipment for delivery to producers," Bloomberg noted.
UPDATE: AP FACT CHECK: No sign of Trump-Mexico deal on farm goods: There's no evidence that Mexico agreed to "large" purchases of agricultural products from the U.S. as part of the deal to avoid tariffs. Nor did the White House provide any details to show such a deal exists.
So virtually everything CBS News reported on Saturday evening was total bullshit, but they "catapulted the propaganda" (as George W. Bush once said) that Donald Trump is a "brilliant negotiator," per GOPropagandist Senator "Hog Castrator."
I think CBS News — and other television news networks — needs to do a retraction and provide the fact checking that I have provided above. And then apologize to your viewers for such shoddy news reporting. Otherwise, the television news networks are just cogs in the GOPropaganda machine.