Everything is bigger in Texas, including the assholery of its Republican politicians. Lately white Christian Nationalist Governor Gregg Abbott is trying to outdo Governor Ron "DeathSantis" of Florida for the biggest asshole in America. He won asshole of the week this week.
White Christian Nationalist Republicans have been projecting for weeks now that their whole campaign this year will focus on anti-immigrant hysteria over "caravans" of brown hordes "invading" the border, as part of their white supremacy great replacement theory, borrowed from European fascism of the the early 20th Century.
As soon as the Biden administration lifts the Title 42 restrictions on asylum seekers "remaining in Mexico" during the Coronavirus pandemic this May, it will be wall-to-wall coverage of "white fright" on Fox News, News MAX and OANN and from every Republican politician running for office. The corporate media has already been laying the groundwork to assist this Republican campaign with numerous reports parroting the GQP talking points in recent weeks. I have seen little responsible pushback from the corporate media.
The Title 42 policy, which is set to be lifted on May 23, has prevented more than 1.7 million attempts by immigrants to cross the border during the pandemic. DHS officials have warned of a potential surge of more than 170,000 migrants if Title 42 is lifted.
With everything else going on in this world, this is the issue that motivates white Christian Nationalist Republicans. Ignorance, fear and hatred are their religious tenants, not Christianity. After all, WWJD? Jesus preached welcoming immigrants, since he was once a refugee himself. 22 Bible Verses on Welcoming Immigrants.
The Huffington Post reports, Texas Governor Dumps First Busload Of Migrants In DC For Political Stunt: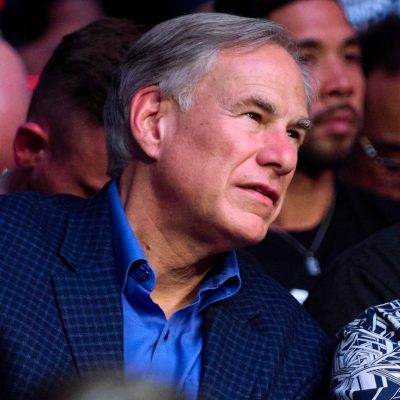 Texas Gov. Greg Abbott (R) congratulated himself Wednesday for dumping a busload of immigrants in the heart of Washington, D.C., as part of a political tantrum over President Joe Biden's immigration policies.
The stunt allows the Biden administration "to more immediately meet the needs of the people they are allowing to cross our border," Abbott claimed in a press release.
The migrants arrived at a building near Capitol Hill that is home to the Washington bureaus of Fox News, NBC News and C-SPAN. They were greeted by staff from Catholic Charities DC, a group that offers food assistance, medical care, job training and English lessons, a spokesperson told HuffPost.
Five of the immigrants told CNN they were from Venezuela and had arrived at the southern U.S. border on Sunday, where they were processed by authorities and released while their immigration claims worked their way through the court system. Their bus ride took roughly 30 hours, they said, with food and water provided along the route.
Abbott's office noted that other migrants on the first bus had also come from Colombia, Cuba and Nicaragua. A second bus is en route.
[An] ACLU of Texas staff attorney called Abbott's plan "outrageous and blatantly unconstitutional" when it was first announced, while it was still unclear that the busing would be voluntary. White House press secretary Jen Psaki labeled Abbott's plan a "publicity stunt."Texas state Rep. Matt Shaefer, a Republican, called it a "gimmick."
Texas Democrats said Abbott was merely working "to demonize immigrants."
"For years, Texas Republicans have looked to the Southern Border as a wedge issue, creating a narrative that stirs up emotions but neglects the truth," the Texas Democratic Party said in a Monday statement.
American Enterprise Institute emeritus scholar Norman Ornstein, who tracks political polarization, did not mince words in his criticism.
This is kidnapping across state lines. The Justice Department, via the US Attorney in Texas, should prosecute Abbott and everyone connected to this scheme https://t.co/GInHWVoVgn

— Norman Ornstein (@NormOrnstein) April 13, 2022
Democratic candidate for governor Beto O'Rourke, a former Texas congressman, criticised Mr Abbott's move as well.
Governor Ron "DeathSantis" of Florida wants in on this assholery with his own political stunt. The Independent reports:
Incidentally, Florida Governor Ron DeSantis, also a Republican, pledged to send immigrants that he said were "dumped" into the Sunshine State into President Joe Biden's home state of Delaware. Specifically, Mr DeSantis cited the Biden administration's decision to end Title 42, a Trump-era action put in place during the Covid-19 pandemic that severely restricted migration across the US-Mexico border.
"If Biden is dumping people, which he has dumped people, they fly them in at two in the morning," Mr DeSantis said last week. "They haven't done it lately, but they did it many months ago. We now have money where we can reroute them to sanctuary states like Delaware — and we're gonna do that — to make sure we're keeping people safe here."
Says the man responsible for the unnecessary deaths of tens of thousands of his state's residents due to his criminally negligent mishandling of the Coronavirus pandemic in his state.
This political stunt comes also as Gov. Abbott has ordered the state's Department of Public Safety to inspect trucks crossing the US-Mexico border, which caused long lines at the border. This is causing supply chain disruptions adding to inflation, particularly in fresh produce from Mexico. You can thank Governor Abbott for increased inflation in grocery prices.
The Texas Tribune reports, International trade halted at Texas border crossings as truckers protest Greg Abbott's new inspections:
Commercial traffic at a key South Texas border crossing has stopped after Mexican truckers on Monday blocked north- and southbound lanes on the Mexico side of the Pharr-Reynosa International Bridge in protest of Texas Gov. Greg Abbott's decision to have state troopers inspect northbound commercial vehicles — historically a job done by the federal government.
The bridge connecting Pharr and Reynosa is the busiest trade crossing in the Rio Grande Valley and handles the majority of the produce that crosses into the U.S. from Mexico, including avocados, broccoli, peppers, strawberries and tomatoes. On Monday, with trucks backed up for miles in Reynosa for the fifth day in a row, some produce importers in Texas said they have waited days for their goods to arrive and already had buyers cancel orders.
"One of our customers canceled the order because we didn't deliver on time," said Modesto Guerra, sales manager for Sterling Fresh Inc., which imports broccoli from Central Mexico via the Pharr bridge before shipping it to the Midwest and East Coast. "It's something beyond our control."
While many companies cross perishable foods in refrigerated trucks, Guerra said the bottlenecks could lead to equipment failures that cause produce and other products to spoil in the heat.
"Those refrigerated units are powered by diesel," Guerra said. "These trucks are in line and when the diesel runs out they have no way of refueling."
International bridges elsewhere in the Valley, as well as in Eagle Pass, El Paso and Laredo, have also seen delays, with many commercial products produced in Mexico — like electronics, vehicle parts and medical instruments — also held up. A similar protest appeared to be playing out in Ciudad Juárez, Mexico, on Monday afternoon, affecting traffic into and out of El Paso, according to Border Report.
In response to the Biden administration's recent announcement that it plans to end Title 42 — a pandemic-era emergency health order that lets federal officials turn away migrants at the border without the chance to request asylum — Abbott on Wednesday ordered the Texas Department of Public Safety to increase its inspections of commercial vehicles, which he said drug cartels use to smuggle humans and drugs into the United States.
At times, DPS troopers appear to be checking every commercial vehicle that crosses select international bridges, with each inspection taking between 45 minutes and an hour.
One trucker told the news outlet that prior to Abbott's order, he made two crossings into the U.S. a day. Now, he'd be lucky to have one or two a week given the long delays at the bridges.
"We are losing just as much as them," he said. "When they start needing more produce, the prices are going to go up."
Remember all the media coverage that right-wing Trumpster truckers recently got for their so-called "freedom convoy" anti-vaxxer protests against Covid-19 restrictions in Canada, and Washington, D.C.? Where is the corporate media now for the Mexican trucker protests on the Texas border?
Mexican news outlets reported that about 500 truckers are blocking southbound traffic into Mexico to prevent the entrance of U.S. trucks. Truckers told El Mañana in Reynosa that they had waited three to four days at the international bridge and were running out of fuel while they waited.
[D]rivers at the Ysleta Port of Entry connecting El Paso and Ciudad Juárez, also commonly referred to as the Zaragoza Bridge, parked their trucks in the northbound commercial lanes with their trailers also blocking the southbound commercial lanes around 3 p.m. Monday after complaining about spending several hours in line to cross the border, according to Border Report.
From 3 to 5 p.m. Monday, the average time for commercial vehicles to cross the border at the Ysleta Port of Entry peaked around 420 minutes, or seven hours, according to the U.S. Customs and Border Protection website. That's far above normal wait times.
For personal vehicles and pedestrians, wait times to cross at the Ysleta Port of Entry remain standard for a Monday evening, according to the Border Protection website.
U.S. Rep. Vicente Gonzalez, D-McAllen, joined a chorus of elected officials from the border who called on Abbott to rethink his strategy, saying the DPS inspections duplicate inspections already conducted by the federal government at the ports of entry.
"Governor Abbott's unnecessary secondary inspections are killing business on the border," Gonzalez said in a written statement to The Texas Tribune. "If this continues it will cause further supply line issues impacting America. And we will see prices of produce and other imports rise at the grocery store. He needs to allow the U.S. Customs and Border [Protection] inspection folks to do their job."
* * *
Hidalgo County Judge Richard Cortez said he can't remember a Texas governor upending international trade along the border like this.
"This is a very serious situation," Cortez said in an interview. "Truckers on the Mexican side closed the bridge so nothing can come across. I mean, what has happened is idiotic. It really is."
The delays are happening during one of the busiest weeks of the year at border crossings. Semana Santa, or Holy Week, started on Sunday and lasts through Saturday, and many families typically cross the border to see relatives, causing long lines at the bridges.
[On] Saturday, five state senators from the border region asked Abbott in a letter to reconsider his directive, saying the increased inspections were "generating delays and stalling the movement of goods at the ports of entry."
On Monday, state Sen. Juan "Chuy" Hinojosa, D-McAllen, whose district includes the Pharr bridge, called the situation "a crisis and a mess that has been created, but it was not necessary."
"Many of my constituents are asking 'Why are we being punished?' The Valley supports border security, but this doesn't seem to have much or anything to do with border security," Hinojosa added. "This is hurting people in their pocketbook."
State Rep. Terry Canales, D-Edinburg, said a group of state House members from border communities also plans to send a letter to the governor. He said the governor's announcement last week appeared to be purely political and the new inspections will have little effect on border security.
The New York Times adds, As Texas Snarls Traffic at Border, Mexican Truckers Form Blockade (excerpt):
Since last week, commercial vehicles entering Texas have faced not only the usual federal immigration and customs inspections, but new checkpoints set up by Texas police on the roadway immediately after a measure Mr. Abbott said he was ordering in response to the flow of illegal drugs and human trafficking across the border. With delays stretching up to 14 hours, some drivers have diverted to Arizona and New Mexico.
"It's at crisis level now," Dante Galeazzi, the president of the Texas International Produce Association, said. "The biggest challenge is that we just don't know how long this is going to last."
The problems for businesses had been anticipated by the governor when he ordered the inspections and a "zero tolerance" policy for safety violations on commercial vehicles. "This is going to dramatically slow traffic from Mexico into Texas," Mr. Abbott said last week.
But Mr. Abbott said the safety checks were needed to increase oversight at the border, even if state police were not legally authorized to search for migrants or drugs at the checkpoints. "We will use any and all lawful powers to curtail the flow of drugs, human traffickers, illegal immigrants, weapons and other contraband into Texas," Mr. Abbott has said.
The arrival of migrants is expected to sharply increase next month with the Biden administration's plan to end a Trump-era pandemic policy in which a majority of unauthorized migrants are turned away at the border under an emergency public health order known as Title 42.
Mr. Abbott, a two-term Republican up for re-election in November, has presented the inspections as a means of addressing the anticipated impacts of that termination, which is expected to lead to thousands of additional migrants seeking asylum across the border each day — the largest number of them in Texas.
* * *
In a news release, Customs and Border Protection said delays were being felt at major commercial crossings into Texas as a result of "additional and unnecessary inspections" by state police, leading to a drop in commercial traffic of up to 60 percent.
"This has national ramifications," said John D. Esparza, the chief executive of the Texas Trucking Association. "This is trade going to Ford Motor Company. This is trade going to Minnesota. It's not just about the city of Laredo trying to get stuff to their local H-E-B," he said, referring to the Texas grocery chain.
[In] the past, state police have conducted safety checks on a small fraction of the commercial vehicles coming over from Mexico, without dedicated checkpoints. The backups at the border began after Mr. Abbott called for checks on every truck entering from Mexico at certain major crossings.
The blockade on the other side of the border in Pharr, affecting trucks going into and out of Mexico, led to a total halt in truck traffic across the border.
At other major crossings, Mexico-bound trucks have been able to get through, while those bound for the United States back up in a seemingly endless line, moving slowly or not at all. Private vehicle traffic has in most cases remained unaffected.
Beto O'Rourke, the Democratic candidate for governor, attacked Mr. Abbott during a news conference in Pharr on Tuesday, standing with affected business owners in a large and apparently empty cold-storage facility.
"Greg Abbott is killing businesses and the Texas economy with this stunt," Mr. O'Rourke said.
Calls for the governor to end the inspection policy came not just from Democrats. The state's conservative agriculture commissioner, Sid Miller, also urged Mr. Abbott to reverse course.
"You cannot solve a border crisis by creating another crisis at the border," Mr. Miller said in a statement.
Arnoldo Curiel, the general manager of Sunrise Produce in McAllen, said backups at the border had caused customers to cancel orders and left him wondering how much longer he could afford to keep a work force of 150 people. "We're either going to have to let guys go or it's going to cost us to keep paying them," he said.
* * *
The protest in Mexico began late Monday, when more than 100 drivers began blocking access to the Pharr-Reynosa bridge in protest of the Texas governor's inspection order, said Edgar Zamorano, a delegate with CANACAR.
Mr. Zamorano said he had heard reports of drivers enduring up to 14 hours in line, under an unforgiving sun and without access to bathrooms or food, as a result of the Texas inspections. Some arrived at the bridge before sunrise and did not make it to the U.S. side until 9:30 p.m.
"It is a peaceful protest, to shed light on the inhumane conditions drivers have been enduring," Mr. Zamorano said.
Truck drivers coming from Mexico already undergo rigorous inspections for drugs or people attempting to cross illegally by federal agents in the United States, examinations that can include X-rays and other screenings.
Since last week, Texas state patrol officers have conducted more than 3,400 additional inspections and taken more than 800 vehicles out of service for defective brakes, tires and lighting, according to the Texas Department of Public Safety.
Asked if any of the checks turned up illicit drugs or migrants crossing illegally, the department did not provide any information.
Two terms is long enough for any governor. Beto O'Rourke needs to be elected governor of Texas to end the reign of terror of white Chrisitan Nationalist Gov. Greg Abbott.
Beto O'Rourke said in a video tweet Monday showing a long line of trucks in Laredo, "What you see behind me is inflation," describing what he called the "true cost to Texans and all Americans" of "Greg Abbott's political stunt along the border."
—BREAKING BETO NEWS—
Beto O'Rourke in Laredo, Texas –
the scene of Greg Abbott's border chaos.
"So it's a political stunt more than anything else."

4/11/22 pic.twitter.com/WsRX8ChpuH

— BetoMedia (@BetoMedia) April 12, 2022