Texas historically has been the worst among the 50 states in voter turnout because of long-standing Jim Crow systematic voter disenfranchisement and voter suppression.
But something truly remarkable has been happening in Texas this year that could mark a sea change in American politics, if not this year, then in the very near future.
The Texas Tribune reports, At least 9.7 million Texans — 57% of registered voters — voted early:
During early voting in Texas, 9,719,100 people — 57.3% of registered voters — voted in person and by mail, surpassing the total number of votes cast in 2016. In 2016, 8,969,226 Texans cast a ballot in the general election. Texas has added 1.8 million registered voters since the 2016 election, and this year's overall percentage turnout is still below 2016's turnout of 59.4%. [Which will easily be surpassed on Tuesday.]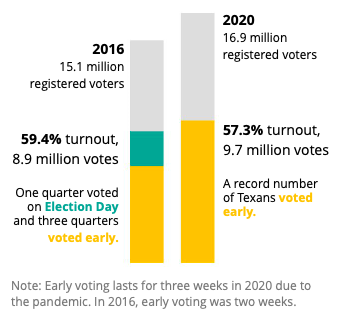 The Texas Tribune updated this tracker daily through the early voting period, which ran from Oct. 13 to Oct. 30, as Texans went to the polls to choose their candidates for the 2020 general election. Data is provisional and subject to change as counties finalize numbers.
* * *
In the 10 counties with the most registered voters,5,763,191 people, or 59.3% of registered voters, have voted early. According to the latest figuresreported by the secretary of state before the 2020 general election, 57.3% of registered voters live in these 10 counties.
Politically, the 10 largest counties don't represent Texas' other 244 smaller counties. In 2016, Democratic presidential candidate Hillary Clinton won the large counties by about 620,000 votes. President Donald Trump netted 1.4 million votes in the other counties and won the state. The large counties moved further to the left in the latest statewide race, when U.S. Senate candidate Beto O'Rourke won the large counties by 930,000 votes. But that couldn't offset Sen. Ted Cruz' 1.1 million vote advantage in the other counties.
(See link for County breakdowns).
Demographic changes are rapidly making the voting population in the 10 largest counties greater than the voting population in the smaller, rural counties of Texas. This year may very well be the tipping point. And Republicans know it.
Several conservative Republican activists and candidates filed a lawsuit to preemptively throw out early balloting from drive-thru polling sites in Harris County (Houston metro), the state's most populous and largely Democratic county. Texas Republicans ripped as 'wholly un-American' for trying to invalidate 127,000 ballots from drive-thru voting:
For 18 days of early voting, Harris County residents waited in line, had their identities verified by poll workers, and cast their votes in a presidential election that has seen record-breaking early turnout.
But for the nearly 127,000 people who did so at drive-thru polling places instead of in traditional indoor sites, many are now watching with fear as a wealthy conservative activist, a Republican state representative and two GOP candidates aim to throw out their ballots at the last minute. In the state's most populous — and largely Democratic — county, drive-thru voters are left anxiously awaiting court decisions before Election Day on Tuesday that could force them to go back to the polls. Likely many more are unaware of their votes' potential demise.
The Republican legal effort could jeopardize 10% of the in-person early votes that were cast at 10 drive-thru polling places throughout the county — a vote count higher than the entire early vote total in Nueces County, home of Corpus Christi and the state's 16th most populous county.
Two lawsuits by the group of plaintiffs have been filed in recent days after a similar challenge was already rejected by the all-Republican Texas Supreme Court.
* * *
Harris County first tested drive-thru voting in the July primary runoffs with little controversy, and the county's 10 drive-thru centers were established for the fall election to make early voting easier for people concerned about entering polling places during the pandemic. Voters pull up in their cars, and after their registrations and identifications have been confirmed by poll workers, are handed an electronic tablet through their car windows to cast ballots.
The plaintiffs, all Republicans, are conservative activist Steven Hotze, state Rep. Steve Toth of The Woodlands, congressional candidate Wendell Champion and judicial candidate Sharon Hemphill. They argue that the county's new drive-thru voting sites are an illegal expansion of curbside voting and violate Texas election law and the U.S. Constitution. Curbside voting, a separate option long available under Texas election law, requires workers at every polling place to deliver onsite curbside ballots to voters who are "physically unable to enter the polling place without personal assistance or likelihood of injuring the voter's health."
Hotze is an active GOP donor and is one of the most prolific culture warriors on the right. He's a fierce opponent of same-sex marriage and was a key figure in the unsuccessful push for the 2017 "bathroom bill" in the Texas Legislature. This year, he has filed numerous lawsuits seeking to overturn Gov. Greg Abbott's coronavirus restrictions and block Harris County's efforts to make it easier for people to vote. And he left a voicemail for Abbott's chief of staff this summer telling him to shoot and kill people protesting the in-custody death of George Floyd.
Teeing up a massive potential disenfranchisement of Harris County voters, the Republicans are asking the courts to not only declare drive-thru voting illegal in Texas, but to throw out the votes cast at such polling locations. An earlier legal challenge against drive-thru voting brought by Hotze, Hemphill and the Harris County Republican Party was rejected by the Texas Supreme Court last week.
(Voters who used the drive-thru option are subjected to the same verification requirements as those who vote in traditional polling places.)
Harris County officials have continued to defend the legality of the program, and noted that the Texas secretary of state's office had approved of drive-thru voting. Keith Ingram, the state's director of elections, said in a court hearing last month in another lawsuit that drive-thru voting is "a creative approach that is probably okay legally," according to court transcripts.
Plus, the county argued in a Friday filing that Texas's election code, along with court rulings, have determined that even if the drive-thru locations are deemed violations, votes cast there are still valid.
"More than a century of Texas case law requires that votes be counted even if election official[s] violate directory election laws," the county's filing said. [Reliance interest.]
Despite the courts in Texas being packed with conservative activist Republican judges, these Republican plaintiffs nevertheless lost their bid to invalidate 127,000 lawfully cast ballots.
On Sunday, the Texas Supreme Court rejected a Republican-led effort to throw out nearly 127,000 Harris County votes:
A legal cloud hanging over nearly 127,000 votes already cast in Harris County was at least temporarily lifted Sunday when the Texas Supreme Court rejected a request by several conservative Republican activists and candidates to preemptively throw out early balloting from drive-thru polling sites in the state's most populous, and largely Democratic, county.
The all-Republican court denied the request without an order or opinion, as justices did last month in a similar lawsuit brought by some of the same plaintiffs.
The Republican plaintiffs, however, are pursuing a similar lawsuit in federal court, hoping to get the votes thrown out by arguing that drive-thru voting violates the U.S. constitution. A hearing in that case is set for Monday morning in a Houston-based federal district court, one day before Election Day. A rejection of the votes would constitute a monumental disenfranchisement of voters — drive-thru ballots account for about 10% of all in-person ballots cast during early voting in Harris County.
On Monday, a federal judge rejected the same voter suppression lawsuit. Nearly 127,000 Harris County drive-thru votes appear safe after federal judge rejects GOP-led Texas lawsuit:
A federal judge Monday rejected a request by a conservative activist and three Republican candidates to toss out nearly 127,000 votes cast at drive-thru polling sites in Texas' most populous, and largely Democratic, county.
The ruling by U.S. District Judge Andrew Hanen, a George W. Bush appointee, follows two earlier decisions by the all-Republican Texas Supreme Court rejecting similar efforts by Republicans challenging the validity of drive-thru voting in Harris County. Although Hanen's ruling is still expected to be appealed quickly, it appears to clear the way for counting the early voting drive-thru ballots on Election Day.
This most likely will be a post-election day appeal to the 5th Circuit Court of Appeals which potentially could invalidate 127,000 lawfully cast votes, and that could determine a narrowly decided election.
In his ruling from the bench, Hanen said he rejected the case on narrow grounds because the plaintiffs did not show they would be harmed if the drive-thru ballots are counted. He noted, however, that the U.S. 5th Circuit Court of Appeals could think differently if the cases reaches them.
If he had ruled on the larger issues in the case, Hanen said he would have rejected the request to toss out votes already cast. But Hanen said he would have shut down Harris County's drive-thru polling places for Election Day, because the tents being used for the sites don't qualify as voting inside a "building," a requirement under state election law.
"If I were voting tomorrow … I would not vote in a drive-thru just out of my concern as to whether that's illegal or not," he said. "I am going to order the county to maintain all the drive-thru voting records … just in case the 5th Circuit disagrees."
Residents of Harris County should take the judge's cue to vote in person on Tuesday. Do not trust the far-right 5th Circuit Court of Appeals, or the U.S. Supreme Court not to invalidate your lawfully cast ballots by drive-thru voting. Make damn sure your vote is counted.