Last  Friday, Judge Gonzalo P. Curiel of United States District Court said that related materials, including Trump University procedures on dealing with students and the news media, should be unsealed. Judge Orders Documents Unsealed in Trump University Lawsuit.
Donald Trump, as is his wont, went on a terrible-threes tirade: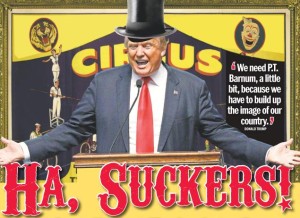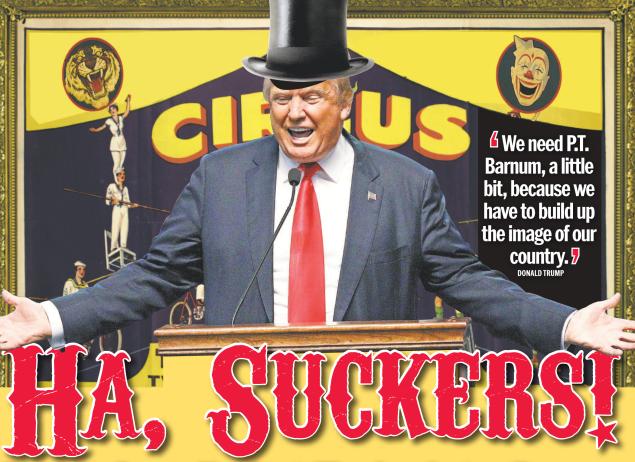 "I have a judge who is a hater of Donald Trump," Mr. Trump said.
"We're in front of a very hostile judge. The judge was appointed by Barack Obama," Trump said, adding that he believed Judge Curiel was Mexican.
Judge Curiel is an American who was born in East Chicago, Indiana.
Legal scholars said that Mr. Trump could face consequences for his criticisms.
"Mr. Trump's conduct could be subject to sanction for indirect criminal contempt of court," said Charles G. Geyh, a legal ethics expert at Indiana University's Maurer School of Law.
"He has impugned the honesty of the judge in a pending case," Mr. Geyh said, "and has done so in the context of a political rally that seems calculated to intimidate by inciting anger among his supporters."
Didn't consider that, did you Donny?
The New York Times, Former Trump University Workers Call the School a 'Lie' and a 'Scheme' in Testimony and the Washington Post,Trump involved in crafting controversial Trump University ads, executive testified both take deep dives into the Trump University testimony released today.
Lawrence McCauley summarizes at Common Dreams, Trump University Documents Expose Presumptive Con-Man-in-Chief:
A swindle and a sham that "preyed upon the elderly and uneducated to separate them from their money" is how people who worked for Trump University described the methods behind the self-titled, now-defunct real estate education program run by the presumptive Republican nominee.
Donald Trump's shifty business practices were laid bare on Tuesday after U.S. district court judge Gonzalo Curiel unsealed more than 400 pages of Trump University "playbooks" (pdf) as well as testimony from former employees as part of a class-action lawsuit accusing the company of fraud.
Trump University billed itself as an educational program dedicated to helping students "achieve financial independence" through real estate investment, holding multi-day retreats that cost as much as $35,000 to attend.
"I believe that Trump University was a fraudulent scheme," said Ronald Schnackenberg, who worked as a sales manager from October 2006 to May 2007, "and that it preyed upon the elderly and uneducated to separate them from their money."
In his testimony, Schnackenberg recounts being "reprimanded" after he refused to push the $35,000 Elite seminar package on a financially struggling couple who "would have had to pay for the program using his disability income and taking out a loan based upon equity in his apartment." Schnackenberg said he was "disgusted" after another sales person talked them into buying the costly seminar and subsequently resigned.
In the Sales Playbook, employees are instructed to prey upon individuals' needs and concerns. For instance, one page instructs recruiters to "Collect personalized information that you can utilize during closing time. (For example: Are they a single parent of a three children that may need money for food? Or are they a middle-aged commuter that is tired of traveling for 2 hours to work each day?)"
Another section offers rebuttals for common objections. If someone says, "I don't like using my credit cards and going into debt," the playbook instructs the salesperson to say, "[D]o you like living paycheck to paycheck? … Do you enjoy seeing everyone else but yourself in their dream houses and driving their dreams cars with huge checking accounts? Those people saw an opportunity, and didn't make excuses, like what you're doing now."
The release of the documents made serious waves as it came less than one week after Trump won enough delegates to secure his position as GOP nominee.
That milestone motivated the unsealing as Curiel determined that the contents were in the public interest. He said that Trump, as "the front-runner in the Republican nomination in the 2016 presidential race…has placed the integrity of these court proceedings at issue." Citing a previous case, the judge said he must weigh "whether a party benefiting from the order of confidentiality is a public entity or official; and…whether the case involves issues important to the public."
Indeed, many have seized on the revelations as further evidence that the New York billionaire is unfit to lead the country and, alternately, should be jailed for fraud.
"If you look at the facts of this case, this shows someone who was absolutely shameless in his willingness to lie to people, to say whatever it took to induce them into his phony seminars," said New York attorney general Eric Schneiderman, whose office is embroiled in another suit against Trump University.
As New York Magazine's Eric Levitz pointed out, "Trump University isn't the only example of the Donald attempting to profit from Americans' economic anxiety: In 2009, the GOP nominee advertised a multi-level marketing scheme called the Trump Network as a 'recession-proof' way for struggling investors to get back into the black."
Levitz concludes, "The Republican nominee is literally, objectively, a con man."
Democrats are seizing on the revelations. Hillary Clinton Calls Donald Trump a 'Fraud,' Accuses Him of 'Scam' in Trump University:
Democratic presidential candidate Hillary Clinton issued one of her sharpest critiques yet of Donald Trump, calling him a "fraud" and accusing him of "trying to scam America."
"He is trying to scam America the way he scammed all those people at Trump U," Clinton said while campaigning at Rutgers University in Newark, New Jersey, today.
Clinton is referring to Trump University, a now defunct seminar program started by the real estate mogul that is now the subject of litigation in New York and California alleging that the program cheated participants out of cash.
"Trump and his employees took advantage of vulnerable Americans, encouraging them to max out their credit cards, empty their retirement savings, destroy their financial futures, all while making promises they knew were false from the beginning," Clinton said. "This is just more evidence that Donald Trump himself is a fraud."
* * *
[T]he Clinton campaign has made clear that it plans to use Trump University as a line of attack throughout the campaign.
"Confident that voters don't know enough about Trump U yet. So expect to hear quite a bit more from us on this topic," Clinton communications director Jennifer Palmieri tweeted this morning.
Earlier, Clinton national press secretary Brian Fallon tweeted, "Rubio's strongest moment was when he called Trump a con man based in part on Trump U. Rubio wasnt around long enough to make case. We will."
Meanwhile, her campaign went on a tweet storm criticizing marketing language found in the document.
The tweets included, "Trump University employed instructors with no experience and lied to sell outrageously expensive packages. In a word: fraud" and "Trump University was a fraudulent scheme used to prey upon those who could least afford it."
"There's a sucker born every minute" is a phrase frequently mis-attributed to self-promoter and showman P. T. Barnum. Donald Trump is the reincarnation of P.T. Barnum.