During the final presidential debate last week, Donald Trump in one of his rants introduced a conspiracy theory:
But now, with what came out today, it's even worse. All of the emails, the emails, the horrible emails of the kind of money that you were raking in, you and your family. And Joe, you were vice-president when some of this was happening, and it should have never happened. And I think you owe an explanation to the American people. Why is it, somebody just had a news conference a little while ago who was essentially supposed to work with you and your family, but what he said was damning. And regardless of me, I think you have to clean it up and talk to the American people. Maybe you can do it right now.
What Trump was referring to was a press conference that his campaign had arranged as a campaign stunt for Tony Bobulinski, a former business partner of Hunter Biden, who claimed that Joe Biden, the former vice president, had been aware of, and profited from, his son's activities. Trump even invited Bobulinski as a surprise guest to the debate in a failed attempt to intimidate Joe Biden.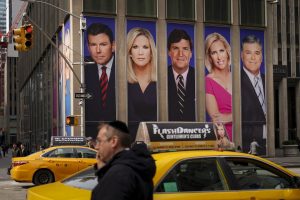 The media has now investigated Trump's attempt to manufacture a scandal, and even Rupert Murdoch's Wall Street Journal and Fox News have dismissed it as meritless — even as the opinion pages of the Wall Street Journal and the propagandists at Fox News hyped Trump's manufactured scandal. Rupert Murdoch's yellow rag, the New York Post, serves as the primary source for Trump's smear of Biden, amplified by the propagandists at Fox News.
Rupert Murdoch's yellow journalism is a malignant cancer in the American body politic. Murdoch needs to be dispossessed of his media empire.
Ben Smith at the New York Times has a backgrounder on Trump's failed attempt to manufacture a scandal about Joe Biden. Trump Had One Last Story to Sell. The Wall Street Journal Wouldn't Buy It. (excerpts):
[T]hree men allied with the president gathered at a house in McLean, Va., to launch one.
The host was Arthur Schwartz, a New York public relations man close to President Trump's eldest son, Donald Jr. The guests were a White House lawyer, Eric Herschmann, and a former deputy White House counsel, Stefan Passantino, according to two people familiar with the meeting.
The three had pinned their hopes for re-electing the president on a fourth guest, a straight-shooting Wall Street Journal White House reporter named Michael Bender. They delivered the goods to him there: a cache of emails detailing Hunter Biden's business activities, and, on speaker phone, a former business partner of Hunter Biden's named Tony Bobulinski. Mr. Bobulinski was willing to go on the record in The Journal with an explosive claim: that Joe Biden, the former vice president, had been aware of, and profited from, his son's activities. The Trump team left believing that The Journal would blow the thing open and their excitement was conveyed to the president.
The Journal had seemed to be the perfect outlet for a story the Trump advisers believed could sink Mr. Biden's candidacy. Its small-c conservatism in reporting means the work of its news pages carries credibility across the industry. And its readership leans further right than other big news outlets. Its Washington bureau chief, Paul Beckett, recently remarked at a virtual gathering of Journal reporters and editors that while he knows that the paper often delivers unwelcome news to the many Trump supporters who read it, The Journal should protect its unique position of being trusted across the political spectrum, two people familiar with the remarks said.
As the Trump team waited with excited anticipation for a Journal exposé, the newspaper did its due diligence: Mr. Bender and Mr. Beckett handed the story off to a well-regarded China correspondent, James Areddy, and a Capitol Hill reporter who had followed the Hunter Biden story, Andrew Duehren. Mr. Areddy interviewed Mr. Bobulinski. They began drafting an article.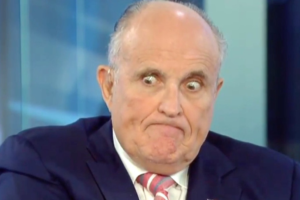 Then things got messy. Without warning his notional allies, Rudy Giuliani, the former New York mayor and now a lawyer for President Trump, burst onto the scene with the tabloid version of the McLean crew's carefully laid plot. Mr. Giuliani delivered a cache of documents of questionable provenance — but containing some of the same emails — to The New York Post, a sister publication to The Journal in Rupert Murdoch's News Corp. Mr. Giuliani had been working with the former Trump aide Steve Bannon, who also began leaking some of the emails to favored right-wing outlets. Mr. Giuliani's complicated claim that the emails came from a laptop Hunter Biden had abandoned, and his refusal to let some reporters examine the laptop, cast a pall over the story — as did The Post's reporting, which alleged but could not prove that Joe Biden had been involved in his son's activities.
While the Trump team was clearly jumpy, editors in The Journal's Washington bureau were wrestling with a central question: Could the documents, or Mr. Bobulinski, prove that Joe Biden was involved in his son's lobbying? Or was this yet another story of the younger Mr. Biden trading on his family's name — a perfectly good theme, but not a new one or one that needed urgently to be revealed before the election.
Mr. Trump and his allies expected the Journal story to appear Monday, Oct. 19, according to Mr. Bannon … An "important piece" in The Journal would be coming soon, Mr. Trump told aides on a conference call that day.
His comment was not appreciated inside The Journal.
"The editors didn't like Trump's insinuation that we were being teed up to do this hit job," a Journal reporter who wasn't directly involved in the story told me. But the reporters continued to work on the draft as the Thursday debate approached, indifferent to the White House's frantic timeline.
Finally, Mr. Bobulinski got tired of waiting.
"He got spooked about whether they were going to do it or not," Mr. Bannon said.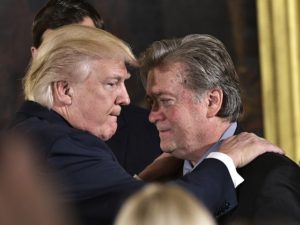 At 7:35 Wednesday evening, Mr. Bobulinski emailed an on-the-record, 684-word statement making his case to a range of news outlets. Breitbart News published it in full. [You can bet Steve Bannon, former executive chairman of Breitbart News, had something to do with it]. He appeared the next day in Nashville to attend the debate as Mr. Trump's surprise guest, and less than two hours before the debate was to begin, he read a six-minute statement to the press, detailing his allegations that the former vice president had involvement in his son's business dealings.
When Mr. Trump stepped on stage, the president acted as though the details of the emails and the allegations were common knowledge. "You're the big man, I think. I don't know, maybe you're not," he told Mr. Biden at some point, a reference to an ambiguous sentence from the documents.
As the debate ended, The Wall Street Journal published a brief item, just the stub of Mr. Areddy and Mr. Duehren's reporting. The core of it was that Mr. Bobulinski had failed to prove the central claim. "Corporate records reviewed by The Wall Street Journal show no role for Joe Biden," The Journal reported.
[I]f you'd been watching the debate, but hadn't been obsessively watching Fox News or reading Breitbart, you would have had no idea what Mr. Trump was talking about. The story the Trump team hoped would upend the campaign was fading fast.
* * *
[A] broad array of mainstream outlets, unpersuaded that Hunter Biden's doings tie directly to the former vice president, have largely kept the story off their front pages, and confined to skeptical explanations of what Mr. Trump and his allies are claiming about his opponent.
President Trump himself hit a wall when he tried to push the Hunter Biden narrative onto CBS News.
"This is '60 Minutes,' and we can't put on things we can't verify," Lesley Stahl told him. Mr. Trump then did more or less the same thing as Mr. Reynolds, posting a video of his side of the interview to his own blog, Facebook.
Much of the rest of Ben Smith's piece is about how the establishment media has reasserted itself this year as the "gatekeeper" of what is credible news supported by sources and facts. I beg to differ with his overconfident assessment. The reckless and irresponsible social media companies are still a dominant source of disinformation and conspiracy theories.
The Daily Beast adds, Wall Street Journal's News Side Debunks Opinion Side's Hunter Biden Screed:
A pro-Trump writer at the Wall Street Journal's opinion section published a convoluted column Thursday evening asserting that newly released text messages proved that former Vice President Joe Biden's son Hunter was involved in an alleged pay-for-play scheme with his dad and a Chinese energy company.
But just hours later, Wall Street Journal reporters published their own story that seemed to emphatically dismiss the opinion piece's conclusions, saying a review of documents by the paper revealed "no role for Joe Biden."
Both the Journal's opinion section and straight news operation published their dueling stories based on text messages shared with the paper by Tony Bobulinski, a businessman who was involved in a scuttled venture with Hunter Biden in 2017 involving a Chinese oil company.
In her opinion piece on Thursday, Kim Strassel argued that despite the fact that the messages were sent after Joe Biden had left office, and before he launched his presidential campaign, the texts showed that Hunter Biden "was cashing in on the Biden name" and that "Joe Biden was involved" in the plan.
[B]ut according to the Wall Street Journal's own reporting, the text messages did not show the pay-for-play scheme that Strassel outlined.
"Text messages and emails related to the venture that were provided to the Journal by Mr. Bobulinski, mainly the spring and summer of 2017, don't show either Hunter Biden or [Joe's brother] James Biden discussing a role for Joe Biden in the venture," Journal reporters Andrew Duehren and James T. Areddy wrote.
The Journal did note that Bobulinski said Hunter Biden appeared to reference his father as a potential business partner in one set of text messages, allegedly referring to him as the "big guy." Biden's team has denied that the former vice president ever was involved in business ventures with his son, and has released his tax returns, which the campaign says show no business dealings with foreign companies.
[The] dust-up wasn't the first time in recent months that the Journal's reporting staff has seemed to be at odds with its right-leaning opinion section.
In June, 280 Wall Street Journal and Dow Jones staffers sent a letter to the publisher of the paper saying the opinion section's "lack of fact-checking and transparency, and its apparent disregard for evidence, undermine our readers' trust and our ability to gain credibility with sources."
The Wall Street Journal's opinion pages are only good for fish wrap, in my opinion. And the fish may object.
Raw Story adds, Fox News report crushes Hunter Biden smear after network investigation 'found no role for Joe Biden':
A Fox News investigation "found no role for Joe Biden" in the business dealing of his son, Hunter, the network said on Sunday.
The admission was made by Fox News reporter Griff Jenkins.
Jenkins explained that the news organization had been provided documents by Tony Bobulinski, Hunter Biden's former business partner.
"You're talking about a business venture with the Chinese energy company in 2017 at a time when Joe Biden was not vice president," Jenkins explained. "But Fox's review of Bobulinski's documents, which were given to us, found no role for Joe Biden in that business venture."
"There's another former business partner who says he knows of no involvement by Joe Biden," Fox News host Howard Kurtz added. "The Wall Street Journal says it also reviewed the text messages and emails, saying, they don't show either Hunter Biden or James Biden — the brother — discussing a role for Joe Biden."
Kurtz added: "My problem with this is these emails are from 2017. At that time, Joe Biden is out of office. So while it may have been unseemly — if it was true that Joe Biden was even acquiescing in a potential deal with China — he no longer has the power of the White House behind him at that time."
"That's correct," Jenkins agreed. "One thing is for sure, it's not getting the kind of attention that Fox has given it and the New York Post and others as we get close to this election."
Griff Jenkins is referring to the propagandists at Fox News who, like Murdoch's yellow rag the New York Post, have no journalistic standards. Like the Wall Street Journal, the news division has a problem with the opinion division's "lack of fact-checking and transparency, and its apparent disregard for evidence, undermine our readers' trust and our ability to gain credibility with sources."