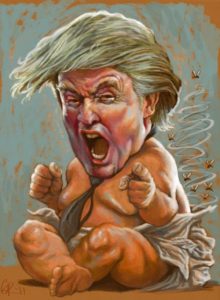 Donald Trump has a long history of fabricating his own myths about his ability of negotiating deals.
This political novice has no experience and no skills in legislating, and more importantly, no capital with those whom he is negotiating — he attacks Tea-publicans in Congress as easily as Democrats. He attacks anyone who does not immediately satisfy his petulant demands or dares to disagree with him.
What we have is a 70 year old man with a three year old's child-like mentality, a man who throws tantrums to get his way, whether it is an early morning Twitter rage, or his latest tantrum: "Let me win or I will take my ball and go home!" Trump delivers ultimatum to House Republicans: Pass health-care measure on Friday or he'll move on:
President Trump delivered an ultimatum to House Republicans on Thursday night: Vote to approve the measure to overhaul the nation's health-care system on the House floor Friday, or reject it and the president will move on to his other legislative priorities.
The president, through his aides in a closed-door meeting, signaled that the time for negotiations was over with rank-and-file Republicans who were meeting late at night on Capitol Hill to try to find common ground on the embattled package crafted by House Speaker Paul D. Ryan (R-Wis.).
The move was a high-risk gamble for the president and the speaker, who have invested significant political capital in passing legislation that would replace the 2010 Affordable Care Act. For Trump, who campaigned as a skilled negotiator capable of forging a good deal on behalf of Americans, it could either vindicate or undercut one of his signature claims.
If the measure fails, it would be a defeat for Trump in his first effort to help pass major legislation and it may also jeopardize other items on his wish list, including a tax overhaul and infrastructure spending.
Defeat would also mean that Obamacare — something that congressional Republicans have railed against for seven years — would remain in place.
It was far from clear, however, that Ryan and Trump have the votes to muscle the package through the House after several members of the hard-line House Freedom Caucus refused to back it following a marathon session of negotiations Thursday with Trump and other top aides.
Post-meeting, a handful of Republicans announced they would back the legislation. But a larger number said they were still opposed or had yet to make up their minds.
"For seven and a half years we have been promising the American people that we will repeal and replace this broken law, because it's collapsing and it's failing families," Ryan said. "And tomorrow we're proceeding."
But the speaker refused to answer shouted questions from reporters after the meeting about whether he had the votes for passage.
"They're going to bring it up, pass or fail," said Rep. Mike Simpson (R-Idaho).
In the meeting with House Republicans on Thursday night, according to Rep. Chris Collins (R-N.Y.), Office of Management and Budget Director Mick Mulvaney told his former colleagues "the president needs this, the president has said he wants a vote tomorrow up or down."
"If for any reason it's down, we're just going to move forward with additional parts of his agenda," Collins described Mulvaney as saying. "This is our moment in time."
* * *
Leaders continued to plead with individual lawmakers to support the measure well into Thursday night, with the House Rules Committee slated to meet early Friday morning to consider the proposed changes.
* * *
Ryan had intended to bring up his plan for a vote Thursday. But criticism — mainly from conservatives — caused that strategy to unravel after Freedom Caucus members rejected Trump's offer to strip a key set of mandates from the nation's current health-care law. White House Chief of Staff Reince Priebus and Trump chief strategist Stephen K. Bannon trooped up to Ryan's office to make the case personally, warning recalcitrant conservatives that the only alternative would be to accept the ACA as the law of the land.
By evening, leaders adopted the proposed change conservatives had rebuffed earlier, eliminating the law's "essential benefits" that insurers must offer under the ACA in an effort to reduce premium costs. Those benefits include covering mental-health treatment, wellness visits, and maternity and newborn care, and states would have the option of adding them back next year.
They also added one sweetener for moderates, a six-year delay in repealing a 0.9 percent additional Medicare tax on high-income Americans who earn above $200,000 if filing individually, or $250,000 if married and filing jointly. By keeping the tax in place, GOP leaders could provide an additional $15 billion to the states to help cover treatment for mental health and substance abuse issues, as well as maternity and infant care.
The changes include a couple of conservative overhauls to the Medicaid program and language directing that $85 billion be used to help Americans ages 50 to 64 obtain coverage.
Meanwhile, a new analysis by the Congressional Budget Office released Thursday evening showed that changes House leaders made to the bill Monday do not alter a projection that 24 million more Americans would be uninsured by 2026 under the bill. In addition, the updated bill would cut the deficit by $150 billion over the next decade — nearly $200 billion less than the earlier version of the legislation.
Note: The eleventh-hour changes to the bill last night are not included in this CBO scoring for Trumpcare 2.0. The GOP is recklessly proceeding to a vote on Trumpcare 3.0 today without any CBO analysis or knowing its effects.
[I]t was lawmakers on the right eager to dismantle the current health-care law who remained GOP leaders' biggest problem.
"I'm still a 'no' on the bill," said Rep. Mark Meadows (R-N.C.), who chairs the Freedom Caucus. "I think it's the president leading, and I applaud him for leading."
Some key moderates are also against the bill. Rep. Dan Donovan (R-N.Y.), who has known Trump for decades and whose Staten Island district swung heavily toward the Republican candidate, left the meeting committed to voting no.
"I've got to think about the 744,000 people I represent," he said. Asked about the White House's message that killing the bill would leave no more chances for repeal, he shook his head. "I don't believe that."
* * *
This high-wire balancing act, in which Republicans are catering to conservatives in the House with the knowledge that they still must woo moderates to get legislation to Trump's desk, could not only reshape the nation's health-care system but could also have uncertain electoral repercussions for the new majority.
GOP leaders can afford only 21 or 22 defections, depending on how many Democrats are present Friday.
But with failure not a viable option, Ryan and Trump have been working furiously to win over the large voting bloc of conservatives who control the House bill's fate.
Passage of the bill would represent a major political victory for both the White House and House leaders, although the ultimate fate of the legislation hinges on the Senate. There are at least a dozen skeptics of the bill among Senate Republicans, who maintain a slim 52-to-48 advantage, and many of them want to maintain some of the current law's more generous spending components.
Democrats relished the GOP's predicament. Members of the Congressional Progressive Caucus, who had scheduled a 4 p.m. rally against the bill, turned it into a short-term declaration of victory.
"Remember, they wanted to have their repeal and replace ready when Trump was inaugurated," said Rep. Jan Schakowsky (D-Ill.). "Now, here we are — they don't have it, again. They're looking for a sweet spot, and they won't find one."
Former president Barack Obama, for his part, issued a statement noting that more than 20 million Americans have gained coverage since he signed the law in 2010, while the rise in health-care costs has slowed. The statement came on the seventh anniversary of the passage of the Affordable Care Act — a day that Republicans had hoped to mark by dismantling it.
"So the reality is clear: America is stronger because of the Affordable Care Act," Obama said, adding that Republicans are welcome to work with Democrats to improve the law. "But we should start from the baseline that any changes will make our health-care system better, not worse, for hard-working Americans. That should always be our priority."
While the vote is supposed to occur Friday morning, this melodrama could drag out all day as Speaker Ryan will no doubt suspend the rules and hold the vote open for as long as it takes to twist arms and threaten political careers to support this terrible bill. It remains to be seen whether a majority vote in the House is attainable.
It is a near certainty that this eleventh-hour bill cobbled together in the House — Trumpcare 3.0 — will not survive in the Senate.  There will be substantial revisions in the Senate that the radical right-wing lunatics of the GOP House Freedom Caucus will oppose in reconciliation, if "Obamacare" repeal even makes it that far. Passage in the House today is not the end of the story, but only the beginning.
UPDATE: The House vote is now scheduled for 3:30 p.m. ET. GOP health-care bill: Ryan visits White House to say he lacks support for health-care bill:
House Speaker Paul D. Ryan (R-Wis.) visited the White House at midday Friday to warn President Trump that, despite their pitches, he lacked the votes to pass a conservative rewrite of the nation's health-care system.
Even as Ryan met with Trump, however, Press Secretary Sean Spicer said during his daily briefing that a vote would proceed at 3:30 p.m. A House GOP aide confirmed the expected timing of a vote.
If the bill does not pass Friday, a day after Trump delivered an ultimatum to lawmakers, it would represent multiple failures for the new president and the Republican Congress.
It would leave the Affordable Care Act in place and leave a major GOP campaign promise unfulfilled. It would cast doubt on the GOP's ability to govern and specifically to move forward on other high-stakes agenda items, such as tax reform and infrastructure spending. It would once again leave Ryan without a signature achievement as speaker. And it would undermine Trump's image as a skilled dealmaker willing to strike compromises to push his agenda forward.
Is that all?