I touched on this briefly in a previous post, but this has blown up into a renewed scandal all its own today. Over the weekend, the New York Times published an essay by its reporters, Brett Kavanaugh Fit In With the Privileged Kids. She Did Not. (excerpts):
During the winter of her freshman year, a drunken dormitory party unsettled Deborah Ramirez deeply. She and some classmates had been drinking heavily when, she says, a freshman named Brett Kavanaugh pulled down his pants and thrust his penis at her, prompting her to swat it away and inadvertently touch it. Some of the onlookers, who had been passing around a fake penis earlier in the evening, laughed.
To Ms. Ramirez it wasn't funny at all. It was the nadir of her first year, when she often felt insufficiently rich, experienced or savvy to mingle with her more privileged classmates … By preying upon her in this way, she added, Mr. Kavanaugh and his friends "make it clear I'm not smart."
Mr. Kavanaugh, now a justice on the Supreme Court, has adamantly denied her claims. Those claims became a flash point during his confirmation process last year, when he was also fighting other sexual misconduct allegations from Christine Blasey Ford, who had attended a Washington-area high school near his.
* * *
During his Senate testimony, Mr. Kavanaugh said that if the incident Ms. Ramirez described had occurred, it would have been "the talk of campus." Our reporting suggests that it was.
At least seven people, including Ms. Ramirez's mother, heard about the Yale incident long before Mr. Kavanaugh was a federal judge. Two of those people were classmates who learned of it just days after the party occurred, suggesting that it was discussed among students at the time.
We also uncovered a previously unreported story about Mr. Kavanaugh in his freshman year that echoes Ms. Ramirez's allegation. A classmate, Max Stier, saw Mr. Kavanaugh with his pants down at a different drunken dorm party, where friends pushed his penis into the hand of a female student. Mr. Stier, who runs a nonprofit organization in Washington, notified senators and the F.B.I. about this account, but the F.B.I. did not investigate and Mr. Stier has declined to discuss it publicly. We corroborated the story with two officials who have communicated with Mr. Stier; the female student declined to be interviewed and friends say she does not recall the episode.
Mr. Kavanaugh did not speak to us because we could not agree on terms for an interview. But he has denied Dr. Ford's and Ms. Ramirez's allegations, and declined to answer our questions about Mr. Stier's account.
* * *
Ms. Ramirez's legal team gave the F.B.I. a list of at least 25 individuals who may have had corroborating evidence. But the bureau — in its supplemental background investigation — interviewed none of them, though we learned many of these potential witnesses tried in vain to reach the F.B.I. on their own.
Two F.B.I. agents interviewed Ms. Ramirez, telling her that they found her "credible." But the Republican-controlled Senate had imposed strict limits on the investigation. "'We have to wait to get authorization to do anything else,'" Bill Pittard, one of Ms. Ramirez's lawyers, recalled the agents saying. "It was almost a little apologetic."
Senator Sheldon Whitehouse, Democrat of Rhode Island and member of the Judiciary Committee, later said, "I would view the Ramirez allegations as not having been even remotely investigated." Other Democrats agreed.
Ultimately, Senator Charles E. Grassley, Republican of Iowa and chairman of the Judiciary Committee, concluded, "There is no corroboration of the allegations made by Dr. Ford or Ms. Ramirez."
Well, not when the FBI never conducted any investigation. That investigation was thwarted by the Trump White House and Senate Republicans. They were not interested in discovering the truth, they had an agenda to pack the Supreme Court with ideological extremists, and nothing was going to stop them.
Democratic presidential candidates on Sunday demanded that Supreme Court Justice Brett M. Kavanaugh be investigated or impeached in response to a new allegation that he exposed himself to a female classmate at a drunken dorm party years ago at Yale University. Democratic candidates demand Kavanaugh's impeachment after new allegation in Times piece:
A classmate, Max Stier, said he saw Kavanaugh with his pants down at the party, where friends pushed Kavanaugh's penis into the young woman's hand, the Times reported. Stier notified senators and the FBI before Kavanaugh's confirmation, but the FBI did not investigate, the Times reported.
The Washington Post last year confirmed that two intermediaries had relayed such a claim to lawmakers and the FBI. The Post did not publish a story in part because the intermediaries declined to identify the alleged witness and because the woman who was said to be involved declined to comment. The Times article, drawing from reporting for a forthcoming book, is based on interviews with "two officials who have communicated with Mr. ­Stier."
The political fallout from the new allegation suggested the divisions surrounding Kavanaugh's nomination last year will continue to be felt in the 2020 campaign. Republicans denounced the Times report as an effort by the media to smear Kavanaugh. Some seized on the fact that the story — labeled as a news analysis — did not mention that, according to the book, the woman involved in the alleged incident has told friends she does not recall it.
On Sunday morning, President Trump tweeted that Kavanaugh should "start suing people, or the Justice Department should come to his rescue." [A totally politicized DOJ acting as Trump's personal "fixer."]
Democrats are calling for impeachment. (We have an admitted sexual assaulter in the White House — "grab 'em by the pussy" — and yet some Democrats remain reluctant to impeach Trump for a multitude of other crimes and impeachable offenses. How are we going to impeach a Supreme Court Justice for lying during confirmation hearings about sexual assaults that occurred years ago? Republicans are perfectly fine with sexual assaulters and rapists, as long as they are Republican.)
Impeachment calls came from Sen. Kamala D. Harris (D-Calif.), Sen. Elizabeth Warren (D-Mass.), former congressman Beto O'Rourke (Tex.) and former housing and urban development secretary Julián Castro, all presidential candidates.
"He was put on the Court through a sham process and his place on the Court is an insult to the pursuit of truth and justice," Harris said in a tweet. "He must be impeached."
Warren tweeted: "Last year the Kavanaugh nomination was rammed through the Senate without a thorough examination of the allegations against him. Confirmation is not exoneration, and these newest revelations are disturbing. Like the man who appointed him, Kavanaugh should be impeached."
Former vice president Joe Biden released a statement calling for further investigation. "We need to get to the bottom of whether the Trump administration and Senate Republicans pressured the FBI to ignore evidence or prevented them from following up on leads," it said.
E.J. Dionne writes at The Post, The Kavanaugh revelations: Why the Supreme Court is broken:
The right wing's determination to control the Supreme Court is undermining its legitimacy as well as confidence in the U.S. Senate's approach to confirming nominees.
For the GOP, nothing will be allowed to derail its effort to create a generation-long conservative majority on the court. And that helps to explain why Justice Brett M. Kavanaugh was railroaded through his confirmation hearings last year after what amounted to a pretend inquiry into the various charges against him.
The costs of this approach were underscored this weekend by a New York Times report that offers new corroboration for charges by Deborah Ramirez that Kavanaugh exposed himself to her when both were undergraduates at Yale. In denying the charge, Kavanaugh told the Senate that had it been true, the incident would have been "the talk of the campus." Times reporters Robin Pogrebin and Kate Kelly — drawing on their new book, "The Education of Brett Kavanaugh: An Investigation" — write tellingly: "Our reporting suggests that it was."
More than that, they report on an entirely separate incident involving Kavanaugh that Max Stier, a classmate of Ramirez's, brought to the attention of the Senate and the FBI at the time of the hearings. It involved, they write, "a different drunken dorm party" where, according to the allegation, Kavanaugh had a different inappropriate encounter with a female student. Stier is president of the thoroughly bipartisan and widely respected Partnership for Public Service. From my experience, he is the last person who would want to get into the middle of an ideological fight — unless his conscience required him to.
Here is the institutionally devastating part of their story: Ramirez's legal team gave the FBI a list of "at least 25 individuals who may have had corroborating evidence" of her story. The bureau, the authors report, "interviewed none of them." Nor did the FBI look into Stier's account.
Now let's take a step back: If Senate Republicans had declared Kavanaugh's behavior as a high school and college student off-limits, they would have risked a firestorm, but at least they would have been honest about what they were up to.
However, they could not take this route once they agreed to hear psychology professor Christine Blasey Ford's four hours of testimony about her charge that Kavanaugh had sexually assaulted her in the early 1980s when both were in high school. Ford's testimony was so credible — Republican after Republican praised her — that the GOP was forced to agree to a brief FBI investigation.
But it was such a sharply constrained investigation that neither Kavanaugh nor Ford was questioned, and the other allegations against Kavanaugh were ignored. "The process was a sham," Sen. Amy Klobuchar (D-Minn.), a member of the Judiciary Committee who is seeking her party's presidential nomination, said Sunday on ABC's "This Week." She was not being hyperbolic. In the wake of the new revelations, three other Democratic contenders quickly called for Kavanaugh's impeachment.
This leaves it to journalists to keep exploring questions the Senate refused to settle. And it leaves the court and the country in a terrible place.
Senate Majority Leader Mitch McConnell (R-Ky.) had already signaled that court packing took priority over due process when he refused even to hold a hearing on President Barack Obama's nomination of Merrick Garland to the court in 2016. This opened the way for Trump to name two conservatives to the court, Kavanaugh and Justice Neil M. Gorsuch for the seat Garland was denied.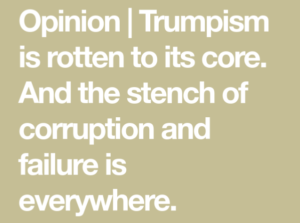 The administration seems eager to flaunt the right's new judicial power. In an in-your-face move, Attorney General William P. Barr will present the Attorney General's Award for Distinguished Service — it typically goes to attorneys who worked difficult and important cases — to those who worked "to support the nomination" of Kavanaugh. Take that, libs and Kavanaugh's accusers.
And the administration is developing the habit of skipping the normal appeals process to advance cases to a Supreme Court it has shaped to its liking. This drew a sharp rebuke from Justice Sonia Sotomayor in her dissent last week when the court overturned a lower court's national injunction against the administration's asylum policy. She said colleagues' "precipitous" ruling "sidesteps the ordinary judicial process to allow the Government to implement a rule that bypassed the ordinary rulemaking process."
It was Kavanaugh who said in his opening statement to the Judiciary Committee at his 2018 hearing: "The Supreme Court must never, never be viewed as a partisan institution." But it's impossible not to view the court in exactly that way, thanks to a GOP determined to control it by any means at its disposal. It's why questions — about Kavanaugh and the court itself — will continue to haunt us.
The GOP is corrupt and rotten to its core. It must be soundly defeated in next year's election.