The Trump administration on Wednesday announced a proposal to detain undocumented families together indefinitely, replacing the 1997 Flores settlement agreement that set a 20-day limit for holding children, with President Donald Trump saying it would discourage migrants from coming to the US. Because the cruelty is the point. Trump administration to allow longer detention of migrant families:
The rule, unveiled by acting Homeland Security Secretary Kevin McAleenan, is part of the administration's aggressive effort to revamp immigration laws as the number of families and unaccompanied minors crossing the US-Mexico border has increased.
In recent months, the administration has proposed rules that could make it more difficult for immigrants to get green cards, worked to end temporary protected status for migrants from certain countries and limit avenues to declare asylum.
Trump said Wednesday that he's concerned about the number of undocumented children attempting to travel into the United States, arguing the new rule would keep families together.
"I have the children on my mind. It bothers me very greatly," Trump said.
Trump also reasserted his false claim that President Barack Obama was the person responsible for family separations, although it was the Trump administration's "zero-tolerance" policy which led to thousands of children being separated from their parents after crossing the border illegally.
"I'm the one that kept the families together. With what we're doing now, we'll do even more of that, but it will make it almost impossible for people to come into our country illegally," Trump said at the White House.
Under what is known as the Flores settlement, the government is required to release a minor from a non-licensed facility as expeditiously as possible, which has been set at 20 days.
During a press conference Wednesday morning, acting Department of Homeland Security Secretary Kevin McAleenan said average stays in 2014 and 2015 for families in detention leading up to that ruling was 50 days (in violation of the Flores settlement agreement).
"By closing this key loophole court mandated requirement in Flores, the new rule will restore integrity to our immigration system and eliminate the major pull factor fueling the crisis," McAleenan said at the news conference Wednesday.
The proposal would also give the government new licensing authority, allowing the use of either a state license or Immigration and Customs Enforcement detention standards, according to a DHS official, meaning families can be kept longer than 20 days.
In other words, ICE would be self-regulating and self-licensing, taking it outside the "non-licensed facility" application of Flores. There would no longer be federal court protection for migrant children, which is the ultimate goal of this policy.
The regulation is certain to face legal challenges and must also be examined by the judge who oversees the Flores settlement. It will take effect 60 days after it is formally published later this week, barring other legal delays.
Oh, there will be legal delays. Human Rights Watch adds:
Human Rights Watch submitted comments on the Flores regulation when they were proposed last fall, recommending that the administration withdraw the rule and instead dedicate their efforts to advancing policies that safeguard the health, safety, and best interests of children and their families, not least through robust, good-faith compliance with the Flores Settlement Agreement.
Legal advocates have already filed a notice that they will challenge the rule in court. If not stopped by a judge, the new rule will take effect in 60 days.
Lawsuits and Democratic opposition
Attorneys for migrant children detained by the government plan to file a brief with US District Judge Dolly Gee, arguing that the regulations fail to implement the settlement and therefore should be blocked, according to Peter Schey, president of the Center for Human Rights and Constitutional Law.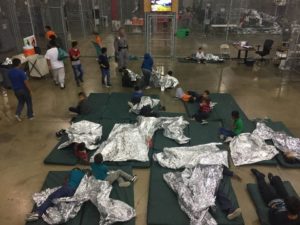 "This effort puts on full display President Trump's callous indifference to the health and safety, indeed even the lives, of detained minor children," Schey said in part, adding that the administration's plan "is certainly to detain migrant children as long as it wishes" without adhering to "well-established standards for the conditions of confinement of minors."
The American Civil Liberties Union (ACLU) has taken a firm opposition to the administration's position. "The government should not be jailing kids, and certainly shouldn't be seeking to put more kids in jail for longer," the organization said in a tweet. "This is yet another cruel attack on children, who this administration has targeted again and again with its anti-immigrant policies."
Democratic lawmakers blasted the proposal, with Senate Minority Leader Chuck Schumer saying, "the cruelty of the Trump administration knows no bounds."
"Make no mistake: this new rule is about letting President Trump and Stephen Miller keep children in awful conditions for longer periods of time and continue the administration's horrid treatment of innocent migrant families fleeing unthinkable hardship," said Schumer in a statement.
Responding to questions about when the new rule will be rolled out, McAleenan acknowledged that the administration will likely face litigation before adding that they hope to implement it as soon as possible which could mean eliminating the Flores settlement agreement.
"We are not going to be detaining every family unit that arrives starting tomorrow," McAleenan said.
This is a tacit admission that this new policy is really just a Trump campaign sop to his nativist and racist white nationalist base. This new policy is highly unlikely to be approved by Judge Dolly Gee as a modification to the Flores settlement agreement, and will likely be tied up in the federal courts well past election day. A new Democratic president in January 2021 will terminate this Trump policy proposal. It dies with Trump's defeat.
Family residential centers
McAleenan said that there are three family residential centers with what he described as "campus-like settings" with medical, educational and private housing facilities. The acting secretary said that detained families will have access to indoor and outdoor entertainment, legal counsel, translation services and medical care — including any immunizations their children might need for later admission to US public schools.
Don't believe him. Just this week, Customs and Border Protection said The US won't provide flu vaccines to migrant families at border detention camps: "In general, due to the short-term nature of CBP holding and the complexities of operating vaccination programs, neither CBP nor its medical contractors administer vaccinations to those in our custody," a Customs and Border Protection spokeswoman said in an emailed statement.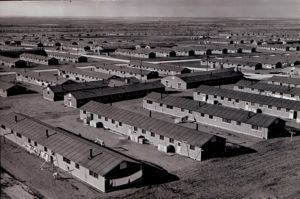 "The facilities that we will be using to temporarily indefinitely house families under this rule are appropriately, fundamentally different than the facilities where migrants are processed following apprehension or encounter at the border," McAleenan said.
There has been a major influx of families and children apprehended at the southern border in recent months. Already this year, more than 430,000 family members have been arrested for crossing the southern border illegally, compared to around 100,000 for all of last year.
Use whatever euphemism you want, the reality is that these are internment camps like the ones we used for persons of Japanese, German and Italian ancestry in the U.S. during World War II (above). And detention would be indefinite.
While migrant children and families are currently protected under the Flores settlement agreement, other migrants are subject to indefinite detention under U.S. law. The National Immigration Forum explains:
Congress Created Mandatory Detention
Mandatory immigrant detention is a creation of Congress. In 1996, lawmakers passed the Illegal Immigration Reform and Immigrant Responsibility Act (IIRIRA), which expanded the definition of what is known as an aggravated felony and exponentially increased the use of mandatory detention, with limited opportunities for judicial review.
Under IIRIRA, all noncitizens — including asylum seekers and lawful permanent residents — are subject to mandatory detention and placed in expedited removal proceedings if they are convicted of an aggravated felony:  any crime of violence, theft, or burglary for which the term of imprisonment is at least one year, as well as illegal trafficking in drugs, firearms, or destructive devices.
* * *
Certain immigrants held in mandatory detention — newly arrived asylum seekers and any immigrant convicted of a crime, including lawful permanent residents — generally can be held indefinitely.
In February 2018, in a 5-2 decision in Jennings v. Rodriguez, the Supreme Court ruled that the Immigration and Nationality Act (INA) did not grant immigrant detainees periodic bond hearings as they await a verdict on their right to remain in the country. But justices did not rule on whether the absence of bond hearings violated due process guarantees under the Fifth Amendment to the U.S. Constitution.
Instead, the court sent the case back to the U.S. Court of Appeals for the Ninth Circuit to rule on this open constitutional question. In November 2018, the Ninth Circuit expressed "grave doubts" on the constitutionality of withholding bond hearings, and sent the case back to the district court to consider the issue.
* * *
The Ninth Circuit had concluded that detention extending beyond six months becomes "constitutionally suspect." Interpreting the INA in a manner that would avoid a future constitutional challenge, the Ninth Circuit held that the statute implicitly provided for bond hearings in cases of prolonged detention.
Under the standard set in this ruling, detainees were eligible for bond if Immigration and Customs Enforcement (ICE) could not show clear and convincing evidence that a detainee posed a flight or security risk. After the Ninth Circuit's 2015 decision, 70 percent of detainees were found eligible for bond. Six other circuit courts concluded that prolonged detention without a bond hearing raised serious due process concerns.
The Supreme Court's February 2018 Jennings v. Rodriguez ruling effectively overturned the Ninth Circuit's 2015 holding. Immigrants held in mandatory detention are no longer eligible for bond, which affects tens of thousands of immigrants held in detention centers across the country.
Constitutional Question Lingers
Although the Supreme Court decided the statutory issue in Jennings v. Rodriguez, the lower federal courts will now rule on whether the due process clause of the Fifth Amendment provides detainees a constitutional right to periodic bond hearings. Because the Supreme Court did not decide this question, instead solely grounding its ruling in its interpretation of the INA, the federal district court and/or the Ninth Circuit could yet find a constitutional basis for requiring periodic bond hearings.
The argument against a constitutional right is that immigrants subject to mandatory detention have limited due process rights. For example, proponents of mandatory detention may interpret the law to treat arriving immigrants as never having entered the country and thus not eligible to receive the full protections of the Bill of Rights.
This argument is not without its critics, however. Associate Justice Stephen Breyer disputed this assumption in his dissenting opinion in Jennings v. Rodriguez, calling it a legal fiction: "We need simply remember that the Constitution's Due Process Clause protects each person's liberty from arbitrary deprivation." As Breyer noted in his dissent, noncitizens possess basic constitutional rights that limit governmental mistreatment. Pointing to these obvious limits on governmental conduct, Breyer asked rhetorically, "[W]ould the Constitution leave the Government free to starve, beat, or lash those held within our boundaries?" Under Breyer's reading, fundamental due process rights clearly apply to citizens and noncitizens alike. Whether such a constitutional right exists — the right to an immigration bond hearing for those in prolonged detention — is the question now before the California federal district court where the case originated.
Indefinite Immigrant Detention Rises
Given the growing number of immigrants held in long-term detention in the United States, the upcoming rulings on these constitutional issues are increasingly important. Twenty-five years ago, around 5,500 immigrants were held in mandatory detention on any given day. Today, that number has jumped nearly six fold to 33,000 daily, and more than 429,000 immigrants are detained each year.
This evolution is not the result of an increase in criminal convictions, but rather a shift in policy toward the criminalization of immigration offenses over the last two decades. With taxpayers spending billions each year on the detention of immigrants, most of whom pose no threat to community safety, the reinstitution of immigrant bond hearings for those who do not pose a flight risk or a threat to public safety would be a valuable alternative to detention. As a result of the Supreme Court's decision in Jennings v. Rodriguez, detention levels only continue to rise, and detainees' due process rights are limited.
Lower courts within the Ninth Circuit now have the opportunity to answer the constitutional question as it applies to the government's power to hold immigration law violators indefinitely. The courts could determine that the Fifth Amendment indeed does require periodic bond hearings for those in immigration custody, with the Ninth Circuit's 2015 and 2018 rulings suggest that such a decision may be likely. That said, a ruling that immigrant bond hearings are required under the U.S. Constitution almost certainly would be appealed back up to the Supreme Court, where it may face a skeptical audience.
* * *
Whether the lower federal courts (and possibly the Supreme Court on a future appeal) determine that immigrants in long-term detention have a constitutional right to periodic bond hearings or not, the other branches can take action. For example, Congress explicitly could provide for bond hearings and/or reform mandatory detention requirements to permit the use of other alternatives to detention for those who do not pose a flight risk or a threat to public safety.
Absent congressional action, the number of people held in mandatory immigration detention is likely to continue to rise — at least until the courts address this constitutional question.