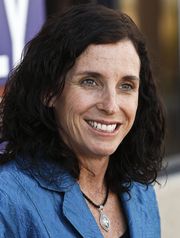 The woman who frequently refers to herself as a "woman warrior" who fearlessly stood up to her employer, the Pentagon — "Really, it was just me, all by myself" — over having to wear a head scarf out of respect for local culture and custom while serving in a Muslim country, suddenly today is playing the "victim" card.
Some highly contradictory messaging here, don't you think?
The Arizona Republic reports today McSally says she has been stalked, wants gun ad taken down:
Republican congressional contender Martha McSally on Tuesday revealed that she has been the victim of a stalker and decried as personally offensive a new TV ad that accuses her of opposing "making it harder for stalkers to get guns."
The 30-second spot from the Americans For Responsible Solutions PAC features a woman named Vicki who describes how a stalker shot and killed her daughter and husband. "I don't think she really understands how important that is to a lot of women," Vicki says in the ad.
Americans For Responsible Solutions is the gun-control organization founded by former Rep. Gabrielle Giffords, D-Ariz., and her husband, retired NASA astronaut Mark Kelly.
McSally, a retired Air Force colonel, is demanding that the ad that be taken off the air.
"As someone who's experienced being stalked, I know what it feels like to worry constantly about when and where your stalker will appear next and what he'll do," McSally said in a written statement. "I've had threats made against me and wasn't even safe in my own home or my car where my stalker broke in and held me in a hostage-like situation. I'm not alone in having to defend myself against a stalker. Countless women go through the same suffering and intimidation, and for an outside group to tie me to the tragic occurrence of a stalker killing his victim, is not only personally offensive, it's degrading to all women and victims who have experienced this pain."
Simply saying it doesn't make it so. Martha McSally should have to produce the police incident reports to verify her alleged stalking and identify her alleged stalker. If her campaign will not produce the police incident reports, the media should file Freedom of Information Act (FOIA) requests for the police incident reports, which are a public record, to verify her allegations.
McSally's curious transformation from "woman warrior" to "victim" comes with some  highly suspect timing. On Sunday, the Arizona Daily Star's Tim Steller reported on a McSally campaign tracker who has been stalking Congressman Ron Barber and his family. Steller: Aggressive 'trackers' factor in Barber-McSally race:
Maricela Solis decided to find out who was following her and her boss, U.S. Rep. Ron Barber.
With Barber riding as a passenger, Solis stopped the car at a stop sign along North Swan Road a few blocks from Barber's midtown home. It was the morning of Aug. 12. She got out of the car to walk back and see who was in the Hyundai that had followed Barber from his home the day before as well.
But as she started back, the driver turned the Hyundai around and drove away, giving Solis a chance to note the plate number. That's when they got concerned.
For political candidates for major offices these days, being tracked by opponents is an everyday occurrence. Outside groups and the campaigns themselves employ "trackers" to videorecord candidates they oppose in the hopes of catching something that can be used against them.
Candidates can assume that any public statements they make are being recorded, and that's really not a problem. But the "trackers" who do this sometimes go beyond that, going into private events or otherwise crossing into questionable levels of obtrusiveness. There are no hard-and-fast rules beyond avoiding arrest while getting the goods.
Usually, though, trackers will acknowledge what they're doing. The fact that the Hyundai driver didn't want to be identified is what made Barber and his staff decide to call police that day.
"We've got five grandkids, and our daughters are both in Tucson. They come over to the house frequently," Barber told me Thursday.
"They are the ones who first saw this going on. They were concerned about who was out there, why they were watching our home. It's something we haven't seen before and didn't appreciate."
After a little checking, Tucson police identified the driver as David Weissman, a Tucson police report says. They checked with the campaign of Barber's opponent, Martha McSally, and found he was working as an intern for that campaign.
The next day, Mark Kimble, Barber's spokesman, dropped Barber at his house. The same vehicle followed him a few miles before Kimble drove to the parking lot at Tucson Racquet Club, at the north end of North Country Club Road, to wait him out.
This following went on regularly for a couple of weeks, Barber said. And it was somewhat unusual in that the person following often did not get out of the car when he arrived at an event.
"A tracker is going to show up at an event, film you, record what you're saying, and that's it. You don't expect someone to be outside your house. You don't expect to be watched," he said.
You should know that Barber and his camp didn't contact me to tell me the story. I learned of it over Labor Day weekend by overhearing a conversation about it when camping on Mount Lemmon, then asked Barber's campaign for details.
When I asked McSally spokesman Patrick Ptak about the tracking scenario, he said that when McSally heard about it, she put a stop to it. Why it took a couple of weeks after the police report was made remains unclear to me.
On Monday, the Arizona Republic's AZ Fact Check fact-checked the Americans for Responsible Solutions ad which McSally now says she wants taken off the air and rated it four stars "True." Fact Check: McSally on gun-show sales:
THE MEDIA: Television
WHO SAID IT: Americans for Responsible Solutions
THE RACE: Arizona's 2nd Congressional District
THE TARGET: Martha McSally, Republican candidate
THE COMMENT: "Nine out of ten Southern Arizonans support background checks for people buying a gun. So why does Martha McSally support the loophole that allows criminals and the dangerously mentally ill to buy guns without a check?"
THE FORUM: Thirty-second television ad that began airing on September 3
WHAT WE'RE LOOKING AT: McSally's position on firearms sales at gun shows and from private sellers.
* * *
Congress most recently tried to push for expanded background checks in April 2013, when the Senate voted on a compromise proposal hammered out by Democratic Sen. Joe Manchin of West Virginia and Republican Sen. Pat Toomey of Pennsylvania. The measure would have extended background checks to cover private sales at all gun shows, and through the Internet, but exempted most sales between family members and friends.
The Manchin-Toomey compromise was defeated in the Senate.
In March 2012, McSally was specifically asked about the gun-show loophole during a debate hosted by the Sabino Teen-Age Republicans at Sabino High School.
The moderator asked: "So I think the gun control question I'd like to ask everyone, beyond their belief in the 2nd Amendment, is would you support, under any circumstances, what goes under the nickname of the so-called "Gun Show Loophole," which would require private citizens to somehow get cleared before they can transfer a firearm to another private citizen?"
McSally responded by saying that the question is flawed because "it's not a loophole."
"It's the law," she said. "I mean, the law is clearly based on the Second Amendment that we all have the right to keep and bear arms. And I have the right as a private citizen to sell my possession to anyone I want to. It's my lawful right. So, just like I can sell my car, I can sell my gun. And so, that's the law, and that's not a loophole. It's freedom. And absolutely, it needs to stay that way, because any restrictions on that, at gun shows or other places, is just absolutely unconstitutional."
Her campaign, when asked to comment on the new ads, provided a statement emphasizing the need to support existing laws.
"While we may have legitimate differences of opinion about how to best reduce violence and keep Arizonans safe, we all can agree that we need to do more to prevent tragedies in our communities," McSally spokesman Patrick Ptak said. "Martha believes we need to enforce those laws already on the books and place a greater emphasis on the cause of gun violence by addressing our broken mental health care system and enhancing our ability to recognize and treat signs of mental illness."
BOTTOM LINE: McSally is a self-described strong supporter of the Second Amendment. Her gun control platform places an emphasis on addressing and treating mental illness, rather than restricting the sale of firearms. During a debate during her previous run for Congress she said current laws governing the sale of firearms at gun shows do not need to be changed, adding that further restrictions would be "unconstitutional."
THE FINDING: Four stars, true.
So after a couple of days of bad press, Martha McSally suddenly is playing the victim card on Wednesday? The Republic's E.J. Montini isn't buying it any more than I am. Giffords' group aims anti-stalker ad at McSally:
McSally is getting a lot of support from the gun lobby.
The video features a woman named "Vicki," of Tucson, whose husband and 19-year-old daughter were shot by her daughter's boyfriend after she ended their relationship.
* * *
It doesn't matter which candidate you're voting for, we should talk about this. Good for Giffords for trying to start a conversation.
Closing loopholes and enacting strengthening requirements for background checks is not an assault on the Second Amendment. It's a defense of common sense.
Hayley Zachary, Americans For Responsible Solutions executive director, was quick to respond with her own statement after The Arizona Republic requested a comment:
"We're confused about what the McSally campaign's complaint about our ad is. Has her position changed?" Zachary asked. "Our current laws include a stalker gap that allows convicted stalkers to pass a background check and get a gun. And the Internet and gun show loophole allows any abuser or any criminal to get a gun without a background check at all. Merely enforcing our current laws doesn't do nearly enough to protect women in Southern Arizona and across our country. Americans For Responsible Solutions PAC stands by our ad because we believe that voters deserve to know that Martha McSally refuses to support common-sense steps like expanding background checks to keep guns out of stalkers' hands, even though nearly everyone in Southern Arizona supports these middle-of-the road policies."
The so-called gun-show loophole refers to the provisions outlined in the 1993 Brady Act, that requires a federal background check before purchasing a firearm. The background check program established by the law applies only to licensed dealers, and not to private sellers at gun shows or to individuals who might choose to sell or buy their guns in unregulated transactions on the Internet.
Ashley Nash-Hahn, a Barber campaign spokeswoman, emphasized Barber's support for expanding background checks:
"A terrifyingly large number of women are victims of gun violence by stalkers and domestic abusers, and we should take immediate steps to prevent these tragedies," Nash-Hahn said. "That's why Ron Barber supports expanding background checks — so domestic abusers cannot buy guns online or at gun shows. It's the right thing to do."
UPDATE: The Americans for Responsible Solutions PAC is airing a new ad targeting Martha McSally's statements on gun control, titled "Stalker Gap" – YouTube. The ad features Tucson resident "Vicki," whose daughter and husband were shot and killed by her daughter's ex-boyfriend.